What the Most Powerful Female Tech Entrepreneur in France Is Bringing to the U.S.
Catherine Barba on where technology—and sexism—are going.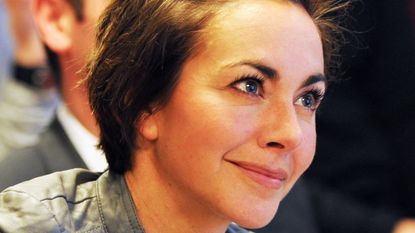 (Image credit: Future)
At the Women in Innovation Forum in New York (WIN), Marie Claire partnered up with host and French tech entrepreneur, Catherine Barba. After founding WIN in Paris, Barba recently brought the annual conference to the United States—where she has since moved—to further women's upward mobility in the male-dominated tech industry. She is considered one of the most influential women in Europe—last year alone she had over 200 speaking engagements. We asked Barba about sexism both in the U.S. and abroad, what's changing for women in tech, and where we need to go from here.
MarieClaire: You've been working in tech for over 20 years now. How has the landscape changed from your perspective?
Catherine Barba: Imagine this. Twenty years ago, Facebook did not exist. There were no smartphones. It took hours to download an Amazon page and the sharing economy was nonexistent—now I feel like a dinosaur. Working in the tech industry, which was called "multimedia," was totally unusual. There were only a few pioneers and entrepreneurs—and no women.
Now technology is everywhere. The internet has disrupted every business, our lives, and our civilization as a whole. GAFA (Google, Apple, Facebook, and Amazon) really set the new standards and steadily continues to disrupt and distribute the future: Google has won the browser war in less than five years and is now breaking into the mobility industry with self-driving cars. Amazon has become the preferred go-to for e-grocery shopping and is now developing drone shipping. And Facebook has captured more than 15 percent of our digital time in 10 years. Now, they're looking into virtual reality as the next major computing platform.
Today, there are unlimited opportunities for men and women to disrupt traditional models, redefine the customer experience, and create companies, value, and jobs.
MC: What are some of the differences you've seen between Europe and the U.S. in regard to the opportunities available for women in tech?
CB: I have only been here for eight months, but my first impression is that America is more of an innovation catalyst than Europe. Things are changing in Europe, particularly in France, but the U.S. has more of a natural customer obsession and more investors to fuel new projects, and these are two assets that have not been developed much in the French ecosystem.
I found it astonishing when the White House announced the Computer Science For All program this last January. It will turn computer science into a regular subject taught at American schools from kindergarten through high school. This plan, which called for 4 billion in funding, will definitely change the narrative for young girls.
MC: What would you say is the biggest challenge facing women in tech right now in the U.S.?
CB: The challenge for every woman is this: believing that you have a seat at the table of innovation. You not only have the ability to but should obtain tech skills, embrace innovation, and learn STEM. Because owning the technology means owning the power, no matter what job you choose.
The challenge for female entrepreneurs is this: growing your business. It's one thing to create your company, its another thing to go out and get funded. Too few companies that are backed by Venture Capital (VC) are founded or led by women. Investors such as Kelly Hoey, Jeanne Sullivan, Anne Ravanona, and Kathryn Finney are critical to change the future of women entrepreneur. I read that less than five percent of female founders actually receive VC funding. And too few women hold partner positions within VC firms. I hear from insiders that companies with all-male management teams are over four times more likely to receive VC funding than businesses with even one woman on the team. This challenge is being addressed by VCs that invest in female-led companies like Starvest Partners, Female Founders Fund, and Golden Seeds.
MC: And what about globally?
CB: There's the same struggle for confidence and VC support, and there is the same lack of role models— you can't be what you can't see.
MC: We were so excited to partner with you at the Women in Innovation Forum to help address some of these problems. Why did you decide to bring this conference to the US this year?
CB: I moved to New York last September because we need great women leaders, not only in France, but in the U.S. and everywhere else. Over the years, I have actively promoted and supported female entrepreneurship, mostly out of a strong gratitude for the opportunities that my career in the tech world has given me. In New York, as elsewhere, I want to encourage more women to take their seat at the table of innovation and leadership, and I want to share messages that I strongly believe in.
The digital era is a unique opportunity for women to change the rules. You can leap over the hurdles that are thrown your way. You can invent your job, start your own business, and grow it successfully while raising a resilient family—I personally know how hard it is, but it is achievable. You can find VCs who want to fund the best teams and couldn't care less if the founder is a woman or a man—and you can create the next Google.
MC: What are a few takeaways from the forum that you feel everyone should hear?
CB: One theme that emerged was that many women sell themselves short when asking for funding, starting businesses, or promoting themselves. We're less likely to show up and ask for funding from friends, family, and VCs. Here's the key to changing this: find a mentor, know your sh-t, and don't be afraid to show up and ask for MORE money. Be active agents of change. Don't take any situation for granted, and believe that you can sit at the drivers' seat. There's nothing to lose in thinking bigger—and you can turn difference into an advantage.
I learned from every speaker that confidence is the mother of all change. Believing in yourself is so incredibly important. There is so much in life that is all about confidence. It enables risk-taking, thinking big, and perseverance.
MC: Are you thinking about doing it next year?
CB: Definitely! Everybody had so much fun and all the attendees (women and men) are already inquiring about next year. We want to take action and transform this high energy into something tangible. We want to grow a smart and fun community here in NYC. #StayTuned #WinForumNY.
Follow Marie Claire on Facebook for the latest celeb news, beauty tips, fascinating reads, livestream video, and more.
Celebrity news, beauty, fashion advice, and fascinating features, delivered straight to your inbox!