YouTube Star Lilly Singh Shares Her Bawse Moves for Total Career Domination
Lessons from a real-life (digital) Superwoman.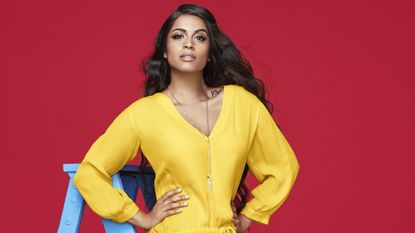 (Image credit: Danielle Levitt)
Marie Claire Newsletter
Celebrity news, beauty, fashion advice, and fascinating features, delivered straight to your inbox!
Thank you for signing up to Marie Claire. You will receive a verification email shortly.
There was a problem. Please refresh the page and try again.
At just 28, Lilly Singh is a YouTube legend. Her channel Superwoman has attracted two billion views and over 11 million subscribers—but it didn't always look like Singh was destined for digital stardom. She launched her YouTube channel shortly after graduating from York University in 2010 to help cope with depression. Singh's videos often combine her Punjabi heritage with hilarious events from her everyday life—and her satirical How Girls Get Ready video from 2013 helped her go viral. Today, she's become a multi-million-dollar business: In 2016, Singh was ranked among the top-three highest paid YouTube Superstars, earning an eye-popping $7.5 million.
This week Singh published her first book, How to Be a Bawse: A Guide to Conquering Life. (A "bawse" is like a boss, by the way, but hustles way harder without losing her cool.) And who better to teach women how to crush their careers than the girl who has your dream job? Singh shares some of her best bawse tips with Marie Claire.
1. Schedule Inspiration
The struggle is real when it comes to on-demand creativity. The solution? Make time for non-work-related activities to get those juices flowing. For Singh, that means a few episodes of Santa Clarita Diet or Game of Thrones after completing her daily to-do list. "The more movies I watch, the better. The more TV shows I watch, the better. The more people I know, the better. The more places I go, the better," says Singh. "These will all give me ideas for my content."
2. Be Prepared to Climb
"As human beings living in the social media age we're just trying to find a shortcut for everything," says Singh. "There's simply not one." When she launched her YouTube channel in 2010, Singh says few people took her—and her community—seriously. As the platform matured and gained more respectability, so did Singh's decision to pursue it as a full-time gig. But that took time, ego-checking, and a lot of persistence.
3. Focus on What's in Your Control
Singh can't think about every single shot, frame, and sentence over and over again for each of her videos—or she would never be able to produce content in a timely manner. Instead, she worries less about minute artistic details and more about the story she is trying to tell her viewers because that's what matters most. Singh often prioritizes where she focuses her energy—even when it comes to mundane activities like parking. "When I can't find parking, it drives me crazy. I get stressed out and angry. I become a mean person," she explains. "So instead of getting angry and becoming a mean person I put energy towards a solution—like putting three parking options in my iCal the day before a meeting."
4. Have a Bawse Role Model
Dwayne Johnson (AKA The Rock) is one of the biggest bawses Singh knows. "He works so damn hard, but is such a nice person. And that is a very rare combination—of someone who can be so rich and famous, but can be so caring to the people in his life," she says. Jane the Virgin star Gina Rodriguez is another bawse in Singh's life: "[Rodriguez] is all about just supporting other people, speaking up for minorities, and she works really hard," she says. And there's Singh's mom. "I know that's a cliché answer, but she's so strong and cool and awesome—and she let me make videos on the Internet. So I would say that's pretty 'bawse' of her."
5. Eff Protocol
Singh met one of her bawse heroes by ignoring the rules. In the entertainment industry, meetings are typically arranged ahead of time, with the help of publicists. The night before the 2015 MTV Movie Awards, Singh's team had tried everything to set up a meeting with Dwayne Johnson, her childhood hero. She didn't have the proper credentials to get backstage and it didn't looking promising. Singh had tweeted Johnson a few times over the last year, which resulted in an email from The Rock himself and the two became "text buddies." So on the night of the awards, Singh decided to take matters into her own hands: she texted Johnson herself and asked to meet him—ultimately landing herself in the greenroom with The Rock. "If there's a system that's old school and there's things that you're being told to follow that just stifle your creativity and what you can accomplish, then I would say eff that protocol."
So go ahead, color outside of the lines every once in a while. You have Singh's permission.
Follow Marie Claire on Facebook for the latest celeb news, beauty tips, fascinating reads, livestream video, and more.
Celebrity news, beauty, fashion advice, and fascinating features, delivered straight to your inbox!