Where Our Future Female Engineers Are
A former high school teacher runs a kids' program to help girls find a future in the male-dominated fields of math and science.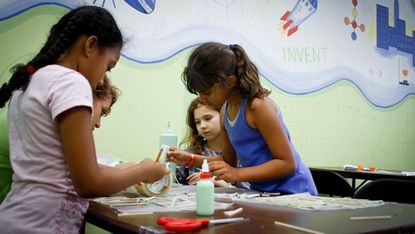 (Image credit: )
Who runs the world? If you were to ask, say, Beyoncé, it's an emphatic "GIRLS!" And she's right. Women have made incredible strides in the workplace in the past 50 years, and the fairer sex has even broken down the barriers of many historically male-dominated fields, like law and business. For instance, this was a record-breaking year for the Fortune 500, with 18 female CEOs now running the nation's largest corporations, up from 12 in 2011. The same growing trend exists in medicine, where now nearly half of all first-year medical students are women.
Unfortunately, the same can't be said for the rise in female scientists and engineers. Of recent college graduates earning an engineering degree, only 17 percent were female, which happened to be a 15-year low. The field is yet to be run by girls, but one women is trying to do something about it.
Dori Roberts is the founder of Engineering for Kids, a Virginia-based franchise that offers after-school programs, summer camps, and field trips to help children — with a special focus on girls — develop math and science skills. We spoke to Roberts, 38, about starting her own business and finding new ways to bring the engineering field to the kids' table.
When did you first discover an interest in math and science?
For me, it started in high school. It wasn't something any of the girls took part in. The classes were way down the scary hall with autobody and woodshop. It was a big stretch to venture down the scary hall. For awhile, I was quiet and let the boys answer all the questions. But then I had a chemistry teacher who really pushed me. He turned a corner for me and built a confidence in me I didn't know I had. It was through his class that I realized I really did like science and was good at it.
Before founding Engineering for Kids, you were a high school teacher who saw a void in science programs. You started an engineering club and eventually got more female students interested in the subject matter. How did you recruit them?
It helped that I was a cheerleading coach! When I first started, there were mostly males in all my classes. The longer I was there, the more girls I was able to bring in. A lot of the girls I came across have since said, "I didn't know what engineering was." There really aren't many girls introduced to the term.
What about engineering ended up appealing to them most?
Males and females think very differently. The types of fields that women are traditionally drawn to are more human interest. They pull at the heartstrings. I try to teach engineering concepts with real-world applications, and the social aspect of engineering is very appealing to women — the fact that engineers improve lives and can save lives.
You were a teacher for 11 years. What prompted you to leave to create Engineering for Kids?
I grew the engineering club from eight students to 180. The club would compete locally, regionally, and nationally, and I took them to four state championships. One year, they competed in Florida. I have two kids, and at the time, my daughter was 8 and my son was 6 years old. As a mother, you can't go to Florida and not take your kids, so I brought them along with me. They were blown away by what they saw my high schoolers doing. They were like, "Why can't I race a dragster?" and "Why can't I build an animatronic device?"
So, when I went looking for programs for their age group, there wasn't anything out there that started that young. So, I volunteered to teach an after-school civil engineering class at my son's school where I just took the high-school level lessons and adapted them to meet elementary-appropriate curriculum. Then, the class just filled up.
You clearly hit a nerve. Were you apprehensive to start your own business?
I remember my husband saying to me, "It's really exciting you are starting a new business in the middle of the worst recession…" He had high hopes but he was preparing me for the worst. I would have been happy if I got 15 kids signed up. When we started, we had 50.
You encourage parents to enroll their children in your program as early as when they are four years old. That seems pretty young for an engineering club!
What's really cool is that 4-year-old girls don't know the stereotype. Between the ages of four to six, kids haven't developed that whole "boys play with this, girls play with that" thought process. If we can reach them at age 4, they don't have any preconceived notion of gender roles. We can inspire them that young to continue this journey in learning more about math and science. In fact, there are more girls than boys in our junior level.
What are they actually learning in those junior-level classes?
We use pulleys and gears and get them to use "play" and toys to learn how machines work. We also do the same real-world applications that I'd teach my high-schoolers. In the chemical engineering class, we simulate an oil spill. We have the kids think about what they can create to soak up an oil spill. We do things with robotics and aerospace engineering. We build rockets, study fin design. Like, "if we add more clay to the nose cone, will the rocket go farther?" It's very open-ended. We essentially work through the actual engineering design process to solve problems — design and test and then redesign and test again. They really pick up on it because while all that is the same process and we throw in vocabulary and basic concepts, we are adapting things for little hands.
The company has grown from one location to 15 across the nation, with plans to open up to 60 franchises in 2013. What's the most thrilling part of that?
It's great to see that not only kids are involved but girls specifically. We are seeing an increase in girls joining, and it's exciting to see them stay throughout program. Two summers ago, we started offering a girls-only program. We've found that sometimes when boys and girls are mixed, the girls lay low a little and let the boys lead. It's really cool to see how excited the girls are to be in a girls-only class. They work so well together, and there's such great energy when you have all girls in one room.
You're definitely doing your part! What else do you think will need to happen to take away the boys' club surrounding the science and engineering fields?
I would love to see engineering becoming part of the elementary school curriculum nationwide. I'm so passionate about inspiring elementary and even preschool-level students to think about careers in engineering. If we can reach them at a young age versus high school when most women learn about engineering, then hopefully we will increase the number of women engineers we have.
It's the engineers who solve our problems. If you look at floods in New Orleans, who will build a better levy or a better bridge? Who will clean up the oil spills? They discover solutions to lots of the world's problems, and the number of them needed is only going to increase. It is such an important field.
Celebrity news, beauty, fashion advice, and fascinating features, delivered straight to your inbox!