Meet Nodal, the Surrogacy Startup Seeking to Be the 'Bumble for Surrogates'
The platform allows surrogates to make the first move on the matching platform—and maintain more control throughout the surrogacy process.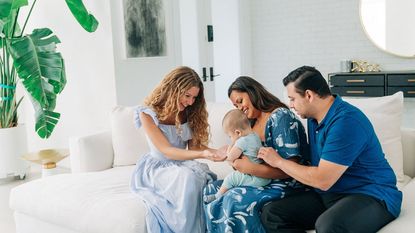 (Image credit: Nodal)
Kelsie Kolter, 35, had never given surrogacy much thought, but when her best friend got cervical cancer and lost the ability to bear children, it was suddenly at the forefront of her mind.
"It was devastating," says Kolter. "As her friend, I just said, 'Look, I'm here. I will carry your babies.'"
Though her friend did not take Kolter up on her offer, it sparked Kolter's interest. At the time, Kolter was 29. Her husband served in the military and was often deployed. With two kids, she was done growing her own family, but another pregnancy felt doable. Kolter decided to become a gestational surrogate and signed with the first agency recommended.
"In retrospect, I should have done more research," says Kolter. "I didn't know enough about it…or what questions to ask."
With infertility rates on the rise and the growing number of same-sex couples who want to start a family, assisted reproductive technologies like artificial insemination and in vitro fertilization are increasingly common. Celebrities like Anderson Cooper, Kim Kardashian and Kanye West, Neil Patrick Harris and David Burtka, Paris Hilton, and Priyanka Chopra and Nick Jonas have all used surrogates to grow their families. But surrogacy is not just for celebrities. Between 1999 and 2013, more than 18,000 babies were born in the U.S. via gestational surrogates, according to the CDC. The surrogacy industry, valued at approximately $4 billion in 2020, is estimated to surpass $33 billion by 2027.
Yet surrogacy remains a bit of an enigma. It's a highly politicized issue, and in the U.S. it remains unregulated at the federal level. Commercial surrogacy is illegal in Michigan, Louisiana, and Nebraska, and New York only recently passed legislation that allows it. Even if a state has laws on the matter—and many do not—surrogates and intended parents (IPs) are still advised to proceed with caution if they don't want to find themselves entirely dependent on the other's integrity to uphold their end of the agreement.
"When you start to look for information beyond the mechanics of how it works, there's just a lot of conjecture, a lot of misinformation," says Brian Levine, M.D., a New York-based reproductive endocrinologist.
Though he considers his work "the happy side of medicine," Dr. Levine was frustrated by the surrogacy industry's lack of transparency, as well as its prohibitive expenses that have ballooned in recent year, which can run as high as $150,000 or more. In response, Dr. Levine launched Nodal in September, an online platform that uses proprietary software to connect vetted gestational surrogates with intended parents.
"The match really can make or break a surrogacy experience," says Brianna Buck, who heads Nodal's community program. As a former surrogate, she knows how important it is that both parties understand the process and are clear about what they want from the relationship and experience.
New York's Child-Parent Security Act offers some of the nation's most robust legislation on surrogacy. It went into effect February 15, 2021, making New York the only state to formally regulate egg donation and surrogacy programs. The legislation includes a Gestational Surrogates Bill of Rights that gives the surrogate the right to make all health and welfare decisions regarding herself and the pregnancy. Gestational surrogates are granted the right to independent legal counsel, a comprehensive health insurance plan, a life insurance policy, and can terminate the contract prior to conception. In addition to compensation (which typically runs anywhere from $40,000 to $70,000) all associated costs are to be paid by the intended parents, unless decided otherwise by the surrogate.
The bill is an important move toward protecting surrogates who, in Dr. Levine's opinion, do most of the heavy lifting during surrogacy, but are often overlooked.
Though surrogacy lacks federal regulation, there are movements within the industry to self regulate. Nonprofits like the Reproductive Alliance and the Society for Ethics in Egg Donation and Surrogacy (SEEDS) are striving to define an agreed-upon set of ethical standards and codes of conduct for all those participating in third-party reproduction. Accreditation through one of these organizations can boost a surrogacy professional's credibility and help surrogates and intended parents make better decisions about choosing the right professionals. Additionally, SEEDS offers a grievance channel that allows individuals to report a member's deviation from SEEDS' guidelines.
Ellen Trachman, a Denver-based lawyer specializing in assisted reproductive technology, wrote in Above the Law, a legal news site: "In a world where the stakes are high, the costs expensive, and the players seemingly innumerable, the key is to know who to trust." Having vetted, reliable support is important for any pregnancy and for the days that follow. That is especially true for surrogacy.
Though social media has made it easier to connect with other surrogates and to find community, it can often feel a bit like the Wild West; no one seems to be in charge and it's unclear if anyone is vetting the information shared for accuracy. According to the company, Nodal is trying to lower surrogacy costs by cutting out the "matching specialist" typically used by agencies. Nodal oversees more than money, and takes into account the mental costs of becoming a surrogate. Through Nodal's mentor program, new surrogates are paired with pre-screened and experienced gestational surrogates who offer guidance and support all the way through the fourth trimester, which can often be the most challenging and potentially traumatizing phase of all for surrogates; in addition to recovering from labor, many experience postpartum symptoms, but without the baby. On Nodal's private and moderated community group, members can swap stories about their experiences and share useful tips and resources.
"There are questions specific to surrogacy that a new surrogate would never think to ask," says Buck. "Like, what will the IVF hormones do to her body and how can she manage those effects? Or, if she's going to pump afterward, how does she get her milk to let down without a baby?"
Buck hopes that through her involvement in Nodal community groups, new surrogates are better informed and more equipped to advocate for themselves.
When Kolter began her surrogacy journey, she didn't know what to expect. The process felt like "speed dating." She anticipated forming a relationship with the intended parents, and she imagined them joining her at appointments and being present at the birth of their child. So she was surprised when her surrogacy agency kept matching her with intended parents from China. Kolter held off accepting the match and was excited when she finally was paired with a same-sex couple in the states.
"I loved them and felt like they loved me," Kolter says. "I wanted to carry their baby. But then the agency sort of pushed back and kept bringing up this older couple from China. They laid the guilt on pretty thick. In the end I gave in."
Kolter had concerns about the viability of the intended mother's eggs given her advanced age. She questioned going through the IVF process if the odds weren't going to be good. She also wondered if the distance and cultural differences would impact their ability to be involved in the process. Her concerns were valid, but largely ignored.
Kolter attempted two IVF transfers. Neither were successful. "It was devastating. For me, and I'm sure for them. But they went dark right away. It was really lonely."
Though Kolter continues to support surrogacy as a means to grow families, she says she wouldn't do it again.
Like Kolter, Buck didn't feel she had much control when she went through surrogacy. Her match meeting with the intended parents was "like the wildest first date you'll ever have." She was grateful to have had a good experience, but chalks it up entirely to luck. That experience is why she joined Nodal, she says. "I want to make sure women are in charge of their journey."
Marie Claire email subscribers get intel on fashion and beauty trends, hot-off-the-press celebrity news, and more. Sign up here.
Jill Nielsen is a former banker turned journalist specializing in entrepreneurship, women-in-business, and the gig economy. She currently lives in Southern California with her husband and four kids.