Small Business Spotlight: Authenticity and Inclusion With Melanated Beauty Spa
When Maghan Morin found an old college business plan she'd written, she was inspired to create a beauty spa specifically tailored to women of color. Now it's thriving, with the help of Bank of America.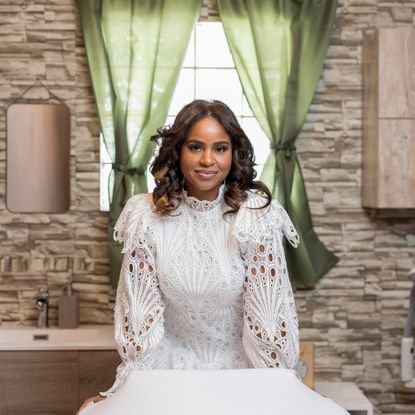 (Image credit: Melanated Beauty Spa)
Women running their own companies? We love to see it. In our monthly series, Small Business Spotlight, we chat with independent fashion entrepreneurs about their journey to be-your-own-boss status. Here, tips for raising funds, developing a marketing strategy, navigating social media, and more—straight from women who have done it themselves.
When Maghan Morin started her new business, Melanated Beauty Spa, in May 2021, she felt like she had nothing to lose. She had already lost another business during the pandemic—ironically, a workspace dedicated to helping women of color fund their small business ideas—and she doesn't like to "sit too much in the problem," as she puts it. So, she decided to push forward with her own new endeavor—one that actually had its roots in her past.
Morin's dad is an entrepreneur and, since college, she's been an entrepreneur herself. "I was on my computer, and I found the beauty spa business plan that I had written [in college]," she remembers. "Beauty is something I've always loved. And so I thought, You know what, I honestly have nothing else to lose at this point. Let's go for it." She budgeted some initial funds from her personal account and got to work.
The result? A mid-luxury day spa created specifically with women of color in mind. Melanated Beauty Spa is South Florida's first 2,000 square foot Black-owned day spa with a variety of services—and it's already headed towards expansion. Bank of America has helped her with checking, merchant processing, access to payroll services, and more. "Until Bank of America, I've never had a banker, or anyone within a banking institution, come to me and say, 'This is how we can help you. What are your current problems?' and actually push opportunities my way. It's very empowering and encouraging to keep moving forward," she says.
On Creating an Inclusive, Full-Service Beauty Spa
Morin firmly believes that her community needed more out of the beauty space—and wanted Black women and women of color to see themselves as a priority. "We need more luxury spaces created for us, and by us. It's deeper than just creating a day spa, it's all about inclusivity for people who often get overlooked," she said in a May 2021 Instagram post. "I'm ready and willing to change repetitive narratives."
Since day one, the spa has been funded with her own money—and, she admits, she drastically underestimated the building costs and other up-front expenditures. She had a strong vision, but finding talent was harder than she expected. She didn't have the funds to hire staff full-time, so she had to open the spa by appointment only. She's been experimenting with different revenue streams, including shipping beauty boxes nation-wide; not everything's been a success, and the beauty boxes are now a long-term goal, she says. But she's made immense progress.
From the beginning, Morin was insistent about the spa's name and focus. Historically, there's been a lack of diversity in the beauty space, so Morin focuses on including people of color in every aspect of the business, including her marketing imagery. She seeks to help potential clients feel seen and included in ways they haven't before.
"People's reactions have been much more than what I expected. I had a woman come in recently, and the first thing that came out of her mouth was, 'Wow, this is a ballsy name.' It honestly made me feel good. When people see themselves represented, they feel like it's something for them," Morin says. "I want to start seeing more minorities seeing themselves as being served and less of always being the service provider."
Services now range from facials to massages, lashes, body services, and more. Everything is inclusive to darker skin tones and conscious of their specific needs. Estheticians, who are also women of color, make face masks specifically tailored to clients and only use products that are optimized for their skin (the spa caters to all skin types but has particular expertise in Fitzpatrick skin types 4 (light brown) through 6 (dark brown and black).
On the company's social media, spa experts explain procedures like hydrating facials and the specific benefits to the skin. They recommend specific products they've verified, educate about common skin issues, and explain which ingredients are most effective and why.
Clients who sign up for Melanated Membership get two 30-minute power facials each month, 15 percent off of any add-on to each facial, and access to deals on wax, massage, and body contouring treatments (including 10% off add ons and products). Additionally, the company hosts free monthly events for members focused on one of four areas: networking, education, experiential, or wellness. Their Self Love Yoga Events take place on the first Sunday of every month, they host Waffle Wednesdays on the last Wednesday of every month, and they're hosting two events in April: an experiential event with a raw honey company and a networking opportunity for estheticians around South Florida. Wellness and inclusion don't just figure into their beauty services, but play into every aspect of the experience.
Melanated Beauty Spa has been open by appointment only, but starting April 18, they'll also take walk-ins. The spa's looking to grow and expand the services: primarily through franchising in different cities and potentially in luxury hotels and cruise lines, if Morin has her way. In the future, she wants to sell branded merchandise and products. And judging by the thousands of followers the business already has on Instagram, people are excited.
On The Power of Supportive Banking
Morin had banked with another institution since she was 15, and never felt like she had a productive relationship with them—no point of contact, no trusted advisors, no advice. "You put so much money into your bank, so you want to feel like it's a beneficial relationship," she says.
But six months after the spa opened, Widline Nordé, Bank of America VP and Relationship Manager, found Morin on LinkedIn and reached out to discuss Morin's business goals. "When I found out she and I shared the same heritage and background, Michael Medina [Bank of America Small Business Banker] and I took it upon ourselves to help her as if she was our neighbor next door—just for the sake of helping her. We want to see her succeed," Nordé says.
Morin remembers, "They were telling me all these things that they could do for small business owners: helping me navigate my finances better, connecting me with other companies who could help run my business, access to funding. It was a huge weight lifted off my shoulders."
Medina proposed various options to help her business. Currently, Morin has a business checking account and also plans to sign up for merchant processing services so she can more efficiently handle credit card transactions; Medina also helped her with access to payroll services and introduced her to Better Money Habits, which provides free business tips and tools. "Providing that help to make sure she's able to do everything correctly [was critical], because she stressed that being a minority business owner, she felt like she was at a disadvantage," he says.
Medina also introduced Morin to local women-owned business groups, and Nordé helped her put in an application in partnership with Cornell University to provide female entrepreneurs assistance with scaling their businesses and learning the financial acumen they need. Morin meets with her bankers several times a month; In the long-term, they're helping her position herself to access the capital she needs. Medina says, "Once she gets to that point where it's time to franchise, [we're ready to help with] the business credit piece so she's able to keep moving forward."
For Small Business Month in May, Bank of America is celebrating other stories of how small business owners have adapted to keep their businesses moving forward in times of change.
Visit https://promotions.bankofamerica.com/smallbusiness/sbmonth for more small business inspiration, client spotlights, and helpful resources.