What It Costs to Be Me: U.S. Edition
Women from across the nation reveal their annual income, how they spend their money, and what they love to splurge on!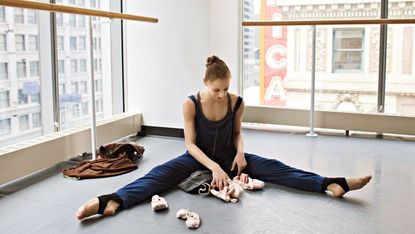 (Image credit: Clayton Hauck)
Joanna Wozniak, 26
Chicago, Illinois
Occupation: Dancer for the Joffrey Ballet
Annual income: $39,000
Average income in Chicago: $43,727
Home, sweet home: "I rent a one-bedroom apartment for $700 a month in a cute, family-oriented part of town called Ukrainian Village. It's a distance from the Joffrey — I have to take a bus and then a train to get to work. I spend $80 a month for an unlimited public transportation pass."
Bills, bills, bills: "I've been dancing since I was 5 and became a professional dancer at 17. My parents are Polish immigrants who brought me up with a penny-pinching sensibility, so I am very aware of my finances. My utilities are about $50 a month, plus another $140 for cable and cell phone. I'm also working toward my bachelor's degree, which currently costs me $2,500 a year. Thankfully, my company picks up my pointe shoes. They cost $50 a pair, and I go through three or four pairs a week."
Meal plan: "For breakfast, I'll have oatmeal or yogurt with homemade granola. I prefer to keep lunch light — maybe a sandwich or soup — since I'll spend the rest of the day dancing. On weekends, I make one or two big dishes and eat them for leftovers on the other nights. I spend about $50 on groceries every week."
The weekender: "I perform four or five shows over the weekend, so I'm usually pretty busy. I'll also catch up on school, sleep, and laundry. I am a bit of a foodie, and Chicago has a great restaurant scene, so I'll try one with my friends or go out for beers. It's rarely more than $50 for the night — we keep costs down by hoofing it everywhere."
Only in Chicago: "This is the perfect city to be in during the summer. There are a ton of free outdoor concerts and movies at the Pritzker Pavilion. There's also free mambo, salsa, and swing dancing in Grant Park. Unfortunately, being a ballerina can be intimidating to people — nobody wants to dance with me!"
My big splurge: "I'm always looking for good travel deals. I just charged $1,000 to my credit card for a 16-day trip to Guatemala, Belize, and Mexico. It'll be on a shoestring budget, but I'm excited for the adventure."

The shoe index: "I bought a really good pair of $120 sneakers for a 20-mile charity walk I was doing. Shoes are very important in my profession. We have to be so careful not to hurt our feet."

The view from the ground: "I earn extra cash by teaching ballet to kids for $40 an hour. But when times get tough, that's usually the first thing parents cut. And ballet is not a sport that has a huge fan base and merchandising deals. Many dance schools and ballet companies have closed. This is not a very stable profession in times like these."
Natalie Kilgore, 31
Nashville, Tennessee
Occupation: Music publicist
Annual income: $60,000 (plus a bonus)
Average income in Nashville: $38,266
Home, sweet home: "I own a 900-square-foot cottage in an artsy neighborhood just a couple of minutes from Music Row, where all the record labels are based. I pay $700 per month for my mortgage, and am constantly scouring vintage shops for pieces to add to the '50s retro-chic look of the place."
Bills, bills, bills: "It's about $120 a month for utilities and another $170 per month for my iPhone and USB aircard, which lets me work from any back lot or airport. I don't have cable — with so much great live music, film, and art just minutes away, I don't see the point."
Meal plan: "I try not to buy too many groceries, since my job can have me going to events at a moment's notice. This business is all about 'let's do lunch,' which usually means someone else is picking up the tab. I'll head out to a neighborhood joint for dinner and a glass of wine, which costs me $20 or so."
The weekender: "Since I socialize all week, Saturdays are just for me. I often go antique shopping — I love refurbishing old pieces. There's a mid-century Dutch chair in my garage that I picked up for $30 that just needs an arm reset. At night, I'll see a movie or go to a concert. Eighty bucks is an expensive night for me."
Only in Nashville: "It's really inexpensive to be a music fan here. The Basement showcases up-and-coming acts on Tuesday nights, and admission is free. It's the hot spot."
My big splurge: "I have to walk the red carpet at awards shows with my clients, so it's important to look somewhat glamorous myself as their representative. I have a closetful of cocktail dresses and gowns that cost me anywhere from $75 to $200 apiece."
The shoe index: "I bought a pair of off-the-hook, 5-inch, Rock & Republic black-studded stilettos in Vegas, on sale for $225. Very rock star!"
The view from the ground: "The music business is definitely still struggling with illegal downloads. And since music is Nashville's bread and butter, it definitely affects us. I've seen many of my friends get laid-off or be forced to change career paths because of the decline in music sales."
Tashanea "T." Whitlow, 27
Boston, Massachusetts
Occupation: Event emcee and actress
Annual income: $55,000
Average income in Boston: $53,713
Home, sweet home: "I rent a $1,500-a-month, three-bedroom duplex near downtown, which I share with my younger brother. I have a walk-in closet, a patio off my bedroom, and enough space to have 10 friends over for cocktails every so often."

Bills, bills, bills: "Because I'm basically a freelancer, I have a lot of overhead. I pay $120 a month for my BlackBerry — which I absolutely need for work — another $200 per month for utilities. My car costs me $350 a month, and I owe about $15,000 in student loans, which is killing me."

Meal plan: "I entered the Miss Massachusetts pageant last year, which required that I maintain a really disciplined diet. I still try to keep that regimen — only five small power meals a day. I buy everything in bulk, so I only have to go food shopping every other week. All told, I spend roughly $300 a month on groceries."

The weekender: "I'll usually start a big night at my boyfriend's favorite cigar bar. My drink of choice, Sapphire & ginger, costs about $14. But since I know many of the bartenders, I usually get free drinks. Even still, it's not uncommon for me to drop about $250 on a Saturday night."
Only in Boston: "By law, if you live in Massachusetts, you need to have health insurance. But it's still too expensive for me. I haven't been penalized yet, but I know I need to take care of that ASAP."
My big splurge: "My hair, definitely. My extensions cost $250, plus another $200 to have them put in. I get that done every few months. Being beautiful doesn't come cheap."
The shoe index: "I bought a pair of Gucci kitten heels for $350. I only wear those for business."
The view from the ground: "Last year, when everyone was complaining how bad things were, I had my best year ever. I was booked for radio, acting gigs, and conventions. This year's been slower, but I'm still getting steady work."
Jennifer Green, 26
Los Angeles, California
Occupation: Chef, co-owner of the NomNom Truck
Annual income: $70,000
Average income in Los Angeles: $42,818
Home, sweet home: "My boyfriend and I share a three-bedroom house. We split the $2,000 rent. He takes care of the utilities, and I handle the food, which is about $100 a week for groceries. We have a pretty good-size backyard for our Hungarian vizsla, Bailey."
Bills, bills, bills: "I pay $200 a month for my Internet and cell phone, and another $150 for my car. My goal is to pay off my student loans — I've got about $15,000 left — within the next two years."
Meal plan: "I get free food when I meet with suppliers. My bread vendor gave me enough chocolate croissants to last for two weeks. And I don't eat out that much because I like experimenting with new ingredients and recipes. I've got a black truffle someone gave me in the freezer as we speak!"
The weekender: "I work on Saturdays, driving around with the truck to a couple of locations. On Sundays, I like to get organized at home, maybe hit a farmers' market. Then I'll go to a karaoke bar, where I usually spend $100 on the room and drinks. My 'Bohemian Rhapsody' is a crowd-pleaser."
Only in Los Angeles: "It's etiquette among all the trucks to share their food with each other. So I rarely pay for lunch when I'm working. But I do try to limit how much of it I eat — a lot of it is pretty fattening."
My big splurge: "The steam and oil from the grills suck my skin dry. So I use argan oil on my face. It costs $30 a bottle but is totally worth it."
The shoe index: "I got these very cool Rachel Comey cowboy boots for $220. Most days I wear jeans and sneakers."
The view from the ground: "People don't have a lot to spend, so I've tried hard to keep the prices low. But food costs are rising across the board, and my business is often squeezed. It's a real battle to make it all work."
Tiffany Fehr, 33
Seattle, Washington
Occupation: Web developer for msnbc.com (part-owned by Microsoft)
Annual income: $96,000 (plus profit sharing)
Average income in Seattle: $48,976
Home, sweet home: "After I graduated college, my parents helped me buy a six-bedroom house in the University district. I rented out the extra rooms to help pay the $1,800 monthly mortgage. But now all of my roommates are gone — I'm over being a landlord. I was such a pushover! I've been trying to sell the house for two years, but the market being what it is, I'm going to rent it out and move into a smaller place."
Bills, bills, bills: "I pay $250 per month for utilities, which includes pretty much everything. Instead of cable, I stream Hulu and Netflix over the Internet. I also pay $120 per month for my used Audi, and have a charitable giving budget of $50 per month. My savings for retirement is aggressive — I think I've got $100,000 in several retirement accounts, in addition to other investments. I track every single expense — even tips, which I've figured out average $40 a month."
Meal plan: "MSNBC is part-owned by Microsoft, and my office is on the Redmond campus. The cafeteria caters to dudes — it's pretty much pizza and hamburgers. But because Microsoft subsidizes it, you can get an amazing amount of food for just $7."
The weekender: "It's very hard to get the momentum to leave the house on Saturdays because of the weather, so Friday nights are big here. After work, I'll meet up with friends for happy hour, which will run me about $50. I'll use Foursquare to see how many people have checked in to a place — that way I know if it's busy or not."
Only in Seattle: "Everyone tweets here. It's like an arms race for who has the newest, coolest toy or iPhone app. I only have 20 apps on my phone, which is really nothing. Amazon Fresh, which is a same-day grocery delivery service, is also available here. I can totally geek out on the cost-per-unit information and set up cool little reminder lists."
My big splurge: "All told, I spend $20,000 a year on Gyrotonics, which is like Pilates. I do it with a private instructor about three days a week. I used to be an amateur boxer, and this took about 20 pounds of muscle off my body."
The shoe index: "Recently, I bought a pair of $150 Terra Plana eco-friendly pumps that I never wear. I prefer sneakers, and usually have five pairs in rotation at any given time."
The view from the ground: "There's still a lot of unemployment, people who were forced to go on contract when they'd normally be salaried. I have a lot of friends who are doing jobs they never thought they'd be doing."