Who's the Boss?
Do you dream of being in charge? Here, three power players reveal how they beat the odds, defied their naysayers, and ended up calling the shots.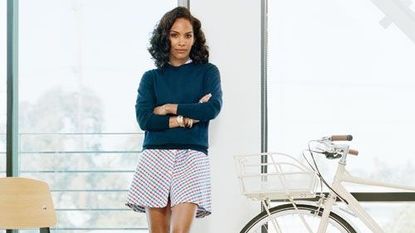 (Image credit: Emily Shur)
Marie Claire Newsletter
Celebrity news, beauty, fashion advice, and fascinating features, delivered straight to your inbox!
Thank you for signing up to Marie Claire. You will receive a verification email shortly.
There was a problem. Please refresh the page and try again.
Mara Brock Akil Executive producer, The Game
Tall and impeccably dressed with model good looks, Mara Brock Akil could easily pass for just another one of Hollywood's pretty people were it not for the fact that she is a somebody in these parts. A prolific producer and writer, she's the woman behind some of the most popular shows on television: Moesha, Girlfriends, The Game. Never seen them? That's no surprise to Brock Akil. Like Tyler Perry, whose enormous box-office and ratings clout went unreported in the mainstream press for years because his work catered largely to black audiences, Brock Akil, 42, is also one of Hollywood's most underrated talents. Not that she's bitter. Far from it. "There are so many untold stories that I get to take a swing at and try to articulate," she says. "I'm proud to be in the position to help broaden the discussion of who we are."
Raised in Kansas City, Missouri, Brock Akil attended Northwestern University with plans to pursue a career in advertising. "It was a very glamorous career that was going to afford me the apartment I wanted in Chicago, the clothes, the car — but something in my spirit told me don't [do it]," she recalls. Instead, she applied for a screenwriting fellowship in Los Angeles, and when she didn't get it, folded shirts at the Gap rather than pursue a career that didn't interest her. "A staple of my personality," she says, "is that I want what I want — and I'm willing to do without until I get it."
By 1994, she landed a staff writer gig with Fox's South Central, then with Moesha, where she was soon promoted to producer. Her goal: to give black women, largely absent on TV, a voice on a hit sitcom. Brock Akil threw herself into the job, pulling late nights, working weekends. But the grueling pace left her unsatisfied. "I looked around the writers room [and realized] all the men were married with families and all the women were single — it scared the shit out of me," she says.
At the time, she was seeing TV writer Salim Akil, then working on Moesha. Her boss, executive producer Sara Finney, told her, "If this guy is important to you, you have to figure out how to make time for this relationship." The advice inspired her to get serious about their status. The pair married in 1999 and now have two sons, ages 8 and 3.
Brock Akil was barely 30 when, in 2000, she pitched Girlfriends, an African-American version of Sex and the City, which was picked up by the CW. The series struck a chord with viewers and quickly went on to become one of the highest-rated shows among black audiences. It ran for eight seasons — the longest-running "black sitcom," second only to The Cosby Show.
Girlfriends spawned The Game, a spin-off comedy about girlfriends of professional ballplayers, which debuted on the CW in 2006. The show lasted just three seasons before getting cancelled. Thousands of viewers protested, demanding the show's return. Then the unheard of happened: BET resurrected The Game last year. The ratings were massive: 7.7 million viewers tuned in, crowning it the most-watched sitcom in ad-supported cable history.
The Akils cowrote her latest project, Sparkle, a remake of the 1976 cult film inspired by The Supremes. It was also Whitney Houston's final film. Brock Akil remembers how thrilled Houston was that the name of her church, New Hope Baptist, appeared in the script. "I told her I had made it up," she says. "That's when we both knew this project felt like destiny."
Brock Akil and her husband are frequent collaborators, even operating their own production company. Although few marriage therapists would suggest going into business with a spouse (let alone in as cutthroat an industry as television), Brock Akil says it works because they both share the same sensibilities. She also gets the final word on creative differences. "Sometimes we would have a debate in front of the writers [of The Game], and they would be like, 'Oh, my God, this is so uncomfortable — like mommy and daddy fighting,'" she says. "But the buck stops with me."
Though she's a well-regarded heavy hitter in a town rife with them, Brock Akil knows she's got miles to go before Hollywood diversifies its largely white casts. "I used to say to fellow showrunners, 'If you fill your staffs with different-looking people, your characters will be more interesting, even if they remain white.'"
This is one reason she says she'd like to run a studio one day. "I want to create more great television," she says. "I want to nurture and introduce other great talent." She stops for a moment, reflecting on her rise from the Gap to Hollywood. "I'm very thankful. Right now I could be living a very different life in Chicago. And I love my life the way that it is." — Laurie Sandell
CAREER ADVICE FROM MARA BROCK AKIL
1 DON'T COMPROMISE ON YOUR PASSION. It's one thing to be bored by your work. It's quite another to have no interest in it. Brock Akil ditched a career in advertising to pursue screenwriting, even working at the Gap to get by until she scored the job she wanted. "A staple of my personality is that I want what I want — and I'm willing to do without until I get it," she says.
2 IF IT'S IMPORTANT TO YOU, MAKE TIME FOR IT. Long hours and weekends spent working on Moesha left Brock Akil feeling lonely. "I looked around the writers room [and realized] all the men were married with families and all the women were single," she says. At the advice of her boss, Brock Akil realized she needed to devote more time to her personal relationships.
3 BUSINESS IS BUSINESS — EVEN WHEN WORKING WITH FRIENDS OR FAMILY. Brock Akil and her husband cowrite scripts for The Game. Although they usually share the same vision, differences occasionally arise. But, she says, "the buck stops with me."
Amy Guggenheim Shenkan President & COO, Common Sense Media
Last year, Amy Guggenheim Shenkan found herself on the hot seat. Less than two months into her job as president and chief operating officer of Common Sense Media, a San Francisco — based nonprofit that advises parents and kids on how best to use media and technology and which boasts board members like Chelsea Clinton and TV producer Marcy Carsey, she testified at a contentious Senate hearing on privacy issues and mobile devices alongside top execs from Facebook, Apple, and Google. "I felt like I was cramming for a final exam," jokes Shenkan, 47. You'd never have guessed it, though — Shenkan was the picture of cool, blending right in with tech's top dogs. Having spent years as a swashbuckling Web entrepreneur before transitioning to her current role as an influential children's advocate, she's always been drawn to big personalities with big ideas. As a senior at the University of Michigan, she won a coveted slot in General Electric's prestigious financial management training program, a position she decided she wanted only after reading up on its legendary ball-busting CEO, Jack Welch.
Shenkan later attended Harvard Business School before moving to San Francisco for a consulting gig with McKinsey & Co. The Bay Area was teeming with up-and-coming tech revolutionaries, and Shenkan got caught up in the fervor. "I saw the Internet transforming industries, and I wanted to be a part of it," she says. "My feeling is, no pain, no gain."
There'd be plenty of both.
She took a job as a product manager for 3DO, a video game startup founded by Electronic Arts founder Trip Hawkins. Ten months later, the company's bad business model caught up to it — it was trying to sell an $800 video game machine when its competitors' went for $100, she says — and she lost her job. The takeaway? "Do your homework," she says wryly.
She fared far better at Preview Travel, then the third-largest online travel agency. As senior vice president of business development, she helped lead a merger with Travelocity, after which bookings more than doubled to $1.2 billion a year. "I was in my early 30s, and we had taken this industry that didn't exist five years earlier and put it on the map. It still feels exciting to me to this day."
When Travelocity's headquarters moved to Dallas, Shenkan, flush with cash from the merger — "Let's say that I did well and feel very fortunate" — decided to take some time off, tech-mogul-style, jetting off to Africa and Belize, then returning for "playdates" around a friend's pool, where she sipped cocktails and hired masseuses. The downtime gave her the chance to contemplate a personal goal: getting married and having a family. "Work had consumed me. When I left [Travelocity], I said, 'This is a huge priority for me, and I need to carve out time to make it happen.'" So, with her usual type A aplomb, she set out to find romance, organizing outings, like the Jewish singles event where she met her future husband, Ed Shenkan, who runs a medical technology investment advisory firm.
Last year, Shenkan was recruited to help run Common Sense Media. Shifting to the nonprofit world was a decidedly different career move for a woman used to advising high-stakes deals and powerful figures — never mind the pay cut. "Clearly I'm not in it for the money," she says, laughing. "It's a fabulous challenge to grow this organization's impact and get a lot more people knowing about it. I mean, I'm working harder now than I did at McKinsey."
Shenkan manages the group's family-minded reviews of video games, apps, and movies; an education group that oversees curricula in more than 30,000 grade schools; and advocacy and research. The job was a natural evolution of her interest in the Internet, only this time, she says, it's become a mission. "I'm a huge believer in the power of technology, but kids' lives intersect with it very differently than adults'," she says, noting her own 7-year-old daughter, Madeline. "Instead of building a business and turning a profit, I'm focused on raising a generation of healthy kids," she says. — Roberta Bernstein
CAREER ADVICE FROM AMY GUGGENHEIM SHENKAN
1 GO WHERE THE ACTION IS. Shenkan moved to San Francisco for a consulting job. But when she saw the nascent tech boom firsthand, she knew she wanted to be a part of it, despite the risks. "My feeling is, no pain, no gain," she says.
2 TAKE CALCULATED RISKS. Shenkan took a job at a Silicon Valley startup founded by a well-known tech entrepreneur. Still, its business model was lousy and the company tanked. The takeaway: "Do your homework," she advises.
3 CLARITY COMES WHEN YOU'RE OFF THE CLOCK. It was only after Shenkan took a break from working that she realized what was missing from her life: a family. "Work had consumed me," she confesses.
Leslie Blodgett Executive chairman, Bare Escentuals
Though Leslie Blodgett has delivered countless speeches over the past 15 years, she was too nervous to eat before addressing Manhattan's Fashion Institute of Technology graduating class last year. As she approached the lectern, she took a deep breath, mustered all her mojo, and spoke slowly and emphatically. "I don't know anyone who has stopped being afraid," she told them. "If you're taking the easy way out, the boring way out, boy, you might as well be asleep. If you're really putting yourself on the line, you're going to be scared, and that's OK, because that's when you push through things — and that's when you feel most triumphant."
Blodgett, 50, is proof that swallowing those fears and plowing ahead can pay off in spades. In 1994, she was a fledgling cosmetics exec desperately trying to save Bare Escentuals, a money-losing, mineral-based makeup company. If she could just reach her customers, she thought, she knew she could sell them on the benefits of her powder-based product line, an antidote to pancake makeup and made from all-natural ingredients. At the time, QVC was a retail backwater catering to the out-of-work and sleep-deprived, but Blodgett had a hunch. So she donned a crisp white Bebe suit and a fake 5-carat diamond ring, and — cameras rolling — pitched her heart out.
QVC viewers lapped up her frank approach. In just six minutes, she sold 1,300 brush and foundation kits. Soon, she was moving $1.4 million worth of merchandise an hour. Within five years, the company she once could barely keep afloat was generating $65 million in revenue, thanks in large measure to Blodgett's girlfriend relatability and winning spiel. "Everyone told me I was crazy for doing home shopping," she recalls. "There are so many people out there who want to tell you not to do something. If you think they're right, it's going to steer you wrong."
Raised by a single mother on Long Island, New York — "She wanted me to not have to be dependent on a man to get what I wanted" — Blodgett got her start in cosmetics at the Ultima II counter at Macy's. She saw firsthand the transformative effect of makeup. "It's not just about the perfect shade of red lipstick," Blodgett says. "It's about that woman feeling good enough to ask for a raise, or to go on a job interview, or ask that guy out on a date." From there, she landed an internship at Revlon, then eventually an entry-level product development gig at Max Factor, followed by a stint at Neutrogena. Along the way, she married Keith Blodgett, a commercial producer, and had a son, Trent, now 19.
When she was approached by a Bare Escentuals investor asking if she'd help revive the company, which was teetering on the verge of bankruptcy, Blodgett jumped at the chance, relocating her family from Los Angeles to the Bay Area. Those early days were rife with difficult compromises: Blodgett's husband quit his job to raise Trent while she put in long hours building up the business. She missed so many of Trent's high school lacrosse games that she hired a videographer to document them. ("I've never reviewed them," she confesses sheepishly.) "Balance is incredibly hard," Blodgett admits wistfully. "I'm still feeling guilty about it."
Then, the moment every entrepreneur dreams of: the buyout offer. Two years ago, Shiseido snapped up Bare Escentuals for $1.7 billion. (Blodgett won't comment on how much she made off the sale.) She recently scaled back her day-to-day involvement and is now exploring a life beyond the brand. "I will have another big act," she says, her eyes widening. "I know that there are seeds inside of me that want to grow. I could become a painter. You don't know until you try. Not that I'm going to be famous, but I'm going to do something that is revolutionary — for me." — Diana Kapp
CAREER ADVICE FROM LESLIE BLODGETT
1 SCARED? YOU'RE ON THE RIGHT TRACK. You'll work hardest when you've got a lot on the line. "If you're taking the easy way out, you might as well be asleep," she told grads at the Fashion Institute of Technology recently. "If you're really putting yourself on the line, you're going to be scared — and that's when you push through things."
2 IGNORE THE NAYSAYERS — THERE WILL BE MANY. Struggling to revive Bare Escentuals, Blodgett decided to pitch the line on QVC. She got loads of flack for the idea. "There are so many people out there who want to tell you not to do something. If you think they're right, it's going to steer you wrong," she advises. In fact, her QVC debut proved a triumph and helped lead the company to profitability.
3 BRACE YOURSELF FOR TOUGH SACRIFICES. Overseeing a multimillion-dollar cosmetics powerhouse gave Blodgett and her family financial freedom. The trade-off: missing out on family time. "Balance is incredibly hard," she says.
Celebrity news, beauty, fashion advice, and fascinating features, delivered straight to your inbox!