MC@Work: Confessions of a Hit Woman
Dana Walden Interview - Twentieth Century Fox Chairman Dana Walden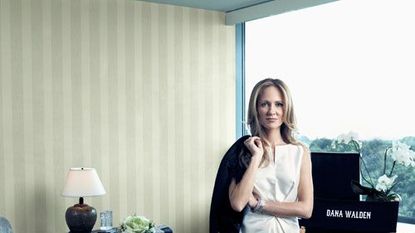 (Image credit: Christopher Sturman)
Did you always want to be in the entertainment business?
When I graduated from the University of Southern California, I had a boyfriend who knew publicist Alan Nierob of Rogers & Cowan, and he suggested I talk to him. When I walked into Alan's office, he was on the phone with Victoria Principal. Then his assistant came in and said, "Mary Frann [of Newhart] is on the second line." Then Danny Sullivan, the [Indianapolis 500 — winning] race car driver, called. It was clearly an exciting environment.
When you were 31, Peter Chernin, the former head of News Corp. (which owns Twentieth Century Fox Television), asked you to move from the PR side to programming. How did that come about?

In 1995, I had been chosen to make a short presentation about the state of the TV business at a company retreat in Santa Barbara. At the time, I felt we were not real competitors in network television. The studio wasn't prolific; we didn't have much of a brand. I thought, Even if it sounds harsh, I'm going to be very candid. It was my Jerry Maguire moment. When I got back to L.A., Peter Chernin called and asked if I'd be interested in moving into the creative area.
Since then, you've cultivated a reputation as something of a TV Midas. How do you know when you have a hit on your hands?

Typically, I can tell from a pilot script. But a lot of luck goes into the next stage — the casting, who's going to direct, the time slot. When Calista Flockhart read for Ally McBeal, I saw this perfect chemistry between the words on the page and the person who would embody that character. When I got the first e-mail suggesting we cast Zooey Deschanel in New Girl, I thought, That's exactly right. In the pilot of Modern Family, when Cam is holding up the baby with the Lion King theme, it was very clear we had something special.
Any misfires that caught you by surprise?

Journeyman [2007] was an incredibly soulful drama about a guy who traveled back in time, and you watched him fall in love with his wife. It was NBC's highest-testing pilot since ER, but it launched during a tumultuous time at the network [NBC was fourth place in the ratings] and they bailed on it very quickly. It was extremely disappointing.
[image id='7e0e7260-d708-48b0-839b-06eb0f0e7aeb' mediaId='34e96425-966b-42bd-9f43-f6fc9066e610' loc='C'][/image]
You share the title of chairman of Twentieth Century Fox Television with Gary Newman. What's that relationship like?

Gary and I are very different deal makers: I typically respond from my gut; he responds from a more analytical point of view. Our bosses felt our skill sets were very complementary, so they gave us oversight of the studio, which turned into an enormously successful partnership. After 14 years, it's seamless. We've been together longer than many couples!
What have you learned from calling the shots?

You have to make a lot of decisions. Not all of them are going to be perfect. What differentiates leaders is the ability to recover following a mistake. I make mistakes all the time, but I cop to them, apologize, and move on. Contrition is powerful.
Any big regrets?

Letting director David Nutter [The Sopranos, Entourage, Game of Thrones] leave this studio. Warner Brothers made a huge deal with him, and he's been there ever since. I was too bogged down in the particulars of his deal and didn't trust my gut. It taught me a great lesson: When you feel strongly about someone creatively, you have to just go for it.
You're married to former Arista Records executive Matt Walden and have two daughters. How do you negotiate such a demanding career with your personal life?

It is the most stressful part of my life. My husband definitely gets the short end of the stick, because [when I come home] it's hard to switch off energy that is stereotypically male and aggressive. I have to remind myself that my husband proposed to a person who was in a very different position than the one I am in now. At a certain point, he deserves a wife — and not the chairman of a studio.
Television is said to be where the creative action in Hollywood is today. Why is that?

Television is a writer's medium. No one is taking your project away to be rewritten by five other people; it's all about the vision of the creator. And the shows are timeless — they're going to be around for a very long time. Future generations will be watching The X-Files, M.A.S.H., and The Simpsons. For filmmakers, crafting characters who have such an incredible relationship with the audience has really made television an appealing place to be.

DANA WALDEN'S TIPS FOR SUCCESS

1. THE TRUTH MAKES AN IMPRESSION: "[Regarding a controversial speech she delivered in 1995 about the state of television] I thought, Even if it sounds harsh, I'm going to be very candid. It was my Jerry Maguire moment."
2. FAILURE IS INEVITABLE — GET OVER IT FAST: "What differentiates leaders is the ability to recover following a mistake... I cop to them, apologize, and move on."
3. DON'T LINGER ON BIG DECISIONS: "[Upon losing a favorite director to another studio] I was too bogged down in the particulars of his deal... When you feel strongly about someone, you just have to go for it."

WALDEN'S SECRET WEAPONS

1. ASICS GEL-KAYANOS: "I run five days a week, and no other shoe gives me the kind of support I've found in this one."
2. FROZEN MINI REESE'S PEANUT BUTTER CUPS: "I have a couple every day in the late afternoon. It feels healthier than drinking coffee."
3. CÉLINE BAG: "I beat my purses up throughout the day — this one tolerates the wear and still looks stylish."
4. MY BLACKBERRY: "I would still rather type e-mails on a keyboard."
5. LAURA MERCIER TINTED MOISTURIZER SPF-20: "A fantastic product that provides great coverage. It's all I wear on weekends."