This Grad Makes a Case on Whether Law Careers Are Worth Six-Figure Debt
One law school grad makes a case on whether "recession-proof" careers are worth six-figure debt.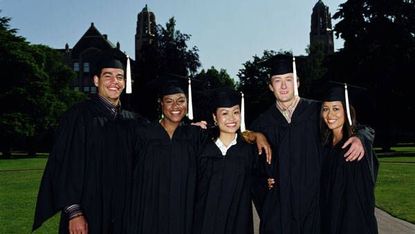 (Image credit: Ryan McVay)
Marie Claire Newsletter
Celebrity news, beauty, fashion advice, and fascinating features, delivered straight to your inbox!
Thank you for signing up to Marie Claire. You will receive a verification email shortly.
There was a problem. Please refresh the page and try again.
"I made it!" read the Instagram caption under my law-school graduation photos. A year later, I'm 32, nearly $200,000 in debt, sitting on a couch in a 900-square-foot apartment in Brooklyn, New York, dreaming of the house I thought I would own by now.
My situation is not unique. For most students, pursuing an advanced degree means taking on an advanced level of debt. According to the New America Foundation, nearly 60 percent of graduate students in 2012 took on loans. The median graduate student borrowed $41,000, but law students took on much more—with the typical graduate owing $128,125.
In the past, taking on upwards of $100,000 in debt wasn't scary for law students—getting a juris doctor (J.D.) was seen as a ticket to financial security because the legal field was believed to be recession-proof. "Your debt is no problem," people told me. "You'll have it paid in no time."
But the economic downturn changed all that. "Be realistic," says Brian Tamanaha, a professor of law at Washington University in St. Louis. "Don't make the mistake of thinking you will be at the top of your class and get the big firm job." Even if I could get the big firm job, I don't want it. I wanted to work at a nonprofit. But with my $1,500 monthly loan payments, there's no way I could go into the public sector and still afford to eat. So instead, I'm working as a television and radio commentator.
And it's not just law students. Even the prized master of business administration (MBA) has lost some luster. According to Bloomberg Businessweek, at the height of the recession one in five MBA graduates from the top 30 schools were jobless three months after completing their degrees. Demand for MBA holders also declined despite record numbers of business school graduates, as did signing bonuses, and starting salaries have been mostly stagnant. "Historically, we have always known that J.D. and MBA graduates make up to $1 million more in lifetime earnings," says Elizabeth Baylor, associate director of postsecondary-education policy at the Center for American Progress. "But what's changed is the ability to get those degrees and then feel as if the world is your oyster—that you'll be able to pick from an array of jobs."
It's time to adjust expectations. Of course these degrees still have value, but you need to think hard about your future before taking on loans. That means researching job placements of recent graduates and having a realistic view of how much you'll make. If not, you could end up like me, feeling like the dream you signed your life away for is deferred much longer than you'd ever imagined.
YOUR STUDENT DEBT RELIEF CENTER:
These Sites Help You With Your Student Debt
Help on the Web: Your Representatives Can Help You
This Senator Is Fighting for Student-Loan Reform

Photo Credit: Ryan McVay
Celebrity news, beauty, fashion advice, and fascinating features, delivered straight to your inbox!
Zerlina Maxwell is a former Hillary Clinton campaign staffer, and current Director of Progressive Programming at Sirius XM Radio.