Chelsea Handler Had A Ton Of Celebs Help Her Say Goodbye To E!
Last night marked the end of seven years at the network.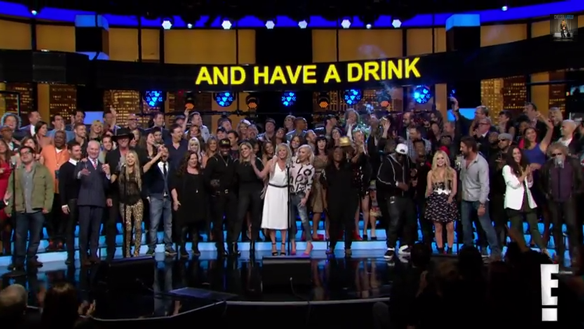 (Image credit: Archives)
Last night marked the end of an era for late night television: Chelsea Handler's seven year run on Chelsea Lately came to an end. And to mark the occasion, Chelsea gathered several of her closest A-list friends to join her in singing goodbye to the network.
Celebs like Jennifer Aniston, Gerard Butler, Fergie, Tim Gunn, Avril Lavigne, Miley Cyrus, Selena Gomez, Sandra Bullock, 50 Cent, among many others, either joined in the large chorus, or for the more musically inclined, took their turn singing a solo verse. The star-studded choir sang that "it's time to move on," and that she "wants to sing, she wants to dance, and get her groove on." Of course, the song ended with everyone agreeing that it's time to have a drink—nothing better to cheers to than the end of one of our favorite shows.
Thankfully, Chelsea' departure from E! doesn't mean the end of seeing her on our screens. The queen of late night is set to make her return on an even smaller screen: your computer. She's set to launch the first ever Netflix talk show. We've got a while for wait before that project will launch: The soonest talked-about date is early 2016. To tide you over in the meantime, Chelsea's hour-long stand-up show will premiere on Netflix this fall. The best part about her new venture? Now you can binge watch Chelsea just like you binge watch everything else.
Watch the full song below:
Related:

20 Women Changing Entertainment

Chelsea Handler's Greatest Quotes Ever
Chelsea Handler Announces Her Next Move
Diana is a producer at ELLE.com. She previously wrote for MarieClaire.com. Diana is a Syracuse grad and a Chicago native, and therefore a pro at dealing with cold weather. She's also an Anglophile, which means she love all things British—especially Downton Abbey, London, and Will and Kate (and Prince George!)