Mila Kunis Drops Truth Bombs About Work-Life Balance, Bourbon, and Surviving Trump's Presidency
"I worry for the state of our country because irrational behavior leads to irrational actions."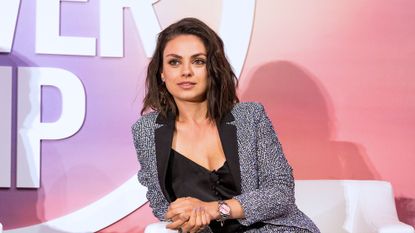 (Image credit: Kathryn Wirsing)
It's okay to curse," Anne Fulenwider, Editor-in-Chief of Marie Claire, told Mila Kunis on stage in front of 200 of the most powerful women in the United States.
It was with that go-ahead that the 34-year-old cover star, actress, investor, producer, Jim Beam partner, and mother of two held absolutely nothing back during her interview at the 2017 Power Trip, a San Fransisco-based conference bringing together #boss ladies from the east coast to network with their badass counterparts in the west.
Like her character Amy in the upcoming sequel A Bad Moms Christmas (out November 1st), Kunis opened her discussion by acknowledging that being at the conference kept her away from her kids—and that sometimes, work comes first.

"There is no such thing of balance," she says. "F*ck balance! Something is going to take a hit, and you're going to have to take it."
The mom, who spent the earlier half of the day celebrating the working moms at Google, Twitter, and Pinterest, wants women to know that it's okay to have other interests.
"I didn't see my kids today," she adds. "But I think that it's okay. I'm coming to terms that I love what I do. It's okay to have passions outside of your family."
The outspoken actress, who is a Democrat, also opened up on the current political state under Donald Trump's presidency.
"The current state is a disaster," she says. "It's frightening. I did predict Trump as president and nobody believed me. That's not to say I knew it was going to be this bad."
Mila is quick to add that the the struggles she sees our country face is not the fault of any specific political party.
"Im not against Republicans," She says. "I think this is a human rights issue, a mental issue. I worry for the state of our country because of these two things, because irrational behavior leads to irrational actions."
[pullquote align='center']"I worry for the state of our country...because irrational behavior leads to irrational decisions."[/pullquote]
Despite her worries, she's confident that things will work out.
"This country is a beautiful country that I am proud to be a part of. We just have to stick it out for three years."
After getting all that off her chest, Mila was ready for a drink. The Jim Beam partner—who took her shot of bourbon like a champ, by the way—had a special toast in mind for the ladies in the audience admiring her forthcomingness:
"I'm going to get you all sh*t-faced."
For more from this year's Power Trip, click here.
Marie Claire email subscribers get intel on fashion and beauty trends, hot-off-the-press celebrity news, and more. Sign up here.
Megan DiTrolio is the editor of features and special projects at Marie Claire, where she oversees all career coverage and writes and edits stories on women's issues, politics, cultural trends, and more. In addition to editing feature stories, she programs Marie Claire's annual Power Trip conference and Marie Claire's Getting Down To Business Instagram Live franchise.