Director Asif Kapadia Opens Up About His Heartbreaking New Amy Winehouse Documentary
Exclusive insight into one of the summer's most talked-about films.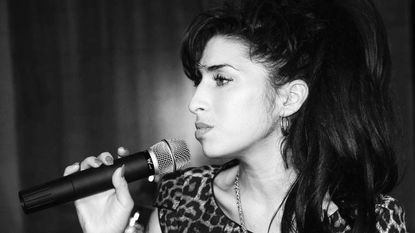 (Image credit: Getty Images)
Amy Winehouse got me through the worst breakup of my life. I listened to songs from Back to Black all day, every day, for about seven months. I loved her voice, I found relief in her lyrics, and I felt like I was just...understood. I mourned her death in 2011 as if I'd lost a friend, so I'm an easy sell for the new documentary about her, Amy, out now. Others might need to be convinced. A depressing flick about a musician's descent into addiction, with an even more depressing ending? We've seen this one before.
But this film, which won acclaim at the Cannes Film Festival and has already broken box-office records in the U.K., is more captivating than you might think. It's even, at times, hilarious.
One of the movie's most immediately striking qualities is director Asif Kapadia's visual style—early on he made the decision to use only archived or found footage of Winehouse, with no interruptions. You hear the voices of her friends, family, colleagues, and even her ex-husband, but you never see their faces, and never see them speaking from the present day. As an audience member, you quite literally never take your eyes off Amy. "If you show interviews, it all becomes about how people look, about their backgrounds. I find it all a bit distracting," Kapadia explained to me backstage at his recent AOL Build chat, seated alongside Winehouse's best friend and former manager Nick Shymansky.
So for two hours, Winehouse is right there with you. "Even if someone else is talking, you're looking at her. I love her face. I love looking at her eyes, her hair. She's so expressive," Kapadia says. "And you see her body changing throughout the story." In fact, her physicality speaks volumes; she goes from a chubby teenager with glowing, mischievous eyes to a terribly gaunt, listless 20-something hiding behind wicked eyeliner. It's the primary method of tracking her mental state.
Keeping the interview subjects off camera also allowed them to open up. "Once I felt like I trust[ed] this guy, I didn't even realize how much I needed to talk," Shymansky says. "They turned into therapy sessions. We'd talk for a couple of hours, and the sound engineer would come in and say, 'Uh, guys, we need to close in a bit.'"
As a member of Winehouse's inner circle, Shymansky was the key to getting many other friends and family on board with the project. There had been a barrage of media requests in the years—even the days—after her death. "I was really annoyed with how her life was being handled. They weren't getting to the person that I knew was there," Shymansky says. "When I met Asif, I was hemming and hawing, like should I do this?" In the end, Kapadia's sensitivity and compassion convinced him, and Winehouse's childhood friends, parents, managers, bodyguards, producers, and ex-husband got involved.
Of course, that doesn't mean they were all happy with the final product. Her father Mitch has publicly condemned the film, saying it paints him as a villain. Having watched it now, I can say that the "blame" seems to lie all over the place—on the promoters who forced her to perform when she wasn't healthy, on the mother who willfully ignored her bulimia, on the husband who introduced her to crack cocaine.
"There are people out there who think it's all about them, and that wasn't the intention. Life's too short. I'm not that kind of guy, I wouldn't spend three years of my life to pick on someone," Kapadia explains. "I wanted to show why she ended up the way she did. A lot of people made decisions that maybe, at the time, they thought they were doing the right thing. In hindsight, they all added up to what happened. That's just what it is—it's not pointing a finger."
Some of the blame finds its way to us: the consumers, her audience, the people who made jokes about her and bought nasty tabloids screaming about her decrepit appearance. "Maybe we can learn from this," Kapadia says. "Maybe next time this happens, we act slightly differently—us, all of us, the people clicking on those videos or making comments or saying nasty things on social media, or shall I say, antisocial media."
The film gently guides us away from her sordid side, and toward her surprising, delightful wit. Kapadia's favorite scene is a recording of when Winehouse welcomes a friend into her apartment on a holiday in Mallorca, giving her a tour in a wacky accent and cracking constant jokes. "I love it when she's just happy and messing around. That's her at her best," Shymansky says. There's even a scene in which Winehouse dares a friend to eat 52 eggs in an hour. "It's so Amy."
Kapadia showed an early cut to friends, nervous he didn't have much of a movie yet. "They all cried at the beginning, when they saw young Amy, and they didn't cry at the end, when she died. They were angry by the ending," he recalls. "I asked them, Why did you cry there and not there? They said, 'Because we've never seen her happy before.'" And what a thing that is to behold.
Marie Claire email subscribers get intel on fashion and beauty trends, hot-off-the-press celebrity news, and more. Sign up here.