Up-and-Coming Actress Hannah Ware on the Art of the Mixtape
Because good music taste just runs in her family.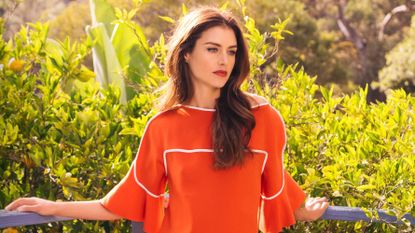 (Image credit: Shane McCauley)
Hannah Ware dodges a genetically engineered assassin in this month's video-game-inspired flick Hitman: Agent 47. Here, the L.A.-based 32-year-old actress (and Comic-Con's newest crush) plays it even cooler—with mixtapes.
On her mixtape skills: "Mixtape" sounds retro! I used to make lots of mixed tapes. It was one of those '90s things—every girl gave them to her best friend. I remember exchanging a few with a boy on a bus when I was 14. I thought he hated me, but in hindsight, maybe he was in love with me, because he gave me the best music.
On the first sexy mixtape she ever received: My first boyfriend dropped off a mixtape outside of my Italian class. I was 18, and I was going on holiday with my family, and I bored them silly with it. A lot of Prince.
On collaborating with her famous singer sister: My sister, singer Jessie Ware, and I are always exchanging music. We brainstormed her wedding playlist for months.
On the song she can't stop listening to: Tobias Jesso Jr., Matthew E. White, and my sister's new duet with Leon Bridges, "Lonely Road," which I have on repeat.
On the soundtrack for her fight scenes: We did a lot of fight scenes in Hitman: Agent 47, so you have to learn repetitious movements to music; otherwise, it's amazingly boring. Michael Jackson was our savior.
Since we couldn't exactly raid her music collection, we asked Ware to put together a mixtape of her favorite jams of the moment. Listen to the 15-track playlist below:
This article appears in the September 2015 issue of Marie Claire, on newsstands now.