Maisie Williams Wants You to Know a Few Things About "Hot Girl" Roles in Hollywood
No. 1, she's over them.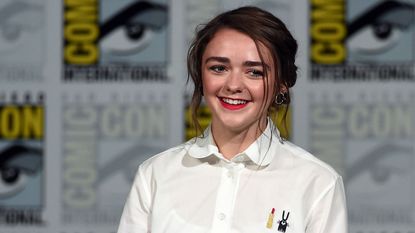 (Image credit: Getty Images)
Hollywood is getting a lesson in sexism courtesy of Maisie Williams.
The Game of Thrones star shared her concerns about gender equality in the entertainment industry in a new interview with the Evening Standard. And she's made some *very* valid points.
"There are a lot of roles that come in that are 'the girlfriend' or 'the hot piece' in a movie or TV series," she explained. "That's something I've seen first-hand and read all the time. It will say 'Derek: intelligent, good with kids, funny, really good at this' and then it will say 'Sandra: hot in a sort of cute way' — and that's all you get. That's the way your character is described, so going into an audition you are channeling 'hot,' which isn't like a person, that's not who a person is."
At just 18 years old, wise-beyond-her-years Williams is ready to see a shift in the roles being offered to women.
"That's what I see and that's what needs to change," she said. "I've been lucky enough to play a very great female character from a young age, who is a fantastic role model for girls. I just hope that if we stop playing those characters, they'll stop being written."
Amen.
"It's a very big thing to say for me," the actress added with a laugh, "On behalf of all the women in this industry."
But who better to hear it from than Arya Stark herself?
Celebrity news, beauty, fashion advice, and fascinating features, delivered straight to your inbox!