Jameela Jamil Wants to Upend the "Body Positivity" Movement
The Good Place star on why she thinks "women are being f--king bullied all the time."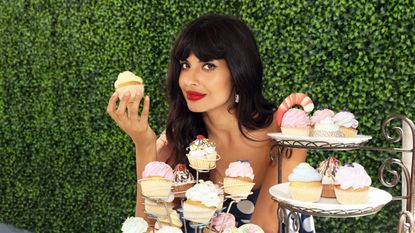 (Image credit: NBC)
Though my interview with Jameela Jamil was ostensibly to promote the third season of her show, The Good Place—on which she plays the endearingly narcissistic name-dropper Tahani Al-Jamil—she spent a lot of time raving about other people. For example, five minutes were spent on saying nice things about her co-stars Maya Rudolph ("a magnificent person, really wonderful to work with, a role model") and Ted Danson ("No one should ever have to go a day without Ted Danson in their lives.") before we could even begin talking about her. "I'm very cold and rude in person," Jamil finally says, by way of explanation. "I'm only ever nice about people behind their back. I'm two-faced, but in a positive way."
I'm doubtful, because within a few moments of our chat, Jameela Jamil made it clear she was ready to talk about anything, no matter how taboo or in-the-weeds. And that honesty combined with her intelligence and wit (plus a lovely, lilting British accent), makes any conversation with her one that you don't want to end. Seriously, I was sad when we had to end the interview and I now want her to be my best friend.
Fortunately, we're about to get a lot more Jameela Jamil when The Good Place comes back for its third season on NBC this Thursday. The comedy follows a group of people who were sent to what's called "The Bad Place" upon their deaths (though they didn't know it at the time) as they attempt to navigate the afterlife and try to redeem themselves enough to get to "The Good Place." That's the simple version, anyway, because this show is almost too high-c0ncept, philosophical, and deeply funny to adequately describe it. And Jamil steals the show as the socialite philanthropist with less-than-honorable intentions.
But real-life Jamil's intentions are far more magnanimous. When she's not on TV, she's an activist who launched I Weigh, a 157,000-follower (and counting) Instagram account that Jamil describes as part of a "life-positivity" movement. After seeing an image of the Kardashian-Jenners with their weights listed, Jamil posted an image on Instagram about the things that make her her—friendship, love, financial independence—and called them her "weights." She encouraged anyone who could relate to do the same, and a movement was born. Now she's become an outspoken critic of the ways in which women are shamed for their appearance. (Jamil made waves last month when she declared the Kardashians "double agents for the patriarchy," for the way they inaccurately portray what's "achievable" while selling products that directly harm self-worth and self-image.)
Basically, Jameela Jamil will give you a candid, thoughtful, and hilarious answer on pretty much any topic and you'll be better for having heard it. With that in mind, she chatted with MarieClaire.com about the advice she'd give Tahani, cloning Ted Danson, and why you should invest in your brain instead of your face. Here's what we learned, but be warned: You will have a desperate desire to be Jamil's best friend when you're done reading.
She thinks this will be the best season of The Good Place yet.
For one thing, expect cameos. "I think it's the funniest and filthiest season so far, [and] I felt really starstruck on set for a lot of the season," says Jamil, who has some reassuring news for those who want to see some of last season's loose ends tied up. "The story is unraveling in a really beautiful and interesting way, and I think people are going to—more than ever—be able to identify with each of the characters. "
While she couldn't reveal any information about exactly who is set to cameo, there's one that definitely won't be happening yet: Jason Mendoza's beloved Blake Bortles (the Jacksonville Jaguars' IRL quarterback), who said in his Reddit AMA that he was offered a spot but the timing wasn't quite right.
And for all the characters who show up, even more get mentioned. "[Tahani's] name drops this season are peak-ridiculous," says Jamil. "I don't know how much further they can go with this. She's got like name-dropping Tourette's this year."
Her favorite Tahani name drop? "Princess Diana. That was my first ever name-drop on the show, and I still don't think it's been outdone yet."
It took her awhile to love Tahani, too.
"It's kind of been like a real relationship between me and Tahani," Jamil says about her Good Place character. "I wanted to stab her in Season One."
That's relatable to anyone who watches the show, as Tahani went from shallow as a kiddie pool to surprisingly sad and clearly capable of growth. "The more the writers have helped me to understand her, the more I've grown to love her and empathize with her," Jamil says. "Now I just want to cuddle her and look after her."
Asked if she has any advice to give Tahani, she says, "I would hope that she could live with the same policy that I have for myself, which is that as long as the people that matter to me love me, it doesn't matter what anyone else thinks. Outside of my boyfriend and my best friend, I don't care about anyone else's opinion, which is why I'm such a lunatic on Twitter. I think it's completely maniacal to expect everyone to love you. And I think it's really sad and exhausting when you see people seek that out in other people. And so I would like her to be okay with being disliked. I think it would set her free."
On that note, who would Tahani describe as her best friend? "Oh, Beyonce," Jamil laughs. "For sure it's Beyonce. She's everyone's dream best friend, but her and Beyonce? Thick as thieves, I think, from the way she talks about it."
But it took her no time to love Ted Danson.
Jamil is a fan of Danson's: "We need to clone him. No one should ever go a day without Ted Danson in their lives. Either we have to... We have to preserve him somehow. I think he should already be sleeping in a cryogenic chamber every night. Just so that we're not losing a second of time. There would be no world war if we'd had Ted Danson from the beginning of time. There would have been no world wars. There would be no pain, no suffering."
Here, here!
She's not surprised so many people "get" The Good Place.
For a show that's ultimately about philosophy and the history of ethics, The Good Place is widely appealing. "I remember everyone said that [The Good Place] was too high concept to make," she says. "Everyone said that at the beginning. They were just like, 'A show like this is too high-concept for network TV, it's never going to fly.' And yet, here we are. We've just finished season three, and it's not a disaster. It's not a total failure! It's still here! And I think that's amazing sign of the fact that [show creator] Mike Schur knows not to patronize audiences. He doesn't underestimate the American public. I think that's cool. I think more people need to follow suit."
Here's why she's so outspoken about body image...
Jamil is an advocate for true body-positivity—the kind that can't be sold to you. "It's become a marketing slogan, and that's not what it was originally for," she says. "It was supposed to be inclusive, and again now, it's been taken over by very slender, often Caucasian women. And that's fine, but they weren't the reason that body positivity was started and needed. So it's turned into just a way for brands to have an excuse to talk about women's bodies some more."
Out of that idea—that body positivity became another reason for women to feel bad about themselves—came her I Weigh movement. "You cannot invest all of your time and thought into something that is inevitably going to fade, because your heart will only become bigger, your brain can only become more developed. Focus on things that will grow. The things that can only become bigger and better and stronger: Those are the things we should be feeding right now."
Even though she's new to the immense pressure that being a woman in Hollywood can put on a person, Jamil thinks of it in terms of investment: "Me spending all my time thinking about my looks just feels like a dumb investment. It feels like buying a house on the seafront in Malibu where the coastline is disintegrating because of global warming."
...and why she thinks celebrity culture hurts women so much.
Jamil has a lot of thoughts about what unrealistic beauty standards, the commodification of positivity, and a hyper-focus on looks as a result of social media are actually doing to women. "People don't understand a lot of depression is just repressed anger," she says. "Stress is a huge, huge factor in so much illness. We are a stressed gender, and we're being held down. We're being fucking bullied all the time, in so many different ways. And so, at the very least, we have to stop bullying ourselves and be our own best friends."

But she makes a caveat: "I don't mind women thinking about their looks—I'm not criticizing anyone, I'm not here to judge anyone. I'm just saying, make sure that you are rounded. Being rounded and multi-faceted is the key to long-term success, happiness, and variety."
And because of that, she thinks we need to revisit at least one other piece of Nineties nostalgia.
Sure, things are often rosy-tinted in retrospect, but Jamil says she misses the Nineties because of the icons it introduced:
"I do kind of miss the Nineties, where we had this burst of girls who didn't shower and were really opinionated: Alanis Morissette and Fiona Apple and Lauryn Hill saying things that really challenged people. They didn't wear makeup, and they wore trendy, cool, interesting clothes. We had Madonna who, when she would be sexualized, she was sexualizing men as well as women. You had Missy Elliot. You had all these women who were not being chosen just for their looks or for how sexy they were. We need to stop being reduced to nothing more than our looks, and appreciated for who we are again."
The third season of The Good Place premieres Thursday, September 27 at 8 p.m. time on NBC.
RELATED STORY
Celebrity news, beauty, fashion advice, and fascinating features, delivered straight to your inbox!
Amanda Mitchell is a writer and podcaster with bylines at Marie Claire, OprahMag, Allure, Byrdie, Stylecaster, Bon Appetit, and more. Her work exists at the apex of beauty, pop culture, and absurdity. A human Funfetti cake, she watches too much television, and her favorite season is awards season. You can read more of her work at amandaelizabethmitchell.com or follow her on Instagram and Twitter @lochnessmanda.