Jennifer Garner Talks Being an Entrepreneur—And No Longer Playing the "Nice Girl"
She spoke during a candid conversation at Marie Claire's 2018 Power Trip event.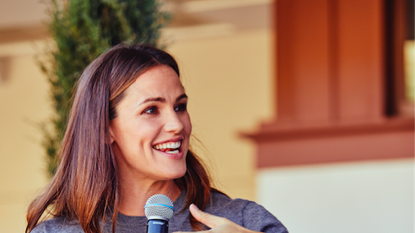 (Image credit: Kathryn Wirsing)
We do not deserve Jennifer Garner. Full stop, the queen of Instagram is so effortlessly charming, so chic, and so nice that sometimes it's hard to believe we get to breathe the same air as her. Sitting down with Marie Claire's Editor-in-Chief Anne Fulenwider at Power Trip, a two-day exclusive, invite-only networking event for women, Garner reminds us that yes, women can have it all if that's what they want and they have the support system behind them—and that her 2005 People's Choice Award was for Best Hair, of course.

"Do you think I can just do Miracles from Heaven forever?" The Golden Globe and Emmy award nominee started out talking about her new show, Camping, and the fact that she's playing a character some people might consider "unlikeable" for the first time. People had a visceral reaction to her turn as Katherine, an obsessively organized and aggressively controlling woman planning her husband's 45th birthday camping trip. To those people, Garner wants to question the status quo that lead people to think she can only be "the nice girl:" "It's a little bit sexist that you only want me to be the nice girl. I can be the bitch, too."
She was also enthralled by the entire concept of playing, well, an asshole. "I was drawn to what a jerk Katherine is, everyone's pain comes from somewhere and sometimes you have to look a little deeper to find where that pain comes from."
The Alias star touched upon the culture in Hollywood in the post-#metoo era, too."Women are walking on eggshells. You want to take it for everything it's worth and just surround yourself with the best possible women and make sure that you are fighting for and creating the most equality you can in every possible way you can. I feel very afraid of screwing up and not toeing the #metoo line." But she's not talking about coming from a place of fear. She's talking about amending your behaviors to hold yourself accountable. "Any time there's revolution and you feel like you're being held to a new standard, you want to make sure you're meeting the standard. I don't want to let my sisters down."
Garner also talked about her start-up, Once Upon a Farm, which just raised $20 million in funding for their organic, cold-pressed baby food, applesauce, and smoothies. Once Upon A Farm wants to remove the "it tastes like baby food" joke that baby food is gross, and change the game in the way that we look at food for toddlers. It can even be consumed by adults and "mixed with cocktails," as Garner did with people from Costco. "We were in a meeting with Costco today just sucking it down, just like, 'this is delicious!' And they added Champagne, so that's how it worked best."
Garner didn't come to Once Upon A Farm without a deep-dive into charity research, and figuring out what she was passionate about. "As I was going through the process, I kept feeling like, 'who is helping the kids like the kids I grew up with, like the ones in West Virginia, who's helping the kids like my mom who grew up poor in Oklahoma, who's helping rural America?' And it crystalized for me over time and over having all of these meetings that I ultimately didn't sign onto, and it made me realize that I've got to go with what I can speak about truly from the heart, which is poor rural America."
She even specified what exactly "poor rural America" looks like. "It looks like all different ways, is it looks like Indian nations, like kids for whom English is a second language, like the beautiful kids in Missouri and south Carolina It looks like white poor America, it's a crisscross, but I understand something in each of those communities, and not because I lived it, because I grew up around it and because my mom lived it, And how you do anything is how you do everything."
She mentioned the pressure modern women are under to do everything and anything, and how we're finally having conversations about the heaviness that accompanies being a working mother: "When I was first on Marie Claire 50 years ago, this wasn't a conversation we would even have."
Her passion for Once Upon a Farm and their message really mattered to her, though. "When I spoke to them and they talked about the idea behind it, It was just like 'oh my god, I would kill for this company.' And that's the way you want to feel: 'I would kill for it, and I can't wait to tell other moms about it.'"
So charming was Garner, she even got John Foraker, former CEO of Annie's Natural Foods, to leave Annie's to run Once Upon A Farm alongside her. A LEGEND. They're going to plant 500 blueberry bushes on Garner's family farm next week, too.
The conversation ended with a set of rapid fire questions:
How she made her first dollar? Poured coffee at her family's church after on Sundays
First Payment? $3 an hour
Her go-to karaoke song? "You're so Vain" (
First album she ever bought: Donny and Marie, My Little Corners of The world
Her cocktail of choice: Tequila with soda and lime
Her hidden talent:Pass, because...
What she's bad at: can't wrap presents; also no sense of direction
What every woman should try once in their life: Going on a trip by themselves (said to an audience on a trip with 200 women, of course.)
Celebrity news, beauty, fashion advice, and fascinating features, delivered straight to your inbox!
Amanda Mitchell is a writer and podcaster with bylines at Marie Claire, OprahMag, Allure, Byrdie, Stylecaster, Bon Appetit, and more. Her work exists at the apex of beauty, pop culture, and absurdity. A human Funfetti cake, she watches too much television, and her favorite season is awards season. You can read more of her work at amandaelizabethmitchell.com or follow her on Instagram and Twitter @lochnessmanda.