Taylor Schilling On What Scares Her—On and Off The Screen
You can find the Orange Is The New Black star in the spooky new horror flick The Prodigy.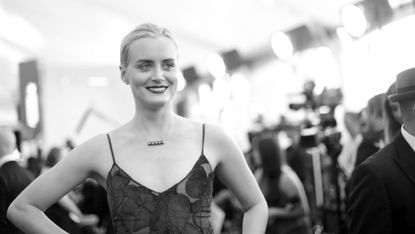 (Image credit: Getty Images)
Whatever you do, don't see The Prodigy alone. In this terrifying new movie, a little boy exhibits disturbing behavior that may be rooted in the supernatural. In a role that will break your heart, Taylor Schilling stars as Sarah, his mom, battling an extraordinarily dark force to save her kid.
Marie Claire: This is your first horror movie. Are you a fan of the genre?
Taylor Schilling: I don't seek out horror movies, but I love the idea of them. I have enjoyed getting really scared with other people. I have this very, very vivid memory of going to see the Kate Hudson movie The Skeleton Key. I was so scared in the theater that I thought I was going to have some sort of overwhelming physical reaction, like my heart was going to stop. But I had so much fun.
MC: Why did the role of Sarah appeal to you?
TS: I remember reading this script and being completely shocked by where Sarah went with her choices. It's pretty radical: This woman doesn't go belly-up; she doesn't submit. She keeps following her instincts, trusting her gut, and fighting. I really love and appreciate her.
MC: There's a great cut that takes us right from a more conventional horror scene to your character screaming in labor pain. The Prodigy really explores motherhood in a fresh and unsettling way.
TS: That's the thread that I thought was so interesting! It's the story of a real mother warrior who had to go places she never could have dreamed of to protect her son and who's forced to discover a far more resilient part of herself that she hadn't accessed before.
MC: What was challenging about your role?
TS: There are some huge moments, which is a really fun thing about horror movies. The circumstances are so heightened! As an actor, you get to yell and scream and react to these incredibly wild situations. But what was more challenging were the quiet moments between Sarah and her son. There's a fine line between love and deep, deep terror, but the seesaw is very quiet and subtle because she always has to play "mom."
MC: What scares you?
TS: Fire and sharks. I'm really not afraid of a lot of things—other than that, like, primal fear of abandonment, which I'm constantly working on so as not to screw up all my relationships.
This article originally appeared in the February 2019 issue of Marie Claire.
Marie Claire email subscribers get intel on fashion and beauty trends, hot-off-the-press celebrity news, and more. Sign up here.
Molly Fitzpatrick is a writer from New Jersey who lives in Queens.