Lily Tomlin Gets Candid About Her Biggest Career Regret
The legendary comedian and half of the Emmy-nominated Netflix hit Grace and Frankie on knowing your worth, driving stick, and mending a broken heart.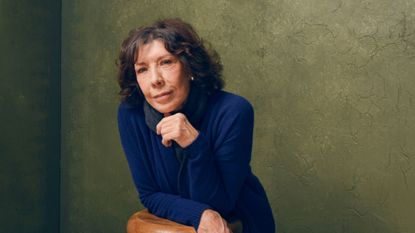 (Image credit: Larry Busacca)
The actress, comedian, writer, singer, and producer started her career performing stand-up comedy and acting in off-Broadway productions in the 1960s. Today, she's still one of the funniest women on television, starring in Netflix's Grace and Frankie, which has received four consecutive Emmy nods since 2015. Here, she answers the MC questionnaire offering her best career advice and openning up about the change she wants to see in the entertainment industry.
1. If I weren't an actress, I'd be: A school-bus driver.
2. Best career advice I've gotten: "Just meet with George Schlatter" (George was the producer of Laugh-In) and "Keep doing whatever you're doing if you truly love it."
3. Least gracious response to rejection/career setback: "I was just thinking this part is not for me. In fact, this part is so weak, I can't think of who it would be right for." I made that up. The only hurtful response I ever got at an audition was "Honey, have you ever acted before?"
4. The three qualities that got me where I am today: I'm not sure where I am today. No, really.
5. Moment I felt I made it: I still have yet to feel that moment. Maybe I should take this article as a sign that I've made it to a point or else why would you be interested in these answers?
6. Most agonizing career decision I've ever made: Remember when Cher won the Oscar and she wore that black outfit with the bare midriff and all? She was going to loan me that same outfit the next year in which I would present. I was in a long run at the Kennedy Center, but I could've canceled shows to be in L.A. for the ceremony. Plus the Kennedy Center was a convenient cover for cold feet. I'm still sorry I didn't do it!
7. Easiest career decision I've ever made: Taking Jane Wagner's The Search for Signs of Intelligent Life in the Universe to Broadway.
8. Kind of work I'd do for free: Grace and Frankie. Maybe.
9. Favorite perk of the job: Jane Fonda and I have such fun together on the show.
10. Worst pitfall of the job: Having to start work by 5 a.m.
11. Change I'd like to see in my industry: Lots more diversity, more opportunities for women.
12. How did you make your first dollar? I had a "dime" business. I was 10, and I'd do chores for the neighbors in the apartment building: walk your dog, go to the corner store, empty the garbage. By age 11, I was so good that I raised my price to a quarter.
13. Books that left a lasting impression on me: My Life So Far: By Edith Ann [by Jane Wagner], about a regular 6-year-old just facing the beginning of her life's journey, and Jane Fonda's My Life So Far, about a grown woman who's a huge star facing the third act of her life.
14. Song that always makes me cry: "We Are the Ones," by Jane Wagner.
15. Movie with the greatest ending: The Search for Signs of Intelligent Life in the Universe. "The play was soup, the audience, art."
16. On my bucket list: There's so many things on my bucket list, it should be called a bucket book.
17. If I could live in a foreign country, it would be: Right now I feel like I'm already living in a foreign country.
18. What every woman should try once in her lifetime: Downshifting on a curve in a stick-shift roadster.
19. One thing I'm exceptionally good at: My work because it's more like play. I am good also at adding/multiplying numbers—in my head.
20. One thing I'm epically bad at: It's like my bucket list—about the size of a book.
21. Superpower I'd want to have: To understand things automatically on a deeper level and the power to implement any good ideas that come from understanding things on a deeper level.
22. Something better in theory than in practice: Going around the world in 80 days. Evolution, relativity, AI, algorithms.
23. Stores I can't leave without buying something: Off the Wall, Thanks for the Memories, Golyester, Etro.
24. How I clear my mind after a crappy day: Meditate by looking my kitty in the eyes—for a long time.
25. If I could compete in an Olympic sport, I'd like it to be: Jacks.
26. The beauty essential you'd have to pry out of my cold, dead hands: SPF 45 sunblock.
27. The three qualities I thought I wanted in a partner: Sense of humor, intelligence, sense of playfulness.
28. The three qualities I know now matter: Sense of playfulness, sense of playfulness, sense of playfulness.
29. Advice to a woman with a broken heart: You're not alone. It's not a heart attack; you'll live. Learn from it. The heart is too soft to break in two. It just bruises. Let it mend on its own, and you will be stronger for that.
30. Relationship advice to my younger self: Start looking for Jane Wagner.
31. Moment I knew I was in love: The moment I met Jane Wagner.
32. What my high school boyfriend/girlfriend would say about me: A darned good cheerleader.
A version of this article originally appeared in the March 2019 issue of Marie Claire.
RELATED STORY
Jane Fonda Finally Feels Like She Made It
Celebrity news, beauty, fashion advice, and fascinating features, delivered straight to your inbox!