"It's Like a Drug": Jessica Biel Explores Her Dark Side
Our August cover star turns homicidal housewife in new TV drama The Sinner—and it's just the role she's been waiting for.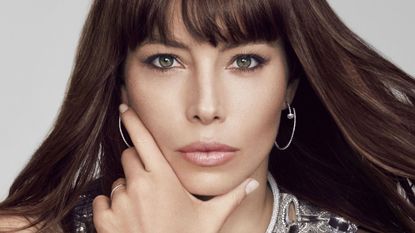 (Image credit: Txema Yeste)
What's it like to murder someone? Jessica Biel has a lot to say on the subject, but at the beginning of our interview, I worry. We're at The Palm Court of New York's Plaza hotel for afternoon tea, and Biel—who stars in USA's riveting eight-episode psychological thriller The Sinner, premiering this month—arrives looking so poised and ladylike, I can't imagine her opening up about anything.
She's dressed in a chic black Self-Portrait tulle-and-crepe jumpsuit, with a black embroidered capelet tied primly at the neck. Her high, sweeping cheekbones and wide green cat eyes are framed by dark bangs and long, pin-straight hair. Her skin is so fine, it looks airbrushed. "Sorry, I've been at press events all day," says Biel, smiling and flushing slightly as she sits down. Her manner is polite, but slightly reserved, with the calm self-possession of a longtime yoga devotee. "Normally, I look like you."
By this, presumably, she means jeans and an old black sweater, because let's be honest: No one looks like Jessica Biel. She's such an off-the-charts beauty that she's had to fight to get Hollywood to take her seriously as an actress. Her role as the squeaky-clean pastor's daughter on the TV series 7th Heaven made her a household name in the late '90s, and various "girlfriend roles" in movies like The A-Team and Total Recall (along with a standout performance opposite Edward Norton in the 2006 period piece The Illusionist) established her as an eminently watchable sex symbol in need of a breakthrough. But the breakthrough itself has been elusive. She feels she has yet to prove herself as an actress, and she really, really wants to. Which brings us to The Sinner.
Frustrated by the lack of substantial roles available in Hollywood, Biel started creating content of her own. Working with producing partner Michelle Purple under the shingle Iron Ocean Films, Biel produced and starred in a handful of "little tiny indie movies" like The Book of Love and The Tall Man to strong reviews. The films didn't do much box-office-wise, but they taught Biel the ropes as a producer. "They were great learning experiences," she says. They let her explore—see what she could do. Now, with The Sinner, Biel, 35, may finally have struck gold.
Based on the eponymous best-selling German novel by Petra Hammesfahr, the show is a gritty depiction of a young, middle-class American mother, Cora (played by Biel), who stabs a stranger to death one sunny summer afternoon while she's with her family at the beach. "It's dark," says Biel, who, in spite of her formidable poise, is also thoughtful and refreshingly humble in conversation. "And it gets weird really fast."
Here, a few highlights from our interview, in our first-ever Sustainability Issue on newsstands July 18:
On playing Cora in The Sinner, facing her personal challenges, and exploring her dark side:
"I have challenges standing up for myself sometimes. Times when I don't trust my own voice. And that's the stuff I needed to bring out and explore to understand Cora. [exploring her dark side] "It's like a drug, like an adrenaline rush. There's a real catharsis…you're exhausted, you are free; you feel a lot of different things. For me, it's like a rebirth. Like I'm a phoenix rising up out of the ashes."
On her Hollywood experience as a child actor: "My Hollywood experience as a young person was never one of those True Hollywood stories where I was left alone to my own devices with no parental supervision," says Biel. "There was always somebody with me."
What makes her and husband Justin Timberlake work: "We have similar values; we believe in loyalty, honesty. We like to have fun. We like a lot of the same things. Also, in the business, we're all very career-oriented, and you have to be a little selfish. I understand that about my peers—about being focused and driven—and if you can find that and someone who shares the same values as you, it's like: Score!"
What she's learned from motherhood: "You think you're a selfless person, and then you realize you're not. These little people come around, and they require so much, and your schedule is really not your own, nor is it important anymore, and it's very clear that it's your life now revolving around this dude. I'm not that person who feels like, Oh, my whole life changes for my kid, but it does."
Her thoughts on the national political climate: "This is just where we are, and I just really, really, really want all the good work that's been done for women and women's rights and the environment to not get turned around."
Read the full interview and see more photographs in the Sustainability Issue of Marie Claire, on newsstands July 18. And for a little behind-the-scenes action to hold you over, see more of Biel at her cover shoot here:
Featured Music: Luke Million (feat. Sam Sparro) - "Back to the Rhythm" [etcetc Music]
Marie Claire email subscribers get intel on fashion and beauty trends, hot-off-the-press celebrity news, and more. Sign up here.