"You'll Never Outwork Me": Taraji P. Henson on the Art of the Hustle
Our October cover star is back for the fourth season of hit Fox drama Empire—but she's got an even bigger year ahead.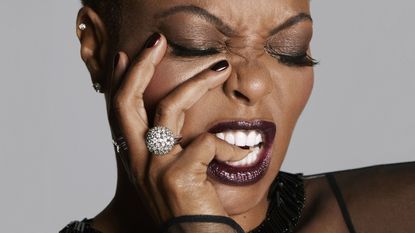 (Image credit: Nicolas Moore)
Marie Claire Newsletter
Celebrity news, beauty, fashion advice, and fascinating features, delivered straight to your inbox!
Thank you for signing up to Marie Claire. You will receive a verification email shortly.
There was a problem. Please refresh the page and try again.
There's nothing more mundane than sitting across from a celebrity in a sterile gray conference room. But when the star sitting across from you is Taraji Penda Henson, you are being treated to a master class in the art of the hustle. Henson struts into her publicist's office in West Hollywood, California, with the commanding and exacting gait of a woman twice her height. It's as if she's never wandered a day in her life.
She doesn't say a word or take off her bejeweled sunglasses as she situates herself, just smiles as a courtesy, but you know you're just another thing on her never-ending to-do list. You study her look because you're writing for a fashion magazine and note the plunging African-print minidress by MuurSwagg, a designer she fell in love with on Instagram.
"I don't know this woman, but I appreciate her hustle," Henson says. "I'm drawn to people who've got passion, who've got their bigger picture." That's when you realize that every piece of her ensemble means something. Take, for instance, her René Caovilla strappy heels.
When her father was dying of cancer, "People would come to the house and cry, and he would ask them, 'Why are you crying?'" she says as she takes off her sandal to reveal its glittery sole—a detail that reminds her of him (he died in 2006). "'Where I'm going, I'm going to be walking on streets paved with diamonds.' That's what he said."
A self-admitted daddy's girl, Henson speaks with sweet reverence about her late father, who pushed her, a young black single mother, to move from southeastern D.C. to Los Angeles 20 years ago to pursue her dreams of stardom. She wielded a theater degree; $700; her son, Marcell (now 23); and an unwavering belief that she deserved to be seen.
Her assuredness and talent propelled the girl who "came from the goddamn hood and put myself through Howard University" to nearly insurmountable heights in an industry that doesn't center women, especially black women who, as she writes in her best-selling memoir, Around the Way Girl, don't "have the look of, say, a Halle Berry, or the ethnic ambiguity of a Gugu Mbatha-Raw," but the look of "an everyday, round-the-way girl."
But it was that relatability and realness that nabbed Henson her film debut role in John Singleton's 2001 South Central L.A. coming-of-age drama, Baby Boy. Her Yvette was its emotional heart, and audiences and Hollywood couldn't forget her searing and raw performance.
"I just knew [I'd be typecast]. They are going to think this is all I can do. So I was like, 'Never again a ghetto role. I'm not saying I can't do it later, but right now, I have something to prove,'" she says. "My mission became showing that I'm a character actress. I can give them as many different performances as Meryl Streep—who is the one they look up to? Meryl Streep. Watch this. You think black women can't do it? I'm trained just like she is."
Here, a few highlights from her October cover interview, on newsstands September 19:
On supporting other women in the industry: "How can we get ahead if we're feuding and hating on each other all the time? I made a pact years ago that I would never hate on another female, ever, especially in this industry."
On the legacy she wants to leave: "I love black people. I love telling stories. I want these little girls to study me like I studied Meryl and Bette Davis and Carol Burnett. I want them to study my work, because I put a lot of work in, a lot of blood, sweat, and tears."
On dating: "I would love to [be in a relationship], but he has to see how I move and deal with it, because I don't have time to explain. I've got work to do."
On doing her own laundry: "That keeps me normal. That keeps me feeling like, Yeah, I'm not too Hollywood."
Read the full interview and see more photographs in the October issue of Marie Claire, on newsstands September 19.
Featured Music: Tigerilla - "Difference"
Celebrity news, beauty, fashion advice, and fascinating features, delivered straight to your inbox!