Alanis Morissette Wants Men to "Wake Up From Their Trance of Patriarchy"
Alanis Morissette Interview - 'Jagged Little Pill' Musical Opens in November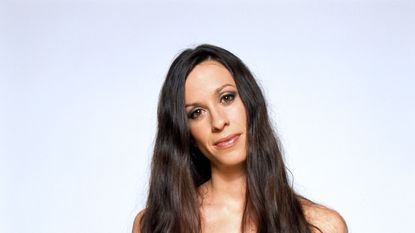 (Image credit: Tim Roney)
Her 1995 raw, ragey, best-selling album, Jagged Little Pill, spoke to a generation—and inspired a musical of the same name (opens in new tab), opening on Broadway this month. Here, the artist reflects on her career and shares her best love and life advice via Marie Claire's questionnaire.
1.If I weren't an artist, I'd be: A therapist.
2. Best career advice I've gotten: When I was quite young, my dad said, "Honey, some people will love you, some people will hate you, and some people won't give a shit." I realized quickly that no matter what I created, no matter what I expressed, all people generally fall into these categories.
3. The three qualities that got me where I am today: Vision. Resilience. Intuition.
4. Most agonizing career decision I've ever made: To direct and dance
in the video for my song "So Pure." I was told it would be career suicide, and I didn't give a shit. That was back when being multitudinous was a no-no. Now it is a requirement!
5. Easiest career decision I've ever made: To bring my family with me when I tour. It increases cost, sure, but it makes it so that I can keep the secure attachment with my loved ones. And makes it so that I can actually go on tour.
6. Favorite perk of the job: It's a given that I will travel this funny planet over and over.
7. Worst pitfall of the job: Often being egregiously misperceived.
8. Change I'd like to see in my industry: Women being paid what they are worth.
And so-called powerful men in the industry to wake up from their trance of patriarchy.
9. Last thing I binge-watched: Fleabag. Pure joy.
10.Kind of work I'd do for free: Being a bridesmaid. Being of service with a woman in leadership or a woman in the spotlight…I adore that role. I love loving up leaders.
11. Book that left a lasting impression on me: Keeping the Love You Find, by Harville Hendrix. Made the intricacies of romantic relationships make sense for the first time. And shone light on long-standing patterns. A game changer.
12. First album I bought: The Smurfs All Star Show. But my formal first purchase was Jane Siberry when I was 10 years old.
13. On my bucket list: A vipassana retreat. Might have to wait till my kids are grown.
14. What every woman should try once in her lifetime: Actually putting herself first, not just in theory.
15. How did you make your first dollar? I licked stamps in a basement. It lasted a day. Then I would sing at fairs.
16. Things I'm exceptionally good at: Strategizing, negotiating, and planning.
17. Who do you admire and why? I admire all unschooling families. It takes deep commitment and intelligence and bravery to live on the small part of the bell shaped curve.
18. Thing I'm epically bad at: Advanced settings on my laptop. OMG.
19. Something nice I did for myself recently because, hey, why not: Got my dream of a bright-red claw-foot bathtub. I have wanted one for the last 10 years.
20. Advice to a woman with a broken heart: There is a high likelihood that
whatever you are believing about yourself right now is not true.
21. Relationship advice to my younger self: Being with someone who really likes you can be super sexy. You don't have to give up chemistry to be in a functional and safe relationship.
22. What my high school boyfriend/girlfriend would say about me:
I never had a boyfriend or girlfriend. Reference my song "Hands Clean."
23: Food I'm not ashamed to admit I love: Sour patch kids.
24. If you could live in a foreign country, where would it be? On the border of France and Italy.
25. How would your perfect day begin? Sleeping in. Lying around letting my mind wander for the first couple of hours. I didn't realize what a luxury this was before becoming a mom.

26. How would your perfect day end? Binge watching television while snuggled in with my husband while eating salt and vinegar chips. This, too, is now an infrequent luxury.
27. Superhero power I'd want to have: Being invisible.
28. If I could compete in an Olympic sport, I'd like it to be: Pole vaulting.
29. The beauty essential you have to pry out of my cold, dead hands: Pure essential oil infused anything.
This story appears in the Holiday 2019 issue of Marie Claire.
subscribe here (opens in new tab)
RELATED STORY
Watch Alanis Morissette and James Corden Sing a 2015 Remake of 'Ironic'