In A Town Car With Gabrielle Union
Star talk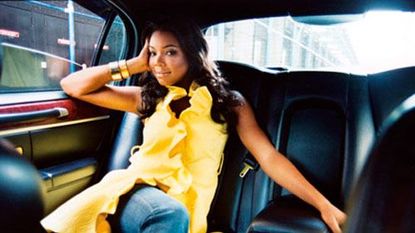 (Image credit: Rebecca Greenfield)
Marie Claire Newsletter
Celebrity news, beauty, fashion advice, and fascinating features, delivered straight to your inbox!
Thank you for signing up to Marie Claire. You will receive a verification email shortly.
There was a problem. Please refresh the page and try again.
It's been an ongoing debate with my girlfriends," says Gabrielle Union, glancing out the tinted car window at a tourist taking a picture of a New York City hot-dog stand. She turns to me. "We say we want a nice guy that treats us well, and then someone says, 'So you'll date a plumber?' Well, no, because that's not my dream guy. We all have to let go of the Prince Charming complex and realize he doesn't necessarily exist in the package we assume he'll come in."
When Union first opened the car door and slid in beside me, I was almost intimidated by the smooth, tawny skin, the Pilates-toned arms accentuated by a sleeveless bright-yellow shirt (who can pull off bright yellow?), the wide, winning smile. As soon as she shut the door, her BlackBerry started ringing. "Ugh," she said, glancing at the screen. "Boys are so much drama." Then she laughed warmly, and I realized-she's just one of the girls.
Speaking of Prince Charming, I say, was that who called her BlackBerry? "No," she laughs. "I date, but the person I date most is myself, unfortunately." Union admits it can be difficult to find quality men in L.A. "In our town, hot guys who know they're hot are a dime a dozen," she says. And don't get her started on all of those guys out there living in a state of prolonged adolescence. "I don't understand men that find that much time for PlayStation," she says. "If you have bad credit but a great Madden score, clearly there are some priority issues."
Union, 34, got her start in Hollywood when she interned at a modeling agency her senior year at UCLA, giving herself a break before pursuing law school. But when her boss suggested she try modeling at the end of the semester, Union gave it a shot. "It's not rocket science," she says, uncrossing her shapely, denim-clad legs and stretching them in the cramped backseat. "If it didn't work out, I always knew I could go back to my original plan." No need to take the LSATs, though-in just two weeks she landed her first guest-star role on Saved By the Bell: The New Class.
Her desire to become a lawyer didn't quite fall by the wayside, however. This month she plays alpha attorney Julia in Tyler Perry's Daddy's Little Girls, about a car mechanic/chauffeur who's desperately trying to get custody of his three daughters. Besides the fact that Perry wrote the part for her, Union was attracted to a movie that's willing to break the stereotype of deadbeat dads in the African-American community. "It's a story we don't ever see in the mainstream media or even in fantasy," she says. "We have hobbits and Middle Earth, but we can't have a black father who actually wants his kids."
While Union's drawn to scripts with a social message (Bad Boys II notwithstanding), she admits that she's been equally drawn to her string of sexy costars, including Morris Chestnutt, Jamie Foxx, and Will Smith. "I've been very lucky in that department," she says. But you can't talk about her love scenes without bringing up her most unexpected lover: Annette Bening in Running With Scissors. When asked what it was like to play a lesbian, Union shrugs it off. "It's just like if somebody asked me to cut my hair for a movie," she says. "I'm always up for the job."
Well, maybe not always. There is one role you'll never catch Union playing: the damsel in distress. "That's not an emotion I identify with," she says before hopping out of the car for a meeting, sounding less the ingenue than the movie producer she one day hopes to be. "After working with Joel Silver and Jerry Bruckheimer, I realize where the real power is." Her dimples deepen. "I want that."
Celebrity news, beauty, fashion advice, and fascinating features, delivered straight to your inbox!