Rita Volk Opens Up About Kissing Her Co-Star
She kissed a girl and liked it.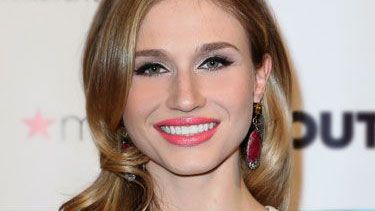 (Image credit: Getty)
Marie Claire Newsletter
Celebrity news, beauty, fashion advice, and fascinating features, delivered straight to your inbox!
Thank you for signing up to Marie Claire. You will receive a verification email shortly.
There was a problem. Please refresh the page and try again.
We all remember high school. The cliques, the jocks, the brainiacs, the insiders, the outsiders and the overall herculean effort to just be cool. Well, within the progressive walls of Hester High what's cool is a very modern version: whatever is nontraditional and makes you stand out. In other words—the outcasts are cool. So when two best friends Amy (Rita Volk) and Karma (Katie Stevens) are mistakenly labeled as lesbians and see their social standing skyrocket they decide to, well, go with it. Marie Claire caught-up with one half of the duo, the stunning and talented Rita Volk, to get all the gritty details.
Marie Claire: So you play Amy, the more low-key of the two but originally you went out for the role of Karma—the girly social wannabe. That's so crazy—you're SO Amy!

Rita Volk: [laughing] I know, that's what we're saying now! I actually had a lunch date with Carter [Covington; Greek, 10 Things I Hate About You] and we were talking about it and he was like, "I can't believe you ever went out for Karma!" And I was like, "I know, what were you guys thinking?" I had gone through pretty much every audition process, probably 3 or 4, for Karma. I didn't audition for Amy until my screen test. But I'm so glad that it turned out the way that it did because I'm so in love with her [Amy]. I think that she's so complex and layered; she has all these secrets. She's a vulnerable girl but she's also very strong and does her own thing.
MC: Speaking of secrets, let's talk about that kiss in Episode 1. Seems like Amy might have felt something. And Karma didn't. So maybe who is faking what might not be so obvious. Am I wrong?

RV: No, you're not wrong. Amy's going to have a journey trying to discover what that kiss meant. She does kiss Karma and there are feelings there that she didn't expect to have, so you're right on that, how she deals with that though is something that people are going to have to tune in for and watch. You like how I did that? I hooked you right in.
MC: Haha yes, touché! How long did it take you and Katie to get comfortable with kissing another girl on stage? Or did it happen easily?

RV: Came pretty easy. Obviously we'd have to get our giggles out when we were shooting those scenes. And now I kiss her all the time, so it's no big deal.
MC: And you two have already been given a celeb mash-up nickname: #Karmy.

RV: I know! It's crazy. It's absolutely insane. You wake up one day and people are making relationship names for you. I always thought, "Oh maybe when I get to Hollywood I'll date a guy and maybe I'll be like a Brangelina or something, one day." And all of a sudden I wake up and it's Karmy. It's just so funny.
"Faking It" premieres tonight on MTV at 10:30pm PT/ET
Celebrity news, beauty, fashion advice, and fascinating features, delivered straight to your inbox!