20 Questions with Mindy Kaling
The Mindy Project creator/star sounds off on Hollywood crushes, offensive TV characters, and the album that makes her cry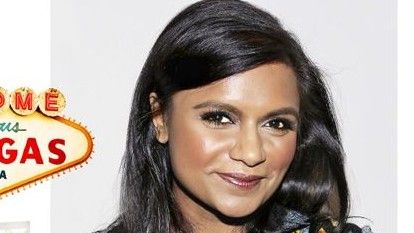 (Image credit: Courtesy of Companies)
Marie Claire Newsletter
Celebrity news, beauty, fashion advice, and fascinating features, delivered straight to your inbox!
Thank you for signing up to Marie Claire. You will receive a verification email shortly.
There was a problem. Please refresh the page and try again.
1. What brings you the greatest joy? Laughing.
2. What is your pet peeve? Moodiness.
3. What is the best advice you've been given? "Be kind." Greg Daniels, my mentor from The Office, told me that.
4. What app can you not live without? Hopscotch, an awesome coding app for kids that I use, too.
5. What TV show can't you miss? The Walking Dead. I have a big crush on Rick, the ragged/rugged sheriff.
6. What movie had the greatest ending? Bridget Jones's Diary.
7. What is on your liquor shelf? Mike's Hard Lemonade Frozen.
8. What is your greatest indulgence? I like to take my writing staff on trips. We went to Vegas last summer. I'd love to take them somewhere up north, like Redwood National Park.
9. What charities do you support? Pancan.org, a great organization that helps people diagnosed with pancreatic cancer and their caregivers.
10. Who do you follow on Twitter? @ders808 (Anders Holm), @sethrogen, @glennhowerton. My favorite account is my best friend B.J. Novak's [fictional] teenage sister Keough's, @keonovak.
11. Who are your heroes? My mom and dad—both smart, funny, insanely hardworking people who raised me to believe I could do whatever I wanted.
12. What is your beauty secret? I still break out (thanks, genetics), so I use this cool blue-light device called the Tria.
13. What splurge is well worth it? I just bought some land in the Hollywood Hills with a dilapidated shack on it that my dad (an architect) and I are excited to renovate.
14. What is on your nightstand? A picture of my mom, a bottle of water, and Post-its and a pen.
15. What is on your bookshelf? Haruki Murakami's What I Talk About When I Talk About Running. I'm an avid slow jogger.
16. What is your favorite food? Australian red licorice.
17. What makes you laugh? I love characters who are somewhat offensive but also deeply sensitive (Kenny Powers from Eastbound & Down, Michael Scott from The Office).
18. What makes you cry? Paul Simon's Graceland album.
19. What is on your feet? Nicholas Kirkwood pumps at night, Adidas Originals x Opening Ceremony sneakers by day.
20. What was your favorite vacation? New York City last May: I was hanging with my best friend Jocelyn's son (and my godson), Makua; doing The Daily Show with my crush Jon Stewart; meeting President Obama; and taking barre classes to offset all the awesome New York food I ate.
Credits
1. Kaling's show, The Mindy Project, was just renewed for a third season.
2. Paul Simon with Miriam Makeba on his Graceland tour, 1987.
3. The alcohol Kaling has on her liquor shelf.
4. Australian red licorice.
5. The book on Kaling's nightstand.
6. Jon Stewart, a Kaling crush.
7. Renée Zellweger and Colin Firth in Bridget Jones's Diary.
8. Nicholas Kirkwood pump.
Celebrity news, beauty, fashion advice, and fascinating features, delivered straight to your inbox!