Bad Girls Throughout History
Naughty by nature, these famous faces have proven how good it looks to be bad.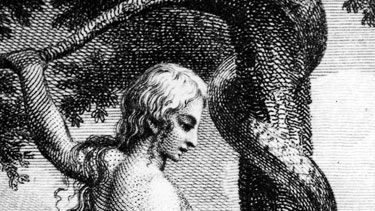 (Image credit: Marie Claire)
Naughty by nature, these famous faces have proven how good it looks to be bad.
1/15
Eve
She started it all! By taking a bite out of the apple a serpent gave her and passing it on to Adam, she created original sin. Original sin, people. Subsequently, women throughout time have been blamed for being temptresses.
2/15
Dita Von Teese
The queen of burlesque helped make sex an art form. The 37-year-old fetish model adds a 1940s and '50s glamour to the job.
3/15
Bonnie Parker
The ultimate bad-girl bandit became infamous for being part of the 1930s outlaw duo Bonnie and Clyde. Heard of 'em?
4/15
Cleopatra
She not only ruled ancient Egypt, but she also conquered several of the world's most powerful men, including Julius Caesar and one of his successors, Mark Antony. Her legacy as a supreme seductress lives on in Western culture. Case in point: Elizabeth Taylor — a seductress in her own right — portrayed the queen in all her headdress glory.
5/15
Elizabeth Taylor
Speak of the devil! Aside from building a legendary career as an actress in Hollywood, she has also built a reputation for being a man-eater. She's been through eight husbands in her 78 years.
6/15
Bettie Page
The curvaceous icon set her own style with her signature bangs. Oh, and she also made her mark by modeling bondage gear and sexy lingerie.
7/15
Gia Carangi
The bad-girl supermodel lived a fast and short life, dying at the age of 26 from AIDS in 1986. Carangi was a Studio 54 regular in the 1970s, but things started to go south for the party girl when she developed a heroin addiction. Her life story was chronicled in the 1998 film Gia by none other than fellow bad gal Angelina Jolie.
8/15
Nancy Friday
The author's seminal work, My Secret Garden, established — despite popular belief at the time — that, yes, women do have sexual fantasies. Shocker.
9/15
Angelina Jolie
The A-list actress may have rebranded herself as a mother-of-all-children, UN-goodwill-ambassador type, but her past is undeniable. The 35-year-old snagged heartthrob Brad Pitt from America's sweetheart, Jennifer Aniston, and has played several badass protagonists, like Lara Croft in Tomb Raider and an assassin in Mr. and Mrs. Smith. She also, um, made out with her brother and carried a vial of Billy Bob Thornton's blood around her neck. You know, the usual.
10/15
Mae West
Although she is most famous for being a 1930s Hollywood sex symbol, she got a bad-girl start in her hometown of New York City. The actress and playwright was prosecuted on moral charges for a play she wrote, titled Sex. West was then sentenced to 10 days in jail for "corrupting the morals of youth." Oh, Mae!
11/15
Joan Jett
The punk-rock star has given a voice to the struggles of the American middle class through her hard-rock jams with Joan Jett and the Blackhearts. At 51, she has produced eight albums that have been certified platinum and gold.
12/15
Pam Grier
The actress gave people plenty to talk about in the 1970s, when she starred in a string of films about women in prison and "blaxploitation" films such as Foxy Brown.
13/15
Mary Quant
Inventor of the miniskirt, the British fashion designer proved that there were no lengths too short for women's clothing.
14/15
Sally Bowles
The fictional character from the 1972 musical film Cabaret has taken on a life of her own. Played by Liza Minnelli (a bad girl in her own right), Bowles broaches a highly controversial subject in the production: abortion.
15/15
Tallulah Bankhead
Southern belle turned bad girl, the actress was just as famous for her risqué Hollywood roles as her Hollywood romances. Rumors about her sex life included names like Greta Garbo, Joan Crawford, and Billie Holiday, among others.