Issa Rae Is Taking the Lead
With her new wine company and a long list of projects in the works, the actress-slash-entrepreneur is achieving major success—and bringing everyone with her.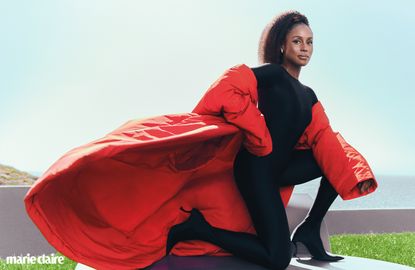 (Image credit: Chrisean Rose)
The day before I meet up with Issa Rae, a thing happens. Rae is in Brooklyn, New York, at CultureCon, a conference created to engage people of color across culture and business. She was invited as one of the keynote speakers to discuss her efforts in diverse storytelling. Rae is sitting on stage in white ankle boots and a bomber jacket when the interviewer pronounces Rae's name incorrectly, referring to her as "Ih-suh." (It's "Ee-suh," but you knew that, right?) The packed crowd immediately corrects the moderator's mistake, eventually breaking out into a cheer: Issa! Issa! Issa! In a video that has since made its rounds on the internet, Rae can be seen breaking out in a giant grin as the room gets louder.
The fumbling of her name has happened before, as it's happened to many other Black women: Zendaya, Rihanna, Kamala. As Rae once said in a 2016 interview with the Chicago Tribune, "That's the one I hate the most. 'Eye-suh' I can deal with, but 'Ih-suh' sounds incomplete, like it should Mel-issa. Like you think my name is incomplete."
Jo-Issa Rae Diop, her full name, was born to a Senegalese father and American mother with Louisiana roots. The family moved from Los Angeles to Senegal, then back to Los Angeles by way of Maryland, all before Rae was a teen. She chronicles the ups and downs of the moves—including the severity of people mispronouncing her name—in her 2016 book The Misadventures of Awkward Black Girl. The introduction explains how Jo-Issa became Issa Rae after her aunt Rae Hayward, a visual artist and activist to whom she was close, passed away in 2008. Rae started to include her middle name on social media as a way to pay homage to her, when a friend unexpectedly put Issa and Rae together. It just clicked. It also just seemed simpler to say. "It's so funny because I went by Issa Rae so that my name would be easiest," she says.
By the time Rae, now 38, and I sit down to talk at midtown Manhattan's ornate Baccarat Hotel, she's unbothered by the CultureCon brouhaha. "It happens," she says coolly, in a crisp white T-shirt, wide-leg jeans, and high-top Converse. "I've never felt more loved [by an audience]. I appreciated it."
Maybe Rae isn't sweating the stumble over her name because she's become so accustomed to people getting it wrong. Maybe it's because the crowd had her back. Or maybe it's because she's launched an entire empire centered around her moniker. In that way, you will put respect on her name. In fact, you'll spend money on it.
---
Rae began operating Hoorae media in 2020. It started as a production hub years prior, first named Issa Rae Productions, Inc, for the Emmy-nominated series Insecure (the HBO comedy in which Rae starred, wrote, and produced) and for A Black Lady Sketch Show, before becoming the Hoorae brand that continues to produce scripted and unscripted shows like Rap Sh!t (season two returned on Max in early November). But it also houses other companies, including ColorCreative, a talent management company; Raedio, an audio division for music and podcasts; and Fête, a joint-venture marketing and events partnership with the award-winning agency Team Epiphany. Then there's Rae's newest name-nodding venture: Viarae, a prosecco company. Inspired by Italian living (Rae has a particular fondness for the country), she's turned her go-to drink for celebrating wins into her next business.
Day One fans know the award-winning writer appreciates a good cocktail from her fireside chat series A SIP with Issa Rae and Insecure after-episode discussions "Wine Down." But her refined taste for the bubbly drink was stirred by Insecure director and executive producer Melina Matsoukas.
"We had our first celebration [after wrapping filming on the pilot] and she ordered prosecco," Rae says. "I was like, 'Prosecco? What's that?' She was like, 'Oh, that's my drink, girl.' I just remember falling in love with it and associating it with these wonderful milestones in my life."
Rae adds, "I started experimenting with cocktails made with prosecco—whiskey and prosecco, then vodka and prosecco—and people started drinking them." There's also Rae's mix of prosecco and Jameson that "gets you right…quick," she says. "Then I was like, 'Well, I'm giving them this one basic version, and if they're going to try it because of me, I want it to be from me.' This [brand] is something that is of me that I love; that I have made."
Despite being a crowded market, celebrity-owned alcohol companies are undeniably lucrative. Rae joins a long list of big names who have entered the buzzy business. There's been Matthew McConaughey's Wild Turkey Longbranch Bourbon, LeBron James's Lobos 1707 Tequila, Kendall Jenner's 818 Tequila, Kate Hudson's King St. Vodka, Ryan Reynolds's Aviation American Gin, Cardi B's Whipshots. Bethenny Frankel sold her Skinnygirl cocktail line for an estimated $100 million to spirits powerhouse Beam Global (now a part of Beam Suntory). And when Diageo acquired Casamigos, George Clooney, Rande Gerber, and Mike Meldman's tequila and mezcal brand, in 2017 for a cool $1 billion, Clooney reportedly walked away with upwards of $200 million. If Rae ever sells her spirits brand, it could bring her an even larger check. But because this is an empire, Rae is looking for more than a payday. For her, it's about creating something bigger, something with impact.
It's why she continues to invest in ventures that matter. Take Sienna Naturals, Rae's haircare line with her sister-in-law Hannah Diop. When asked, Rae didn't hesitate to test the products—from curl creams to edge control—and share what worked best. Diop took that feedback to the chemists and after she got the brand off the ground, she asked Rae to become her business partner. Today Sienna Naturals is in JCPenney, Nordstrom, and Credo Beauty.
"I am proud to be the guinea pig," Rae says. "My hair hasn't fallen out yet, so it's been good. My hair will fall out before anybody else's hair falls out—that's the promise."
It's also why she's investing in her south Los Angeles community. When she learned of The Marathon, a thriving clothing store an older classmate, Samiel Asghedom, had started with his brother, deceased rapper Nipsey Hussle, Rae became inspired to shift the misconceptions of what Black businesses could offer in the area. She followed in the Asghedom brothers' footsteps and began looking for opportunities to build safe spaces and creative outlets in their collective community. Rae found an opportunity to partner with the original owners of Hilltop Coffee + Kitchen, who's first location was in Windsor Hills. In 2019, she helped them open their Inglewood location and then another in Eagle Rock in 2020.
---
But of course, there's still acting and creating. Rae's first loves. "I'm a storyteller at the end of the day and if there is a story bursting out of me, somebody's going to hear it," she says. "I'm fortunate enough to be able to have a platform where they mostly can. And I like the challenge of getting an audience invested in a story."
It was while attending Stanford University for African and African American Studies, that Rae developed an interest in writing and directing, launching the web series Dorm Diaries. Within the span of a few years, Rae went from creating content for the web (including another series Awkward Black Girl) to co-developing Insecure with TV giant Larry Wilmore.
The show premiered in 2016 (and cemented a multi-year development for Rae at HBO). For five seasons Rae starred in and produced the series—among several accolades, her work earned her a prestigious Peabody Award, marking her as a trailblazer who, in their words, "represents a generation of storytellers who used the internet to cultivate their craft in service of community."
This is important to Rae; being the change. Since her childhood, she's wanted to see more people of color on-screen. "I felt underserved for a period of my life coming up," she says. "When you're a little girl thinking about performing for an audience, all you think about is, 'Oh, my family,' and 'Oh, my friends.' I don't think I've ever escaped that. They are, I guess, the hypothetical people that I think about. That is my core audience and theirs are the stories that I'm mostly interested in."
And for Rae, it's not just about making sure certain stories are told, but making sure the right people are telling them. When Insecure was in development, Rae remembers a hard lesson in finding power in advocating for the people you want on your team. "In the past, when you're coming up and you're trying to sell a TV show, managers, execs, would say that it's better to have a project clean—it's better to not have anybody else attached," she says. "So I listened to that, and that ruined some relationships. After a while I got to the point where it's like, 'No, I know these people are talented and I want to fight to be able to get them a position in the larger thing.' While I haven't won every battle, I try to fight as much as possible to get people those opportunities that I know I would want."
Rae can count several of Hollywood's next wave of writers, actors, producers, and directors—including Yvonne Orji (Velma), Natasha Rothwell (The White Lotus), Amy Aniobi, and Deniese Davis—among the people she's opened doors for.
Even Kerry Washington will tip her hat to Rae for giving her an in. While the Scandal star was leading the pack of must-see TV, she was also emailing Rae about visiting Insecure's set to shadow director Matsoukas as prep for her Scandal directorial debut, Washington tells me during a call. "At one point [on set] Prentice Penny [Insecure's showrunner] said to me, 'Issa's never going to be the only Black writer in the writer's room ever in her career.' She's never going to have to do that, because she's carved out a space for herself where she doesn't have to be, unless she wants to be, and she doesn't want to be. She truly believes in community. She believes in generosity, and she doesn't want to be alone."
Although the continued SAG-AFTRA strikes prohibit Rae from speaking about future projects she's starring in, she's back in development mode for Hoorae's upcoming programming slate. There are currently seven projects in various stages of treatment, script and pre-production, and she's taking stock in what a future career on-screen and off will look like. "The strike was devastating. I've been building [a project] for five years and now it's gone," Rae says, matter-of-factly. "On the [entertainment] business side, we lost some employees. That really, really sucks. But this industry is changing so much. For me it's like, 'Okay, but what now?' I know that executives and networks aren't going to be as receptive as they were to Black focused content. I'm not pivoting, but I'm just trying to be more strategic in terms of the stories that I tell and maximizing our impact."
In other words, Rae is diversifying. She's been hanging around Hollywood long enough to know that it can be uncertain. "I only have a foresight of what isn't going to be. There's certain things that I want to take advantage of outside of the industry just because I feel like [the industry] doesn't know what it wants to be, it's in flux. And there are no innovators anymore…I want to be able to have control of my own destiny."
When a waiter returns asking if Rae would like anything else, she takes a moment and checks her phone. There's a text stating her car to the airport has arrived. She reaches for a sleek, silver carry-on that's been tucked behind an oversized chair, and maneuvers herself through the pristine tables set for high tea. A champagne bar cart has been stocked and placed at the restaurant's entrance, but Rae pays it no mind as she walks out. She's got her own bottles to pop back home.
---
---
Photographer: Chrisean Rose | Styling: Jared Ellner | Hair: Felicia Leatherwood | Makeup: Joanna Simkin | Manicure: Eri Ishizu at Opus Beauty using Manucurist | Cinematography: Amusement Productions
---
Marie Claire email subscribers get intel on fashion and beauty trends, hot-off-the-press celebrity news, and more. Sign up here.
Cori Murray is an award-winning editor and multi-platform storyteller. She is the former deputy editor of ESSENCE, where she received a National Magazine Award and a ElevatHER award from the Black Women Film Network in 2022. Murray covers entertainment for many outlets including The Hollywood Reporter, InStyle, emmys, QUEUE, and EBONY.