10 of The Most Outrageous Lyrics About Kim Kardashian
"It's really just about dopeness at the end of the day."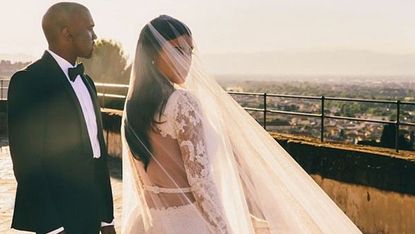 (Image credit: Archives)
Kim Kardashian is truly an anomaly. She's been Paris Hilton's assistant, a tenured reality star, and a fashion icon. Not to mention, a ridiculously successful business woman. She has clothing lines, makeup, self-tanner… you name it, this woman has created it and made billions off of it. She still holds the record for most likes on Instagram and her fans, followers, and haters alike fawn over her. every. move.
Kanye has gone on record countless times declaring his distain for her "less than" status. He argued, "There's no way a Kim Kardashian shouldn't have a star on the Hollywood Walk of Fame. Everyone is so dated and old-fashioned." And honestly, I think he's right. Kim Kardashian has achieved massive fame, and holds actual stake in pop culture happenings around the world every single day. So much so, that the clothes she wears sell out, her hairstyles are copied, and songs are written about her. As Kanye West so eloquently said, "It's really just about dopeness at the end of the day." Here, I detailed ten famous songs, the lyrics of which immortalize the phenomenon that is Kim Kardashian.
All I can say is, respect.
"I Won" by Future Feat. Kanye West
I just want to take you out and show you off

You already know that you the perfect one

Girl when I'm with you, feel like a champion

Ever since I got with you I feel like I done won me a trophy
"Awesome" by Kanye West
People trying to hate on you

At least you know that's nothing new

Stop everything you're doing now

Cause baby, you're awesome

So awesome
"Kim Kardashian" by Lil Flip
Look here you act a fool and do the Kim Kardashian,

You know these chicks right here with me

So why you keep on askin 'em

Smashing em and passing 'em

You know she got a body that should be in maximum

I'm international and platinum

Ya dudes better catch up quick, trick, she talk slick

Her body thick she shaped just like a bumble bee
"Digital Girl" by Drake
Plus every good girl wanna go bad

In Playboy mags like Stacy Dash

Or Kim Kardashian, be a lady at, it

You know what's a crazy thing?

Some girls'll make you wait longer than A.C. Green
"Dangerous" by Akon
When she kiss, a down ass chick like Lil' Kim

She ready for the camera Kim Kardashian

Curves like Melissa, tough like Michelle (Obama!)

All day the queen like Mary J.

Good like Keyshia, young like RiRi

Sayin ain't that Kardinal on the TV, you see me
"Knock You Down" by Keri Hilson Feat. Kanye West
You was always the cheerleader of my dream

That seem to only date the head of football teams

And I was the class clown that always kept you laughing

We were never meant to be baby we just happened
"Kim Kardashian" by Soulja Boy
Damn she's fine, she's on my mind

She so beautiful… from behind

Kiss her on the lips, muah, muah, muah

I got so much swag

Pretty… pretty girl, pretty swag

Kim Kardashian, long hair, yellow

Swear she got a nice hair
"Cold/Theraflu" by DJ Khaled Feat. Kanye West
And I'll admit, I had fell in love with Kim

Around the same time she had fell in love with him

Well that's cool, baby girl, do ya thang

Lucky I ain't had Jay drop him from the team
"Girl I Got You" by Young Money
You keep me motivated

If we had a team

I'd be Reggie Bush you'd be Kim Kardashian

Your body so amazing

And when I'm not witcha

I'm on my iPod bumpin' "Forever My Lady" I love ya
And this is an added bonus:
Celebrity news, beauty, fashion advice, and fascinating features, delivered straight to your inbox!
Hallie has worked in beauty editorial for ten years and has been editorial director at Byrdie since 2021. Previously, she was a senior editor at Byrdie since 2016. During her time at Byrdie, she's written hundreds of high-performing stories on skincare, wellness (including fitness, diet, mental health, body image, et al) makeup, and hair. She's a regular on set, helping to source inspiration for makeup and hair looks, as well as interviewing celebrities, models, and other notable women and men in the beauty space.
Before that, Hallie ran Marie Claire's social media and wrote beauty and culture stories for the site, and helped launch Time Inc.'s digital-only beauty brand, MIMI. After college, she contributed to Time Out New York's Shopping & Style section before landing her first beauty editor gig at Hearst's Real Beauty. Hallie's writing has also appeared in ELLE, Cosmopolitan, and InStyle. Hallie graduated with a BA in Communication Arts from the University of Wisconsin-Madison.