Exclusive Sneak Peek: February Cover Girl Gwyneth Paltrow
She's a movie star (in this month's crime caper Mortdecai), entrepreneur (behind the lifestyle phenomenon Goop), and champion of women (despite what you may have heard). Why should Gwyneth Paltrow have to defend her success? As writer Nell Scovell discovers: She shouldn't.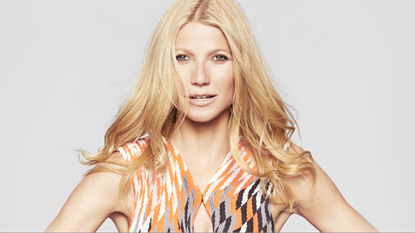 (Image credit: Jan Welters)
Marie Claire Newsletter
Celebrity news, beauty, fashion advice, and fascinating features, delivered straight to your inbox!
Thank you for signing up to Marie Claire. You will receive a verification email shortly.
There was a problem. Please refresh the page and try again.
Sitting on her couch at home for two hours straight, Gwyneth Paltrow blushes (twice), cries (a little), laughs (a lot), and attempts with varying degrees of success to express her feelings. In short, Paltrow is human. And if the range of emotions doesn't convince you, the sitting-on-the-couch-for-two-hours part should.
Paltrow is usually represented in two dimensions—either on-screen or online—which makes it easy to forget that she's not a comic book character, although she plays one in the blockbuster Iron Man movie series. In three dimensions, Paltrow fleshes out into a thoughtful, funny, imperfect, and complex person. It is these exact qualities that made her well suited to play Jane Austen's comic heroine Emma in her breakout role in 1996. A rare American who can play British, Paltrow is back in the "English saddle" again, playing Lady Mortdecai opposite Johnny Depp's Lord. The crime caper Mortdecai opens January 23 and also stars Ewan McGregor, who last worked with Paltrow on Emma.
"It was surreal," Paltrow says about the double-decade time lapse. She and McGregor fell easily into reminiscing about that shoot and how they would bum cigarettes from the driver on rides out to the farm where they practiced riding horses and driving traps. "All three of us would be chain-smoking out the window," recalls Paltrow. "The driver was awesome." After work, they would hang out in small country-house hotels, drinking and smoking. "You know, we were kids," she says.
On her costars over the years: "Whether it's Morgan Freeman [1995] at the beginning of my career or Johnny Depp in my last movie [this], I feel on-my-knees gratitude for being considered a good enough actor to work with actors of that caliber."
On her breakup with Chris Martin: "There was nothing dramatic or anything. I had built my life on trying to be all things to all people, and I just couldn't do it anymore, and I really had the sense that I wasn't allowed to have needs, and I had to prove my specialness or self-worth by doing all this stuff and taking care of everybody else, and I just sort of hit a wall."
On her current relationship with Martin: "We've worked really fucking hard to get to [this] point. But we're very, very close, and it's so nice. I feel like it's, in a way, the relationship we were meant to have."
On entrepreneurship: "I know what I want to do, and I'm going to do it. I don't care so much about the men, but I wish that women were slightly more understanding of other women. A lot of women reporters try to pit me against other women doing entrepreneurial things. There's room for everybody."
On productivity: "I'm in meetings with investment bankers, VC firms, private equity firms—you name it, across the board, men. Women in 30 minutes can get more accomplished than men in two hours."
On raising children: "I think we are all genuinely doing our best, it's hard to have children and a career, and all some women seem to do is judge other women's choices. I find that demoralizing and unhelpful. Where is the wisdom coming out of this situation? I don't see where this is getting us anywhere in terms of a cultural discussion."
Read the full interview and see all the photos in the February issue of Marie Claire, on newsstands January 13.
Need more to hold you over? Go behind the scenes of our cover shoot right here:
More From Marie Claire:
Fashion for Women in 2015 - 2016
Hot Hairstyles, Cuts & Hair Trends
Celebrity news, beauty, fashion advice, and fascinating features, delivered straight to your inbox!