If These Teasers Are to Be Believed, Kim Kardashian Might Be Getting a Hysterectomy
She reveals the prognosis on an upcoming episode of Keeping Up with the Kardashians.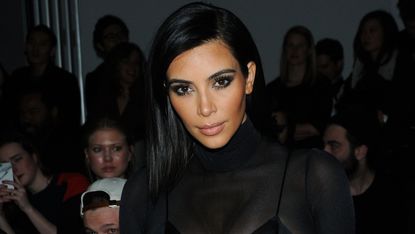 (Image credit: Getty Images)
Say what you will about the Kardashians and their oversharing tendencies, but I firmly believe there is a silver lining to it all. They may live the good life, with privilege and access we can only dream of, but they've got real-life problems we can empathize with—and they're willing to broadcast it to millions, nay billions of people. Putting it all out there like that fuels conversation, which is something I'm not afraid to say I applaud them for.
One new revelation that hits home is Kim's decision to disclose that she might need a hysterectomy, which means having her uterus surgically removed. In the U.S. nearly 500,000 women get them each year for conditions such as uterine fibroids, endometriosis, uterine prolapse, and abnormal uterine bleeding. After getting a hysterectomy, a woman can no longer get pregnant.
In a new teaser for the upcoming episode of Keeping Up with the Kardashians, Kim shares the prognosis with her husband Kanye West, relaying what the doctor said over the phone:
"When you have your baby, this will be your last one," he said. "Because the problem is, your placenta grew on your uterus, so when you have another baby, your placenta will go right to that hole and then we'll have a team of doctors waiting right there, to remove your uterus and put you into emergency surgery right there because you can't bleed too much."
The reality was "a little much," for her and left her crying. Though it's a surprisingly common procedure, having watched my own mother go through it, I can personally attest to how traumatic it can be. It's not something that money and fame can fix or alleviate.
In the commentary following the clip, Kim explained that despite the pain she went through giving birth to North West in 2013, she's determined to do it again.
"When I was pregnant with North, I used to tell everyone that there is no amount of money that anyone could pay me to go through this experience again," she said. "Now there is nothing more on this earth that I want than to be pregnant again."
You should also check out:
Kim Kardashian and Elizabeth Taylor, Two Women Who'll Never Apologize for Their Success (opens in new tab)
Tracking Kim Kardashian's Total Hair Overhaul (opens in new tab)
Kim Kardashian Only Washes Her Hair Once Every 5 Days (opens in new tab)
Lauren is the former beauty editor at Marie Claire. She love to while away the hours at coffee shops, hunt for vintage clothes, and bask in the rough-and-tumble beauty of NYC. She firmly believes that solitude can be a luxury if you've got the right soundtrack—that being the Rolling Stones, of course.