An Amazing, Chilling, Behind-the-Scenes Look at Amy Winehouse Recording "Back to Black"
Those pipes.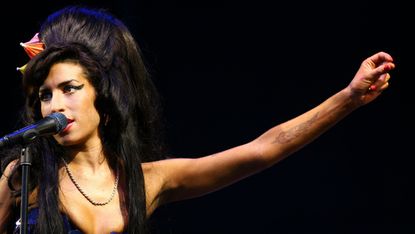 (Image credit: Marie Claire)
Update 7/9: A new clip from Amy is here, and this time we see Amy Winehouse's process for one of her most famous songs—"Back to Black."
As producer Mark Ronson reminisces in the clip, "She would tell me stories about Blake and this tempestuous, extreme relationship. That first day she wrote 'Back to Black,' all the lyrics and melody, in two to three hours."
"It was just one of those serendipitous things," he says. "I just caught her at that magic moment." Watch the incredible footage below:
Update 6/30: Amy Winehouse's voice stunned the world with its bluesy, soulful sound—which, in the newest clip of the documentary Amy, we see was something she had since she was a kid.
Shown here at age 14, Winehouse goes all out for her friend's birthday song:
Do you have goosebumps yet? The film hits July 3.
Update 5/20: A new trailer for the Amy Winehouse documentary Amy is here, and it paints a complicated picture of the singer. With home movie footage and live interviews, the film seems to weave together a look into the world of Winehouse and a woman changed by addiction and fame. (Which, apparently, not everyone approves of.) It's, in short, eye-opening.
Watch the trailer below:
Update 4/27: The late singer's family is not at all happy with the doc, and has chosen to issue a statement to People. Writing that the film is "misleading" and contains "basic untruths," Winehouse's relatives say that the "narrative is formed by the testimony of a narrow sample of Amy's associates, many of whom had nothing to do with her in the last years of her life. Counter views expressed to the filmmakers did not make the final cut." Eep.
According to reports, one big plotline is that Winehouse's father, Mitch, was intent on Winehouse's fame, pushing her to do performances and shows. Which, we can assume, is portrayed as one of the ways she was pushed to the edge.
While the doc started with the full backing of the family, they are now considering taking legal action against the filmmakers. Until then, Amy is scheduled to premiere at the Cannes Film Festival in May.
Original story, 4/2: It's been almost four years since we lost Amy and her enchanting voice. And since it's practically impossible to listen to "Tears Dry on Their Own" without choking up, we can surmise that seeing the trailer for new documentary Amy won't be any easier.
The movie features exclusive footage, interviews, live performances, and never-before-heard tracks. Bigger yet, it will offer insight into her simultaneously charmed and troubled life. "I'm not a girl trying to be a star, or be anything other than a musician," she says.
Amy is set to release in British theaters July 3 and in America this Summer!
Counting down the days.
You should also check out:
You'll Get an Intimate Look at Rihanna's Life in This New Documentary
Kristen Wiig and Will Ferrell Made a Secret Lifetime Movie Together
Cara Delevingne Shows Off More Acting Chops in the Trailer for This Amanda Knox-Inspired Movie
Celebrity news, beauty, fashion advice, and fascinating features, delivered straight to your inbox!
Simedar Jackson is an esthetician, content creator, and lover of sci-fi fiction living in Brooklyn, New York. She is passionate about creating space for Black and Brown people in the beauty and wellness industries by providing access to culturally nuanced education and services that meet their needs. You can find them doing their skincare routine, reminding friends to reapply SPF, and watching reruns of Love Island.