Meghan Trainor Is Not Above Trash Talk—Especially When It Comes to Bowling
"Better prepare yourself; I'm about to destroy you."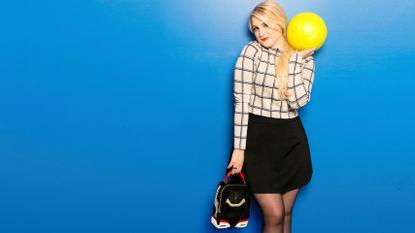 (Image credit: Brigitte Sire)
Professional bass shaker Meghan Trainor is on a roll (see: her debut album, Title, and headlining tour). But she's just like any other 21-year-old-she loves knocking a couple back. Bowling pins, that is.
Start 'Em Young: "We always went bowling as a family; that's why it's my favorite. With the bumpers, of course! My older brother was always the best—he's very athletic. My younger brother wasn't the greatest, so I was right there in the middle. I was good sometimes."
Easy Rider: "I won't go unless it's Black-Light Night at the bowling alley: disco lights and colors. That really gets me in the mood...to bowl."
Bowling Alias? "M. Train."
Ball Buster: "I have grandma hands. So I always go for the light balls because they're easier to hold. Color is crucial, too. I like neon colors, pink or green. Those are my winning balls."
Lips Are Movin': "I trash talk. Like, 'Better prepare yourself; I'm about to destroy you.'"
Personal Trainor: "You've got to have a good approach. It's always 1, 2, 3, BOOM. I do left, right, left. Look right at the pins. That's where you're going! I'm happy anytime I bowl over 100—I think my highest score was around 160."
Bowled Over: "Coolest date I've ever been on: The guy set up a night of bowling. We didn't have bumpers, so I had to pick up my game."
Pin Action: "He won. He didn't even try to be polite and let the girl win. But I got a strike and he didn't, so I felt like I won, you know?"
Follow Her:
@Meghan_Trainor
This article appears in the May 2015 issue of Marie Claire, on newsstands now.
You should also check out:
Meghan Trainor's 'All About Bass' Is the Body Acceptance Anthem We've Been Waiting For
Meghan Trainor's Acoustic Cover of "Shake It Off" Is the Greatest