'Mad Max: Fury Road' Star Abbey Lee Talks Leaving Modeling to Make Her Big-Screen Debut
"This is a true passion so I'm not going to take it lightly."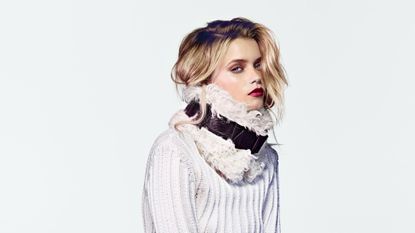 (Image credit: Alexei Hay)
"No one knows who the fuck I am," says Abbey Lee. Taken out of context, that's not true. In the fashion world, which Lee inhabited for 10 years, the Melbourne, Australia, native is very well known for her Gucci and Versace ad campaigns and for walking the runways for Chanel, Givenchy, and Lanvin. So, some context: Not many in Hollywood are familiar with her, a plus or a minus for new actresses like Lee, 27, depending on whether filmmakers want a fresh face or are banking on a familiar one for a box-office bump.
Lucky for Lee, George Miller, the director of the just-released Mad Max: Fury Road, was going for the former. Beating out more than a thousand girls for the role of The Dag—a "bit of a pixie, ethereal but tough"—Lee spent six months filming in the deserts of Namibia and in Cape Town, South Africa, for the latest addition to the postapocalyptic franchise, alongside Charlize Theron, Tom Hardy, Nicholas Hoult, and Zoë Kravitz. Not bad company as you flee (scantily clad, it must be noted) across the freezing Wasteland in a War Rig while stuntpeople fly overhead.
Before her modeling agent put her up for Mad Max, she'd never given acting much thought. She's since wrapped three other films, including Alex Proyas' 2016 mythology epic Gods of Egypt, in which she plays a sword-wielding assassin with Gerard Butler and Geoffrey Rush. (Her training in boxing and Japanese jujitsu as a teen came in handy.) She also shot the Australian movie Ruben Guthrie, in which her character is a Czech model, and up next is The Neon Demon, where she's the ringleader of a maniacal group of models including Elle Fanning.
With other models transitioning into acting—Mad Max costar Rosie Huntington-Whiteley, Cara Delevingne—what drives Lee? "This is a true passion, so I'm not going to take it lightly," says Lee, who admires Juliette Lewis' anti-girl-next-door career choices. "I want to be challenged, and with that comes being selective about the things I go for."
Though the former Brooklynite misses the spontaneity of New York, Lee is making herself at home in L.A., turning a spare room into an art studio, hanging with friends, dressing down ("I tend to wear more sweatpants here"). Her modeling days behind her, she gets that acting is an uphill climb. "I've started at the bottom of the pile," she says. "I have to do it all over again." Which means work trumps fame for now. Still, "If it happens, I'm not going to be mad about it."
This article appears in the June issue of Marie Claire, on newsstands May 19.