'New Girl' and 'Jurassic World' Star Jake Johnson on Being "a Nice Asshole"
It's a Thing, apparently.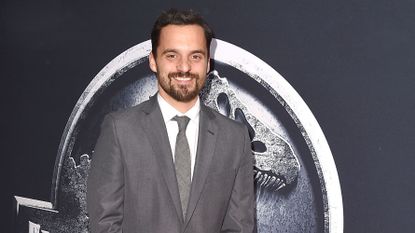 (Image credit: Archives)
Marie Claire Newsletter
Celebrity news, beauty, fashion advice, and fascinating features, delivered straight to your inbox!
Thank you for signing up to Marie Claire. You will receive a verification email shortly.
There was a problem. Please refresh the page and try again.
When he's not flirting with Zooey Deschanel on New Girl or being confused for folk singer Jack Johnson, Jake Johnson likes to keep things simple. He gets up early, hangs out with his wife, and enjoys cracking jokes. But his role as dino-obsessed Lowery in Jurassic World may help him get a little more notice in Hollywood. Though Lowery never leaves the control room—hey, someone's got to disable those security fences—the Chicago native gets the film's best lines, does the best reactions, and has by far the most interesting facial hair. We caught up with Johnson to ask about the look, what he learned about dinosaurs, and why he likes playing goofballs.
"I like to think of myself as a nice asshole. I don't really think about whether I'm like the character. I look at each character as is and make him somebody that I'd personally like, even if he's not the most likable person. I've got to be able to relate to him in a way."
"The facial hair. I'm not that geeky about stuff like dinosaurs, so it was fun to play a character who was."
"Not really, because I was always in the control room."
"No! Honestly, I felt really happy with the job I had. I was just pretty thrilled to get the call on this one."
Let's discuss the facial hair for a moment.
"Please."
Was that your idea?
"Director Colin Trevorrow and I based the look on a mutual friend named Clay Allen, a writer who's just a great person. We decided we wanted to make him very modern. We used Clay's mustache—he had that facial hair and the same tattoo."
So what's next for you?
"I'm doing a movie called Digging for Fire. The director [Joe Swanberg] is a good friend; we did another film called Drinking Buddies together. It was really fun. The cast was really fun. I'm excited for people to see that one."
Celebrity news, beauty, fashion advice, and fascinating features, delivered straight to your inbox!