The 5 Most Disturbing Revelations from Bill Cosby's Court Documents
*cringe*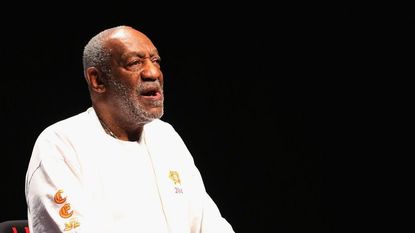 (Image credit: Getty Images)
Dozens of women have come forward in recent years to accuse Bill Cosby of sexual assault, many claiming he drugged them beforehand. And although Cosby has never been formally charged, newly released documents reveal that he testifyied under oath to drugging at least one woman before sex.
The documents come from a lawsuit filed by a former Temple University employee who accused the comedian of raping her after giving her a powerful sedative. (Cosby says he gave her three half-pills of Benadryl, but didn't admit to doing anything without her knowledge.) Ten years after the case, the Associated Press went to court to get the documents released. Cosby's lawyers pushed back, saying they would be embarrassing for the star, but the court ruled to release the documents, claiming Cosby has voluntarily entered the public arena by preaching frequently about morality.
The documents present us with Cosby's admission of guilt—even if only partial. His lawyers insist the women knew they were taking sedatives at the time.
The statute of limitations has passed on most of the cases against him, and this specific case was settled in 2006. But here's the fascinating, eye-opening, chill-inducing takeaway.
Troiani: When you got the Quaaludes, was it in your mind that you were going to use these Quaaludes for young women that you wanted to have sex with?

Cosby: Yes.

Troiani: Did you ever give any of these young women the Quaaludes without their knowledge?

Cosby's lawyer intervened and prevented Troiani from answering the question. This refusal led Troiani to file the document to a judge, asking him to make Cosby answer.
Troiani: Did you ever give any of those young women the Quaaludes without their knowledge?

O'Connor: Object to the question. Restrict it to the Jane Does, would you, please.

Troiani: No, I will not. …

Cosby: I misunderstood. Woman meaning [name redacted], and not women.

Troiani: Okay. So you're saying you never gave the Quaaludes to anyone other than [name redacted]?

O'Connor: Don't answer the question. You can ask all the questions you want about the Jane Does. …

Troiani: Earlier I believe you testified that you had given the Quaaludes to other women; is that correct?

O'Connor: Do not answer that question.
Plaintiff's lawyer, Dolores Troiani: What is your understanding of the agreement that you had with the National Enquirer concerning the story that appeared in the National Enquirer, which was your exclusive interview termed my story?

Cosby: I would give them an exclusive story, my words.

Troiani: What would they give you in return?

Cosby: They would not print the story of— print Beth's story.

Troiani: Did you ever think that if Beth Ferrier's story was printed in the National Enquirer, that that would make the public believe that maybe Andrea was also telling the truth?

Cosby: Exactly.

Troiani: So that you knew when this article was printed, when you told the Enquirer this, that you had to make the public believe that Andrea was not telling the truth?

Cosby: Yes.
Cosby: I meet Ms (Redacted) in Las Vegas. She meets me back stage. I give her Quaaludes. We then have sex. I do not—I can't judge at this time what she knows about herself for 19 years, a passive personality. T----- was sweet in her personality. As far as I was concerned was well-mannered, didn't demand or give a feeling that she was above anyone. If anything, I think she may very well have been very happy to be around the show business surroundings.

Q: Star struck?

Cosby: You'll have to ask her.
"Defendant contends that he gave Plaintiff the over the counter medication Benedryl [sic]. Plaintiff intends to introduce testimony that Benedryl [sic] would not produce the sedative, almost immobilization effect that Plaintiff experienced. Testimony about Defendant's access to drugs, and those with whom he shares drugs may lead to evidence as to what it was that he gave Plaintiff."
Here's the main document, via Deadspin.
Megan Friedman is the former managing editor of the Newsroom at Hearst. She's worked at NBC and Time, and is a graduate of Northwestern's Medill School of Journalism.