How to Survive the Apocalypse: Pro Tips from 'Last Man on Earth' Star Kristen Schaal
Survival of the funniest.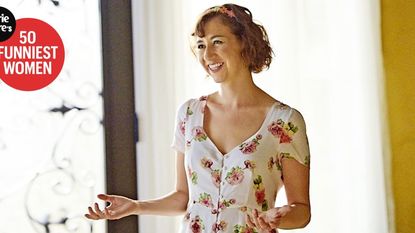 (Image credit: Courtesy FX)
Last Man on Earth's Kristen Schaal has learned a thing or two about getting by once, oh, everyone else on the planet perishes in some apocalyptic event. Here are her rules for surviving.
Rule No. 1: Learn the basics
"Like how to be brave. It's creepy to be alone—you have to learn to overcome that fear of being creeped out. Oh, and if you get a cut or whatever, you should know how to tend to it."
Rule No. 2: Chug, chug, chug
"Drink all the booze."
Rule No. 3: Enjoy the view
"Live by the ocean. Actually, I'd live in Sonoma, and then I'd come into San Francisco to tool around, then go back to Sonoma. It might be a little chilly, but all the wine would be there."
Rule No. 4: Take fashion risks
"Wear what's most realistic and comfortable for where you are—I would probably wear the softest clothing. Soft on the inside but strong on the outside, just in case I fall—like, all leather with a cashmere lining."
Rule No. 5: You fancy, huh?
"Steal jewels. I would love to be decked out in, like, a tiara and a nice ring—like the Hope diamond."
Rule No. 6: The more you know
"It'd be helpful to get a hobby in mechanics so you could get things up and running. But if you're not that handy, go into the arts: Get yourself a paint-by-numbers kit and see where you go. Oh, and write it all down. Carve out your whole story in stone so that the aliens will know, after you're gone, what happened."
A version of this article appears in the August 2015 issue of Marie Claire on newsstands July 21.
Celebrity news, beauty, fashion advice, and fascinating features, delivered straight to your inbox!
As deputy editor, Jen oversees Cosmopolitan's daily digital editorial operations, editing and writing features, essays, news, and other content, in addition to editing the magazine's cover stories, astrology pages, and more. Previously, Jen was a senior editor at Marie Claire. Before that, she worked at GQ.