Anne Hathaway's Actually Pretty Chill About Being the Punchline of Amy Schumer's Joke
*thumbs up*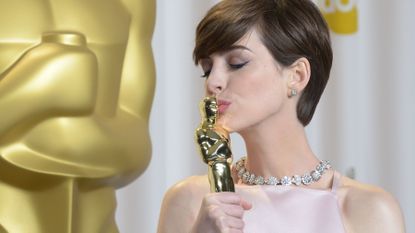 (Image credit: Archives)
In Amy Schumer's recent blockbuster hit, Trainwreck, there's a scene where Schumer's character criticizes Bill Hader's character for toting around his Doctors Without Borders award "like Anne Hathaway at an Oscar party." You would think that the jab would have provoked a catty response from Anne Hathaway, since all the backlash from that ceremony famously led her to recede from the public eye for a bit. But, instead, the Oscar-winning actress took to Instagram on Tuesday to show she can laugh at herself while delivering her own witty, good-natured comeback.
"Dear @AmySchumer," she wrote under a photo of a Trainwreck movie stub, "Don't pretend like when you win your Oscar—which you could for your brilliant and refreshing writing and/or acting in @TrainwreckMovie—you won't tote it around to every Oscar party you go to. Way to slay, Annie."
In response, Amy Schumer took to Twitter to post her own hilariously adorable reaction: blame the men!
RtThis is absolutely true. By definition - ⬇️ https://t.co/Z6cHKdeZVKJuly 28, 2021
See more
If you ask me, both of these awesome women deserve awards for dispeling the myth that women are catty, sensitive, and competitive. Way to go, ladies!
Celebrity news, beauty, fashion advice, and fascinating features, delivered straight to your inbox!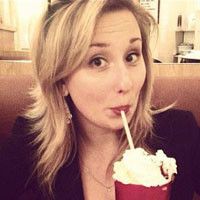 My writing has regularly appeared in The New York Times, The Paris Review, Salon, VICE, Guernica, The New York Observer, BuzzFeed, Cosmopolitan, Seventeen, Esquire, Elle, Harper's Bazaar, and many more publications.

I was previously the Senior News Editor at Best Life Online and the Viral Content Editor in the Newsroom of Hearst Digital Media. My portfolio consists of a vast and diverse body of work that includes personal essays, lifestyle articles, breaking news posts, and viral content. My areas of expertise, however, are Russia, sex and relationships, and mental wellness.