The 78 Best Celebrity Couple Halloween Costumes of All Time
Honestly, we're impressed.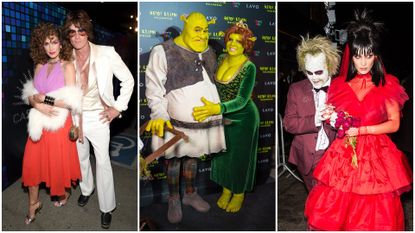 (Image credit: Getty)
If your Halloween goal is to win the costume contest this year, take note, because no one does Halloween like Hollywood. Sure, loads of money and glam teams make it possible, but these A-listers also know that pulling inspiration from iconic duos from history and pop culture is key. From Sonny and Cher to Beetlejuice and Lydia, we rounded up the best celebrity couple Halloween costumes through the years. Whether you're looking for Halloween costume ideas for you and your boo or are just browsing, please enjoy these epic celebrity duo costumes.
1/78
Heidi Klum and Tom Kaulitz as Fiona and Shrek
Heidi Klum is known for her remarkable costumes, but even this one took things to the next level. The model and her husband Tom Kaulitz were unrecognizable in 2018 as the Shrek characters.
2/78
Patrick Schwarzenegger and Abby Champion as Austin Powers and Fembot
Patrick Schwarzenegger gives the camera his best Austin Powers impersonation (honestly, not bad), and Abby Champion stuns as the film's female lead at a party in 2018.
3/78
Neil Patrick Harris and David Burtka as Mary-Kate and Ashley Olsen
Remember when our favorite couple dressed up as our favorite set of twins for Halloween? These outfits are *chef's kiss.*
4/78
The Weeknd and Bella Hadid as Beetlejuice and Lydia
In 2018, Bella Hadid and The Weeknd raised the bar on all future couples costumes by looking unrecognizable as Lydia and Beetlejuice from the classic 1988 movie.
5/78
Molly Sims and Scott Stuber as Jeannie and Major Nelson
Molly Sims and her husband Scott Stuber threw it back to the '60s to pay tribute to one of the best shows of all time, I Dream of Jeannie. We just hope she didn't have to refer to him as Master all night...
6/78
Benito Skinner and Terrence O'Connor as Kylie and Kendall Jenner
Was there anything more iconic in 2019 than Kylie and Kendall Jenner's Met Gala looks!? Benito Skinner and Terrence O'Connor's Halloween costumes were a close runner-up.
7/78
Jessica Biel and Justin Timberlake as Justin Timberlake and a Microphone
Exhibit A of why JT and Jessica Biel are the best. Biel dressed up as her husband circa 2000 (curly hair and all) and he was her microphone.
8/78
Evan Peters and Halsey as Sonny and Cher
Full disclaimer: These costumes weren't even for a Halloween party. The former couple casually decided to attend the American Horror Story 100th episode celebration as Sonny and Cher.
9/78
Joey Fatone and Izabel Araujo as the Twins from 'The Shining'
Joey Fatone and his girlfriend, Izabe Araujo, opted for a couples costume that's equal parts brilliant and terrifying. We may never be the same.
10/78
Lisa Rinna and Harry Hamlin as Edie Sedgwick and Andy Warhol
Is Harry Hamlin trying to tell us Lisa Rinna is his muse? We think so.
11/78
Kim Kardashian and Jonathan Cheban as Cher and Sonny Bono
Kim Kardashian and her best friend, Jonathan Cheban, nailed the couple's look in 2017—and they're not even a couple. The duo dressed up like Sonny and Cher, and it was epic.
12/78
Liam Payne and Maya Henry as Batman and Catwoman
No, Liam Payne isn't throwing his hat in the ring to play Batman. He simply took Halloween very seriously in 2019, with his girlfriend, Maya Henry.
13/78
Brody Jenner and Kaitlynn Carter as Tony Montana and Elvira Hancock from 'Scarface'
Brody Jenner and Kaitlynn Carter gave a nod to one of cinema's most famous couples in 2018.
14/78
Dylan Sprouse and Barbara Palvin as Anime Characters
Dylan Sprouse and Barbara Palvin looked ready for a fight when they arrived at a Halloween party in 2018. Sprouse resembled Future Trunks from Dragon Ball Z and Palvin was Gaara from Naruto.
15/78
Mark Birnbaum and Tori Praver as Edward Lewis and Vivian Ward from 'Pretty Woman'
Model Tori Praver's outfit looked nearly identical to the famous look Julia Roberts wore for the classic rom-com.
16/78
Ryan Seacrest and Shayna Taylor as Karl Lagerfeld and Anna Wintour
Ryan Seacrest was the Karl Lagerfeld to Shayna Taylor's Anna Wintour in 2018. Seacrest even brought along the designer's cat, Choupette, for good measure.
17/78
Devon Windsor and Jonathan Barbara as Britney Spears and Justin Timberlake
The Victoria's Secret model and Jonathan Barbara took us back to the year 2001 with the iconic ensemble Britney and JT wore to the American Music Awards.
18/78
Phillipe Blond and David Blond as Batman and Catwoman
Phillipe Blond and David Blond, the New York-based design duo behind the fashion brand The Blonds, went as Batman and Catwoman in 2019. Considering Taylor Swift just dropped "Vigilante Shit" in her tenth studio album Midnights, these vengeance-seeking characters are quite timely for Halloween 2022.
19/78
Frankie Grande and Daniel Sinasohn as Trolls
Frankie Grande and his boyfriend, Daniel Sinasohn, took their couples costume into the fantasy world, dressing as characters from the movie Trolls in 2018.
20/78
Neil Patrick Harris and David Burtka as Westley and Inigo Montoya
We wonder how the couple decided who would be the dashing Westley and who would dress as the out-for-revenge Inigo Montoya. Either way, Neil Patrick Harris and David Burtka crushed it, per usual.
21/78
Cindy Crawford and Rande Gerber as a Stewardess and Pilot
Holy Pan Am! Cindy Crawford and Rande Gerber's 2018 Halloween costume as a '60s stewardess and pilot, respectively, could fly us to the moon.
22/78
Sarah Hyland and Wells Adams as Taco Belle
We would expect nothing less than a pun-filled couples costume from Sarah Hyland and Wells Adams, who went as "Taco Belle." Clever!
23/78
The Gerber Family as Rock Icons
Cindy Crawford and her family were inspired by rock icons in 2018. Kaia was Joan Jett, Rande Gerber was David Bowie's Ziggy Stardust, and Cindy Crawford was Debbie Harry, respectively.
24/78
Jasmine Sanders and Terrence J as Wilma and Fred Flintstone
Terrence J and Jasmine Sanders traveled back to pre-historic time to embody the cartoon characters from The Flintstones for Halloween. Yabba dabba doo!
25/78
Sarah Paulson and Holland Taylor as a Panda and a Joker
The actresses may not be matching, per se, but both women donned incredibly cozy onesies for a Halloween party in 2017. Note to self: Wear a onesie this year.
26/78
Skylar Astin and Anna Camp as 'Wayne's World'
Party on! The Pitch Perfect costars nailed their couples costume in 2017, dressing like the main characters from Wayne's World.
27/78
Katy Perry and Orlando Bloom as Hillary and Bill Clinton
Just another example of how celebrities are over-the-top on Halloween. The Clinton's Orlando Bloom and Katy Perry left a Halloween party in 2016 with a full secret service detail.
28/78
Seth Rogen and Lauren Miller as Mario and Luigi
Seth Rogan and his wife, Lauren Miller, kept things simple for their joint Halloween costume, dressing up as the iconic Nintendo characters.
29/78
Emily Ratajkowski and Jeff Magid as Marge and Bart Simpson
In 2015, Emily Ratajowski and her then-boyfriend, Jeff Magid, donned yellow body paint to transform into the Simpsons for Halloween. They even brought their own donut.
30/78
Jenna Dewan and Channing Tatum as 'Cat in the Hat'
The now-divorced couple paid homage to Dr. Seuss's Cat in the Hat story with matching costumes in 2015.
31/78
Jennifer Lopez and Casper Smart as Skeletons
The actress and Casper Smart wore all black formalwear paired with elaborate face makeup for an unforgettable Halloween look. This is what we call spooky chic.
32/78
Josh Duhamel and Fergie as Karl Lagerfeld and Choupette
Name a better duo than Karl Lagerfeld and Choupette. We'll wait. Fergie and Josh Duhamel put their fellow partygoers to shame in 2015.
33/78
Meredith Vieira, Savannah Guthrie, and Jenna Bush Hager as "Mom Jeans"
As a reminder that not all joint costumes have to come in twos, the women of Today wowed us with their '80s mom jeans looks.
34/78
Kim Kardashian and Kanye West as a Mermaid and Sailor
In 2012, Kimye stepped out in one of their very first couples costumes. Kim glittered in a mermaid frock, while Kayne wore a sailor outfit.
35/78
Kourtney Kardashian and Scott Disick as Batman and Robin
The former couple were super into their costume in 2012. Interesting choice for Kourtney to be Batman. Guess we know who runs the show...
36/78
Kelly Ripa and Nick Lachey as Kim Kardashian and Kris Humphries
Kelly Ripa and Nick Lachey made light of Kim Kardashian and Kris Humphries's height difference when they dressed up as the couple at their 2011 nuptials.
37/78
Chrissy Teigen and John Legend as Cleopatra and Mark Antony
Chrissy Teigen and John Legend honored one of history's most iconic duos, Cleopatra and Mark Antony, in 2010.
38/78
Nick Cannon and Mariah Carey as Milk and Cookies
What goes together better than milk and cookies!? Clearly Nick Cannon and Mariah Carey have a favorite dessert.
39/78
Seal and Heidi Klum as Eve and the Forbidden Fruit
Klum was the forbidden fruit and Seal was Eve—who clearly is dealing with a lot of temptation!—at her 2006 Halloween bash.
40/78
Christina Aguilera and Jordan Bratman as a Nurse and Doctor
Christina Aguilera and her then-husband, Jordan Bratman, kept it simple with a sexy nurse and doctor combo in 2005.
41/78
Jason Biggs and a Date as Dorothy and the Tin Man
The comedian flipped this common costume on its head by dressing up in the iconic blue gingham dress himself. Please note Toto in his basket.
42/78
Barbara Palvin and Dylan Sprouse as Princess Mononoke and Ashitaka from 'Princess Mononoke'
Palvin and Sprouse tend to dress up as characters from their favorite anime series and films. They channeled the classic film Princess Mononoke' back in 2018.
43/78
Heidi Klum and Tom Kaulitz as a Zombie and a Zombie Astronaut
Talk about a couple that goes all-in on a theme! Klum never fails to wow the crowd at her Halloween party, and 2019's theme was no exception.
44/78
Jordan Barret and Jessica Clarke as a Patient and a Nurse
The duo made a dramatic entrance at Heidi Klum's annual Halloween party way back in 2018.
45/78
Beanie Feldstein and Ben Platt as The Tin Man and Dorothy from 'The Wizard of Oz'
Grab the silver face paint and your favorite pair of red heels and dress up as Dorothy and the Tin Man from 'The Wizard of Oz' like Beanie Feldstein and Ben Platt did in 2019.
46/78
Cindy Crawford and Rande Gerber as Hell's Angels
These two have done it all–they've dressed up as '70s fashion icons, retro flight attendants , and this rock-chic Hell's Angels costume. Talk about range!
47/78
Laura Dreyfuss and Tyler Lain as Mary Poppins and Burt
Dreyfuss and Lain took a spooky approach to the classic Disney characters in 2019.
48/78
Darren Criss and Mia Swier as Cruella De Vil and a Dalmation from '101 Dalmations'
Another clear fan of dressing up in a Disney-inspired costume? Darren Criss! He and Mia Swier decked themselves out in black, white, and red back in 2019.
49/78
Christian Siriano and Brad Walsh as Picasso Paintings
It doesn't get more colorful than Christian Siriano and Brad Walsh's painting-inspired costumes from 2015.
50/78
Kim Kardashian and Kanye West as Batman and Cat Woman
Kimye strikes again with the killer costume—or should I say "Kostume!" The pair dressed up in head-to-toe leather for their classic Batman and Cat Woman costume.
51/78
Ariel Winter and Levi Meaden as Skeletons
If you're short on time—or if you partner just doesn't love dressing up—channel Ariel Winter and Levi Meaden and go as classic skeletons this year.
52/78
Antoni Porowski and Kevin Harrington as Zombie Blockbuster Employees
Antoni Porowski and boyfriend Kevin Harrington, an advertising executive, paid homage to the late, great video rental franchise Blockbuster at Heidi Klum's 20th Annual Halloween Party.
53/78
Paris Hilton and Doug Reinhardt as Tooth Fairies
Have any loose molars? Paris Hilton and Doug Reinhardt dressed up as matching tooth fairies for Heidi Klum's Halloween soirée back in 2009.
54/78
Heidi Klum and Seal as Robots
In 2010, Heidi Klum and Seal arrived at the supermodel's annual Halloween shindig as fully decked-out robots. They said, "Beep boop bop!"—or, for those who don't speak android, that roughly translates to "Happy Halloween!"
55/78
Sophia Bush and Austin Nichols as Katy Perry and Russell Brand
Sophia Bush teamed up with Austin Nichols, her then-boyfriend and fellow One Tree Hill star, to honor another former Hollywood It couple: Katy Perry and Russell Brand.
56/78
Jessica Alba and Cash Warren as Romy from "Romy and Michele's High School Reunion" and Maverick from "Top Gun"
Not only do they both work in film, but they're also clear movie buffs, too! For a 2015 Casamigos Tequila Halloween Party, Jessica Alba dressed as Romy from Romy and Michele's High School Reunion while her husband, film producer Cash Warren, did his best Maverick from Top Gun impression.
57/78
Maria Menounos and Keven Undergaro as McDonald's Employees
Do you want fries with that? Maria Menounos and husband Keven Undergaro dressed as McDonald's employees for the 2019 Casamigos Halloween Party. Clearly, their Halloween spirit was super-sized.
58/78
Cindy Crawford and Rande Gerber as '70s Disco Dancers
Certainly a couple who turns to the past for style inspo (for proof, click over to their 1960s-inspired pilot and stewardess looks), Cindy Crawford and husband Rande Gerber dressed up as '70s icons in 2018. Cue the Donna Summer!
59/78
Jasmine Sanders and Terrence J as Astronauts
One small step for man, one giant dose of inspo for those seeking guidance on a Halloween costume. Take a cue from actor Terrence J and model Jasmine Sanders and go as space-loving astronauts this year.
60/78
Lisa Rinna and Harry Hamlin as Lucille Ball and Desi Arnaz
I love Lisa—I mean Lucy! In 2010, the Real Housewives star and husband Harry Hamlin went as the iconic couple at the center of the '50s sitcom, I Love Lucy.
61/78
Kelly Osbourne and Luke Worrall as an Egg and Bacon
Who's hungry? Kelly Osbourne and Luke Worrall dressed up as a bedazzled egg and strips of bacon—peep the rhinestones!—in 2009.
62/78
Michael Strahan and Kelly Ripa as Zombies
Okay, so they're not technically a couple couple, but back in 2014, Michael Strahan and Kelly Ripa dressed up as terrifying zombies. And because of their costumes' scare factor, they're more than worthy of being included on this list.
63/78
Chrishell Stause and Gleb Savchenko as Maleficent and a Knight
For Dancing With The Stars' 2020 Halloween show, the Selling Sunset star dressed up as Maleficent, with her dance partner and knight in studded leather, Gleb Savchenko, acting as her counterpart.
64/78
Mike Myers and Kelly Tisdale as The Ramones
The comedian and his wife were ready to rock and roll back in 2018. Alexa, play "Blitzkrieg Bop" and turn the volume all the way up.
65/78
Nicolas Cage and Mariah Carey as Angels
The now-separated couple were a heavenly sight to behold back in 2009 when they dressed up as matching angels. It's an easy costume to recreate, too: Order some feathered wings, a halo, and dress yourselves all in white.
66/78
Michael Kors and Jane Krakowski as Barbarella and a Starman
Following the same intergalactic theme, Jane Krakowski channeled Jane Fonda as the iconic Barbarella and Michael Kors completed the narrative in a celestial, star-adorned suit.
67/78
Brian Keys and Hunter McGrady as Prince Eric and Princess Ariel
A classic Disney duo, model Hunter McGrady attended Heidi Klum's 2019 Halloween Party as Princess Ariel with her husband accompanying her as Prince Eric.
68/78
Maya Stepper and Mikkel Gregers Jensen as Angelina Jolie and Billy Bob Thornton
The model duo referenced an iconic moment in red carpet history with their 2019 outfits: Angelina Jolie and Billy Bob Thornton, one of the early-aughts most talked-about couples, circa 2000 attending the premiere of Gone in 60 Seconds.
69/78
John Legend and Chrissy Teigen as Mario and Princess Peach
While technically not a Halloween celebration, Chrissy Teigen and John Legend's Princess Peach and Mario costumes from the model's 28th birthday party are so epic, they're worth spotlighting in this list.
70/78
Bruce Willis and Stephen J. Eads as 'The Shining' Twins
For M. Night Shyamalan's 2019 Halloween party, aptly named 'Shyamaween,' Bruce Willis and his long-time friend, assistant-turned-producer Stephen J. Eads also went as the iconic twins from Stanley Kubrick's 1980 horror flick, The Shining.
71/78
Kelly Sawyer and Jessica Alba as Juno and Paulie Bleeker from 'Juno'
"I don't see what anyone can see in anyone else ... But you!" Kelly Sawyer and Jessica Alba went as Juno and Paulie Bleeker from the 2017 movie Juno. It's a great couple costume for indie film buffs.
72/78
Mariah Carey and Nick Cannon as Firefighters
A flaming hot idea (hah!), Mariah Carey and Nick Cannon went as firefighters for a 2008 party at New York City nightclub Marquee.
73/78
Kevin Mazur and Pink as a Vampire and Clown
Photographer Kevin Mazur dressed up as a Vampire (who evidently just had a bloody snack) and the one, the only P!nk went as a clown for Heidi Klum's 2008 Halloween Party.
74/78
Matthew Morrison and Renee Puente as 'Pulp Fiction' Characters
Matthew Morrison and his wife Renee Puente garnered inspiration from the cult-fave Quentin Tarantino movie Pulp Fiction. The Glee actor went as John Travolta's Vincent Vega while Puente dressed up as Uma Thurman's Mia Wallace.
75/78
Scott Disick and Kourtney Kardashian as Robin and Batwoman
Dressed up as Robin and Batwoman for Kim Kardashian's 2012 Halloween bash, Scott Disick and Kourtney Kardashian proved you can't ever underestimate a sidekick.
76/78
Kim Kardashian and Jonathan Cheban as Little Red Riding Hood and the Big Bad Wolf
In 2010, Jonathan Cheban, dressed as the Big Bad Wolf, joined a Little Red Riding Hood-clad Kim Kardashian. The duo brought a fairy tale to life.
77/78
Mel B and Gary Madatyan as Victoria and David Beckham
It's a Spice Girls crossover! Mel B playfully poked fun at fellow girl group member Victoria Beckham when she dressed up as Posh and her friend Gary Madatyan went as David Beckham.
78/78
Jackie Cruz and Fernando Garcia as Twiggy and Andy Warhol
Actor Jackie Cruz and husband Fernando Garcia paid homage to pop art when the couple went as artist Andy Warhol and his favorite muse, Twiggy.