Who Are Simone Biles's Parents? Meet Nellie and Ronald Biles
The Olympic gymnast was adopted by her biological grandparents in 2003.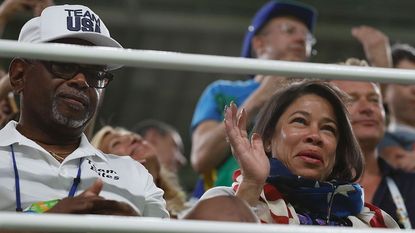 (Image credit: THOMAS COEX)
Being the greatest gymnast of all time and a highly competitive Olympian is no easy feat, mentally and physically—and Simone Biles was forced to pull out of the team finals in Tokyo on Tuesday, citing her mental health. But luckily for Biles, she has a strong support system in her family, namely her parents Nellie and Ronald Biles. The sweet parental pair first made headlines in 2016 when they cheered on their daughter on the sidelines of the Rio Olympics.
Due to COVID restrictions they couldn't do the same this year in Japan, but the two remain pillars in Biles's life and career. (Just try not to tear up reading Simone's sweet Instagram posts dedicated to them.) Here's everything we know about Simone Biles's parents, from their unique family story to what they've all said about their relationships with each other.
Simone was adopted by Nellie and Ronald.
Ronald, Simone's biological maternal grandfather, and his wife, Nellie, adopted Simone and her sister, Adria, in 2000 when Simone was six years old. She and her sister had been in and out of foster care for three years at the time. Simone's two other siblings, Tevin and Ashley, were adopted by Ronald's sister.
Simone and her family have been open about the adoption process. On Dancing With the Stars in 2017 Simone shared more about the story of her adoption, explaining that her biological mother struggled with drug and alcohol abuse and "was in and out of jail," unable to raise Simone and her siblings.
"I never had mom to run to. I do remember always being hungry and afraid," she said during the TV appearance. Nellie and Ronald told Simone and her sister to call him and Nellie "mom" and "dad" after the adoption, which she said she gladly did.
"My parents saved me," Simone said during DWTS. "They've set huge examples of how to treat other people, and they've been there to support me since day one. There's nothing I could say to them to thank them enough."
Nellie also opened up about becoming an adoptive mother to Simone and Adria in the Facebook Watch docuseries, Simone vs. Herself, saying she struggled initially to bond with the girls.
"I remember praying for that bonding," Nellie said, per Women's Health. "Because telling them that you love them and you care for them; that's all words. But then you wake up one day, and you realize that you would do anything for these children. And that you would die for these children. And when that feeling comes, that's when you know you are truly a mother."
Simone has been in touch with her biological mother, Shanon, but not with her biological father.
In a 2016 Daily Mail interview, Shanon opened up about giving up Simone and her siblings for adoption, saying it was a difficult decision. "It was "hard to give up my kids, but I had to do what I had to. I wasn't able to care for them," she said. Shanon added that she sometimes has brief conversations with Simone; she continues to cheer her on and is "proud" of her. Shanon also shared that Simone's biological father, Kelvin Clemons, is not in touch with Simone.
Nellie and Ronald work with gymnasts.
The couple own a gymnastics training center called World Champions Centre in Spring, Texas, where Simone also practices. A large mission of the gym is to foster athletes of all races and backgrounds—something that is close to Simone's heart. "Representation matters, and we want to inspire the next generation to pursue their passion," she told Health in June.
Despite not being present in Tokyo, Nellie and Ronald have shared plenty of support on social media.
Simone (as well as fans) were upset to learn that Simone's parents wouldn't be able to root for her in person during the 2021 Olympics. The athlete took to Twitter on her way to Tokyo writing, "not me crying on the plane because I'll miss my family & friends."
not me crying on the plane because I'll miss my family & friendsJuly 14, 2021
See more
But her parents have been vocally supporting their daughter online. Nellie posted a photo on Instagram in mid-July of her hugging Simone, captioning it, "I am going to miss this but just know that I will be in Tokyo in spirit. May The Lord continue to guide and keep you. Just be The Best Simone."
RELATED STORIES
Celebrity news, beauty, fashion advice, and fascinating features, delivered straight to your inbox!