Miss Piggy Is Winning the Breakup, Guys
In case you were wondering.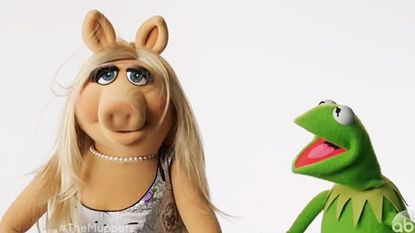 (Image credit: archives)
So by now you probably know that on August 4th, Kermit the [Spineless] Frog announced via Twitter that he had ended his very long-term relationship with Miss [Reigning Goddess of Everything] Piggy.
Here is the official statement from @RealMissPiggy and myself regarding our relationship: pic.twitter.com/uHCSsokqWRAugust 4, 2015
See more
And yesterday, the Internet was set ablaze by the scandalous release of the very first photos of his new girlfriend, a homewrecking hog named Denise who works in the marketing department of their new show, The Muppets. Look at that arrogant mug. She clearly has *no class*.
Kermit immediately took to Twitter to deny the allegations, pulling the typical BS "we're just friends" line.
Sheesh. I can't believe I already have to do this again... Here is the official statement on my relationship status: pic.twitter.com/gRCyl3xbfzSeptember 1, 2015
See more
Which just goes to show that Kermit is a liar, because merely a day after announcing his split from Miss Piggy, he tweeted that he was already in a relationship with Denise. He also explicitly called her his girlfriend in this Extra interview and ABC's official first look presentation.
.@emmyrossum Hi-ho, Emmy! Unfortunately, I'm seeing someone else... Denise. She's in publicity at the network. She's sweet, you'd like her!August 4, 2015
See more
So, how did Miss Piggy react to the news? Despite her reputation as a so-called "diva," the Queen reacted with professional placidity. When asked about the new relationship at Comic Con, she said she was perfectly fine and that she and Kermit had both moved on. When pressed about whether or not she was seeing someone, she throatily responded, "Who am I not dating?"
Indeed, while Kermit has been tied down by some common pig, Miss Piggy has been sweeping through a string of Hollywood's sexiest celebs.
First there's yummy Topher Grace, with whom she did some serious smooching on the set of her new war film. Apparently, TMZ is calling them "Tofiggy," which sounds like a delicious taffy.
Then, there's Liam Hemsworth, who broke his Instagram virginity by posting a photo of himself looking longingly into the eyes of the woman he called "The Most Beautiful Girl in the World." He even included a shoutout to her stupid ex, writing "Kermit, #sorryNotSorry." This is, quite literally, every dumped woman's dream.
And most recently, scrumptious Nathan Fillion was caught sneaking out of Miss Piggy's trailer while tucking his shirt back into his pants, right in front of Kermit.
Let's take a closer look at the moment they make eye contact, shall we? Look at Kermit's face. What a tool.
But it isn't only in the man department that she's winning. Miss Piggy is also providing inspiration to heartbroken women everywhere, by reminding them that you certainly can't let a man affect your self-esteem and self-worth. No one, and I mean no one, can make her feel any less fabulous than she is.
All aspiring divas need to know that it is better to live beyond your means than below your standards.August 18, 2015
See more
She's also enjoying the single life and all the tasty perks that come with it.
The single life is perfect. You get a tidal wave of sympathy after the break up, and no one can judge how much ice cream you eat! Perks!!August 20, 2015
See more
And just because she's been glamorously gracious and kind doesn't mean she hasn't subtly let bitches know their place.
Ladies, take note. This is how to win a breakup.
My writing has regularly appeared in The New York Times, The Paris Review, Salon, VICE, Guernica, The New York Observer, BuzzFeed, Cosmopolitan, Seventeen, Esquire, Elle, Harper's Bazaar, and many more publications.

I was previously the Senior News Editor at Best Life Online and the Viral Content Editor in the Newsroom of Hearst Digital Media. My portfolio consists of a vast and diverse body of work that includes personal essays, lifestyle articles, breaking news posts, and viral content. My areas of expertise, however, are Russia, sex and relationships, and mental wellness.