Angelique Cabral on Being Typecast in Hollywood: "The Way in Is *Through* the Stereotype"
The Life in Pieces star opens up about racial diversity and gender equality.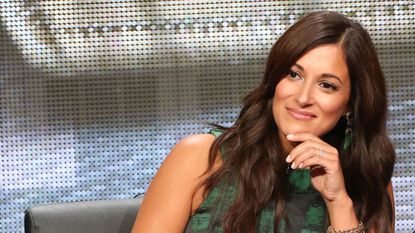 (Image credit: Getty Images)
Marie Claire Newsletter
Celebrity news, beauty, fashion advice, and fascinating features, delivered straight to your inbox!
Thank you for signing up to Marie Claire. You will receive a verification email shortly.
There was a problem. Please refresh the page and try again.
If we learned one thing from 2015 (other than "eat less pizza"), it's that Hollywood needs to up its diversity game. Women of color in particular have been marginalized for far too long, but Angelique Cabral is part of a change the industry desperately needs. Cabral stars on CBS' Life in Pieces, and while a quirky freshman comedy might not sound like groundbreaking social progress, the show is definitely doing its part to tackle Hollywood's oft-criticized diversity problem.
Cabral's had a front row seat at the industry's changing approach to gender and racial diversity, and we got a chance to chat with her about breaking stereotypes, the role of women on television, and how she's busting into Hollywood's boys' club.
Marie Claire: Life in Pieces is a family comedy, but it's so diverse—not just in terms of race and ethnicity, but in terms of gender. Did that draw you to the role?
Angelique Cabral: I was drawn to the fact that there are so many women and they're written very smart. They aren't just being moms or being put on display. They're women with opinions, they're working women that have jobs and also have families. I think it's becoming more common. As the show has progressed and they've gotten to know me, Betsy Brandt, Dianne Wiest and Zoe Lister-Jones, they've written for us in our own voices. It's such a joy to go to work and have these scripts that cater to strong female characters.
MC: The other tricky thing is finding non-stereotypical parts for women of color. I imagine as a Latina, it's hard to avoid being typecast.
AC: It's a tricky subject. I feel that yes, there are always going to be stereotypes—and not just for women in general, Latina women, and black women—but even the white jock. That's what this industry is built on, are these ideas of stereotypes. But the more roles that are written for diverse women in particular, the more they're going to expand their horizons. We've got to start somewhere. The fact that Sofia Vergara became so massively famous—or even Eva Longoria in Telenovela, America Ferrera in Superstore, or Gina Rodriguez in Jane the Virgin—they're all kind of these stereotypical characters, but they're also the leads on these huge shows and they're in the public eye. I feel that's a win, and that's our way in. The way in is through the stereotype; the feisty, very voluptuous, hot woman ends up being super smart, a great mother— there are so many other parts to her. You end up forgetting the stereotype because she's such a full, well-rounded character. That's the key, that we don't just get stuck in these stereotypes. In terms of comedy, stereotypes are the way they cast these shows, and then once they're cast and they're writing for you, it ends up being different.
MC: In terms of gender diversity, it seems like leveling the playing field behind the scenes will lead to more gender diversity on screen. You have a few producer credits—what's it like being a female producer in such a male-dominated industry?
AC: What I love so much about Life in Pieces is that we have four females in our writing room. We have had so many female directors, one of our first AVs is a female, several of our producers are female. I feel that Life in Pieces is very serious about having equality both on-screen and off-screen. From a personal standpoint, I'm just now getting into this development world where I'm pitching shows with a partner. It feels so empowering and powerful to be taking my career into my own hands, to be in charge of it, to dive headfirst into these new experiences, and to know that other women are doing this. There are so many ground breaking women my age who are leading the pack. I look at Lena Dunham, I look at Tina Fey, Amy Poehler, Elizabeth Banks, Reese Witherspoon. I want to do it all and I want to also have a family, so I'm so excited and inspired by the women who have forged this road for me.
MC: Speaking of having it all, it always seems really cringe-y when actresses get asked "how do you do it all?" Men are never asked this. Do you think it's a sexist question?
AC: I don't know if I think it's sexist, necessarily, I think it's this strange idea that the world has about Hollywood in general. Most people are shocked that you're an actress and also something else. There's a misconceived idea that when you're an actor, that's all you do. In reality, acting's just our job. Most of my good friends who are actors are also mothers and wives. They volunteer. I teach acting, I teach yoga. Acting is just a thing that we do 9-5, six months out of the year. Most actors do many more things than just acting, and we have very full lives.
MC: What do you want to impart to the next generation of Latina actresses in particular?
AC: I feel strongly that this is a very powerful time for women in general. But I think that African American women and Latinas are having a renaissance on TV right now. It's lovely, and beautiful, and I'm so excited to be a part of it. I think women coming up in this business should be excited and inspired by the roles being written for them. We're not just this hot arm candy anymore or the moms. We're lawyers, we're doctors, we're the president for God's sake. We're able to do it all.
Watch Life in Pieces Thursdays at 8:30/7:30 c on CBS.
Follow Marie Claire on Instagram for the latest celeb news, pretty pics, funny stuff, and an insider POV.
Celebrity news, beauty, fashion advice, and fascinating features, delivered straight to your inbox!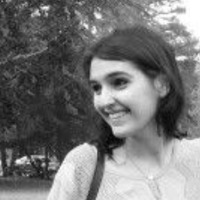 Mehera Bonner is a celebrity and entertainment news writer who enjoys Bravo and Antiques Roadshow with equal enthusiasm. She was previously entertainment editor at Marie Claire and has covered pop culture for over a decade.