"My Parents Were Deported When I Was 14"—Actress Diane Guerrero Shares Her Harrowing Story
The Orange Is the New Black star was a teenager when her parents were taken away. Now she's using her painful past to battle on behalf of the undocumented.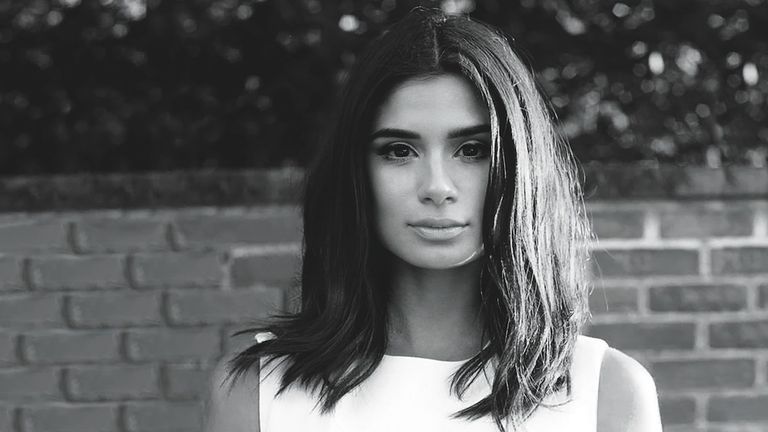 (Image credit: Marcus Branch)
In 2001, when actress Diane Guerrero was just 14 years old, her parents, who had left the poverty and corruption of Colombia for the United States in 1981, were deported along with her older half brother. The American-born Guerrero stayed behind with family friends to attend high school and college, paying her way with help from her parents and after-school jobs.
After years of hiding her family's history, Guerrero, now 29, spoke publicly about it for the first time in a 2014 Los Angeles Times op-ed. Since then, she has met President Barack Obama and become a White House ambassador for citizenship, and this month, she publishes a memoir, In the Country We Love: My Family Divided (opens in new tab).
Here, she describes the toll that separation took on her family, misconceptions about immigrants, and how she handles the backlash.
Marie Claire: Why did you want to write about your history?
Diane Guerrero: I spent a long time in the shadows. I always had this feeling that I was the only one going through this, because I kept it a secret. Once I decided to use my voice in a way that could potentially help others, I found there were a lot of people like me—a lot of kids left behind. So, I wanted to call attention to the issue.
MC: As a kid, did you worry your parents would be deported?
DG: Yes, because my folks were so active in trying to secure legal
status. My father, who worked as a dishwasher, was especially anxious. He did not like being here undocumented. I feel like there's this misconception that immigrants come here and just don't care about the system and paying taxes, and that's not true. My father was desperately trying to be a legal contributor to this society.
MC: How did your relationship with your parents after they were deported?
DG: We would talk on the phone, and I would go visit during summers, but that communication became less and less frequent, especially on my part because I was an angry teenager. After a while, you're growing up so quickly and you begin to not know them anymore. You're left with the memories you had as a kid, but you're not a kid anymore and your experiences are separate. We are now much closer and communicate almost every day. It's a lot of work, but what holds us together is the hope that we will one day be together again.
MC: Did your experience help you pursue acting?
DG: Sure it did—I was determined not to fail. It gave me so much strength to keep on moving forward, because any type of failure—whether in school or with jobs or rejection from a casting office—nothing could be as bad as what I had already gone through. Nothing could be worse than coming home expecting to see your loving parents and them not being there.
MC: What do you think about the increase in deportations by the U.S. government?
DG: It's terrible. When there are deportations, you better believe there are families involved—there are parents being separated from their children. It doesn't reflect our values as Americans, and I don't think it fixes the issue. I think there would be a lot of advantages to creating paths to citizenship for people who are already working here so they are contributing to our economy.
MC: What's your take on immigration as a campaign issue?
DG: We have a broken system, and we need politicians who are going to fix it. We need someone who's going to govern on behalf of everyone in this country, including immigrants. The fact of the matter is, the candidates need the Latino vote to win. If we feel we're not being represented and if we feel like the candidate is insulting us, ignoring us, and is not leading with fairness and empathy, I think that's going to be reflected in turnout.
MC: How did you handle the critics?
DG: Since I went public with my story, I've never experienced such hate. I sometimes want to crawl under my blanket and hide forever and say, "No, that's some other girl who had an opinion." My blood has boiled a few times, but I just have to come back to earth and say people are entitled to their own opinions and I'm entitled to share my story the way I want. And that's exactly what I'm doing.
This article appears in the May issue of Marie Claire, on newsstands now.