Watch Lady Gaga's Tear-Jerking Speech in Tribute to the Orlando Shooting Victims
"You are not alone. You are *not* alone."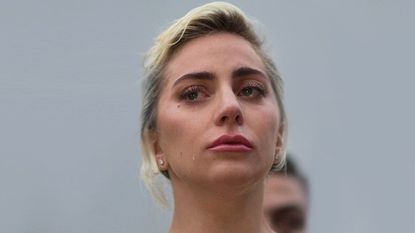 (Image credit: Getty Images)
Lady Gaga spoke at Los Angeles' vigil for victims of the Orlando shooting at Pulse nightclub, honoring those lost in what was just as much a hate crime as it was an act of terror.
"I know that you all have been feeling a tremendous range of emotions since we've all heard about this horrible, hateful attack on Orlando, and on your, and our community," she said. "As we have now witnessed the largest mass shooting in American history, I can't help but feel that this level of hatred, like all prejudicial crimes, this is an attack on humanity itself. This is an attack on everyone. Tonight I gather humbly with you, as a human being, in peace and sincerity, in commitment and solidarity, to take a real moment and mourn the tragic loss of these innocent, beautiful people. Let's all today pledge an allegiance of love to them and their families who are suffering so deeply."
The star held back tears as she told the LGBTQA community that they're not facing this alone.
"I will not allow my anger and outrage over this attack to overshadow our need to honor those who are grieving truly for their lost ones," she continued. "Lost members of the LGBT community. I hope you know that myself and so many are your allies. Not only me, but everyone here, we represent the compassion and the loyalty of millions of people around the world that believe in you. You are not alone. You are not alone. Tomorrow, I hope that we all race thoughtfully and loudly towards solutions. But tonight, and right now, Orlando, we are united with you. And we are here to remember."
Gaga went on to read the names of victims, which you can find below the video of her full speech.
Stanley Almodovar III, 23 years old
Amanda Alvear, 25 years old
Oscar A Aracena-Montero, 26 years old
Rodolfo Ayala-Ayala, 33 years old
Antonio Davon Brown, 29 years old
Darryl Roman Burt II, 29 years old
Angel L. Candelario-Padro, 28 years old
Juan Chevez-Martinez, 25 years old
Luis Daniel Conde, 39 years old
Cory James Connell, 21 years old
Tevin Eugene Crosby, 25 years old
Deonka Deidra Drayton, 32 years old
Simon Adrian Carrillo Fernandez, 31 years old
Leroy Valentin Fernandez, 25 years old
Mercedez Marisol Flores, 26 years old
Peter O. Gonzalez-Cruz, 22 years old
Juan Ramon Guerrero, 22 years old
Paul Terrell Henry, 41 years old
Frank Hernandez, 27 years old
Miguel Angel Honorato, 30 years old
Javier Jorge-Reyes, 40 years old
Jason Benjamin Josaphat, 19 years old
Eddie Jamoldroy Justice, 30 years old
Anthony Luis Laureanodisla, 25 years old
Christopher Andrew Leinonen, 32 years old
Alejandro Barrios Martinez, 21 years old
Brenda Lee Marquez McCool, 49 years old
Gilberto Ramon Silva Menendez, 25 years old
Kimberly Morris, 37 years old
Akyra Monet Murray, 18 years old
Luis Omar Ocasio-Capo, 20 years old
Geraldo A. Ortiz-Jimenez, 25 years old
Eric Ivan Ortiz-Rivera, 36 years old
Joel Rayon Paniagua, 32 years old
Jean Carlos Mendez Perez, 35 years old
Enrique L. Rios, Jr., 25 years old
Jean C. Nives Rodriguez, 27 years old
Xavier Emmanuel Serrano Rosado, 35 years old
Christopher Joseph Sanfeliz, 24 years old
Yilmary Rodriguez Solivan, 24 years old
Edward Sotomayor Jr., 34 years old
Shane Evan Tomlinson, 33 years old
Martin Benitez Torres, 33 years old
Jonathan Antonio Camuy Vega, 24 years old
Juan P. Rivera Velazquez, 37 years old
Luis S. Vielma, 22 years old
Franky Jimmy Dejesus Velazquez, 50 years old
Luis Daniel Wilson-Leon, 37 years old
Jerald Arthur Wright, 31 years old
Follow Marie Claire on Facebook for the latest celeb news, beauty tips, fascinating reads, livestream video, and more.
Mehera Bonner is a celebrity and entertainment news writer who enjoys Bravo and Antiques Roadshow with equal enthusiasm. She was previously entertainment editor at Marie Claire and has covered pop culture for over a decade.