Kate McKinnon Would Be a Carpenter if She Weren't an Actress, Made Her First Dollar as an Umpire
And 23 other fascinating things you need to know about the SNL star.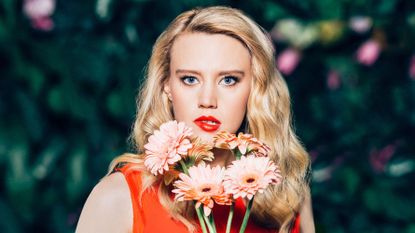 (Image credit: Ramona Rosales/August)
1. If I weren't a comedian/actress: I would live in the woods and be a carpenter. I already have my outfits picked out.
2. Best career advice I've gotten: This lyric from Hamilton: "You get love for it, you get hate for it, you get nothing if you wait for it." I think that says it all.
3. Moment I felt I made it: Still waiting, gals.
4. Most agonizing career decision I've ever made: Oddly enough, auditioning for SNL. I had to get out of a contract I was in at the time and it was definitely a gamble, and I don't gamble. I lost $6 in Atlantic City once and said, "Never again."
5. Easiest career decision I've ever made: Auditioning for SNL, duh.
6. Kind of work I'd do for free: Comedy! (Don't tell the powers that be. Shoot. I just wrote that in your magazine. Can you print a quick retraction?)
7. Favorite perk of the job: On the two occasions that I've had the honor of meeting contestants from RuPaul's Drag Race...they knew who I was!
8. Worst pitfall of the job: I don't sleep enough and it does…what is the opposite of wonders…horrors. It does horrors for my skin.
9. What does your career look like in 5 years? I would just love to be employed. To be employed in the entertainment industry is a miracle. Every day I look in the mirror and think "Holy crap, I'm employed."
10. Change I'd like to see in my industry: I'd love everyone to switch to wearing flats all the time. If we all decided together, we could do it! Sneakers count as flats in this scenario.
11. How I made my first dollar: I was an umpire at little league softball games. I only lasted a few games because I wasn't one hundred percent clear on all the rules.
12. Who do you admire and why? I admire my boss, Lorne Michaels. He never stops producing. I think for him comedy is a tool of compassion, a way of rallying people together and saying "Guys, isn't the world bonkers? Aren't we all just trying our best?" There's a tenderness in everything he does.
13. Last thing I binge-watched: The Great British Bake-Off [on BBC One]. It's the least competitive competition show there is. They're all so sweet and polite and they help one another and nothing goes wrong. It lulls you off into nice dreams about pudding and biscuits, which mean different things in England than they do here. Watch the show for further information.
14. Song that always makes me cry: "Stop This Train" by John Mayer. Every damn time.
15. Movie with the greatest ending: Anyone remember the movie In America? Bring a whole roll of paper towels if you're gonna watch it.
16. Song I'd want played at my funeral: Ech, I don't really like parties, I don't need a whole thing. Maybe a dinner party. Play something fun. Type in "Beyonce" on Pandora. Have a good time, life is precious.
17. First album I bought: I was into really hard-hitting stuff. I think it was the soundtrack to "Sound of Music."
18. On my bucket list: I always wanted to live alone for a month in a lakeside cabin. In my fantasy I enter a state of perfect peace and grow my own kale and stuff but in real life I think I might be very bored after four days.
19. If I could live in a foreign country, it would be? I'd pull a Diane Lane in Under the Tuscan Sun and live in a little Italian village. I wonder if anyone ever named a country other than Italy in response to this question.
20. One thing I'm exceptionally good at: This bitch can cook.
21. One thing I'm epically bad at: Choreographed movement.
22. Superhero power I'd want to have: The power to stop time. I would use it to sleep and watch TV and MAAAAAAYBE exercise. Oh, who am I kidding. I'd just watch TV.
23. How I clear my mind after a crappy day: My cat does this thing where he's so happy to see me that he repeatedly smashes his face into my face and purrs like a literal pig. That usually does the trick.
24. Something nice I did for myself recently, because hey, why not: I bought a real pepper grinder. I always wanted a real pepper grinder.
25. If I could compete in an Olympic sport, I'd like it to be: Running. 'Cause then ostensibly I'd be good at running.
A version of this article appears in the July issue of Marie Claire, on newsstands now.
Marie Claire email subscribers get intel on fashion and beauty trends, hot-off-the-press celebrity news, and more. Sign up here.