Why Ali Wentworth Would Rather "Be Funny Than Pretty"
The author and star of Pop network's new comedy Nightcap explains why laughter trumps looks every time.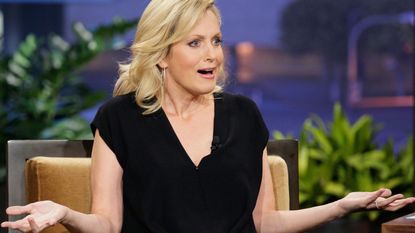 (Image credit: Getty Images)
Marie Claire Newsletter
Celebrity news, beauty, fashion advice, and fascinating features, delivered straight to your inbox!
Thank you for signing up to Marie Claire. You will receive a verification email shortly.
There was a problem. Please refresh the page and try again.
I'm not sure I would have made it through adolescence had social media existed in my rather desperate high school years. I body-shamed myself enough and didn't need the hormonally engorged boys to tell me that I was not f*ckable enough. And the bikini shots that plaster Instagram now? I wouldn't have stood a chance, Photoshop or not.
When I first started doing comedy, I realized it was way better than being pretty. I experienced that doing Christopher Durang's play The Marriage of Bette and Boo in high school. It was meant to be a dramatic tour de force; I was playing an introverted cellist. But in the beginning of the second act, I spread my legs wide to make room for the cello, and it was the most blatant sexual gesture, yet my face was completely nonplussed. The audience broke out in uproarious laughter. I remember the feeling perfectly, as if it's frozen in time, a rush of elation that rippled through my body—what I imagine it's like to walk on the moon, win an Olympic gold medal, have a real orgasm. It was better than being crowned prom queen.
From that night forward, I chose funny over pretty. In fact, I lost interest in trying to compete in the gorgeousness arena. Don't get me wrong, I didn't become The Revenant; I still exfoliated and used kelp shampoo. I just didn't put all my chips down on pretty.
My first love was a 17-year-old, Harvard-bound James Spader (circa Pretty in Pink) look-alike. I was a slightly overweight teenager with thin hair and no fashion sense. (Unless you think Laura Ashley flannel turtleneck dresses with kneesocks and clogs is chic.) To spare you the banal details of our courtship: I got the guy. Not so much because I told the joke, but because I got the joke. I could make him laugh by the simple observations of our daily adolescent life. Oh, and I could act out all parts from Jesus Christ Superstar!
As I entered my 20s, I honed my comedic skills. I had a friend who was completely fixated with the exterior. She would use a safety pin to separate each lash after she applied mascara, ate celery by the bushel, and spent Friday nights watching TV in a face mask. As much as I was in awe of her laborious beauty routines, I knew it was ultimately vacuous. Not because a large percentage of her life was consumed with whether she had a blemish, but because no other facet of herself was ever developed. Sure, she looked amazing in a sheer bohemian dress and gladiator sandals, but when she pulled her chair up to the table, that was all there was, and I would watch the gazes that were initially so focused on her slowly turn away. Whereas I was initially met with pleasantries, it was my off-color stories that eventually attracted those gazes.
Now I am older and could use an hour a day on the treadmill. But as I witness my friends frantically SoulCycling and injecting, I am confident that my sense of humor will never lose its elasticity or require human growth hormone. It will always be my strength, my shield, my Kardashian ass. Beauty fades; a good rabbi joke never does. And if you ask me who I'd come back as in another life, either Brigitte Bardot or Phyllis Diller? Phyllis Diller all the way, baby!
This article appears in the December issue of Marie Claire, on newsstands November 15.
Celebrity news, beauty, fashion advice, and fascinating features, delivered straight to your inbox!