Is Television Finally Ready to Accept Unlikable Women?
Why Phoebe Waller-Bridge's Fleabag is the female anti-hero we desperately need.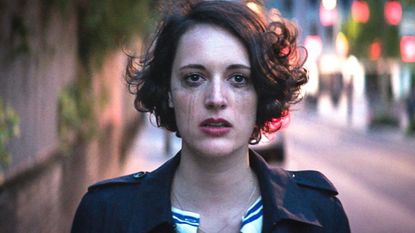 (Image credit: Amazon)
Fact: House's famous anti-hero Dr. House was inspired by a woman. Yet in conceiving the hit show, creators chose to make their protagonist male. Why? Because misbehavior is tolerated—even accepted—in men. TV audiences are used to rooting for male anti-heroes—from Tony Soprano to Walter White. We're able to forgive their often horrific actions because, to quote the most tired excuse ever, "boys will be boys."
But what about women? The female anti-hero is a relatively new phenomenon largely because sexism is a systemic problem in this country, and people have a hard time with women subverting stereotypes. It's (at least part of) the reason so many people had such difficulty imagining a female president during this past election. But the apprehension towards female unlikability on TV is slowly changing, in part thanks to Amazon's Fleabag (which just got a second season order, FYI), created by and starring Phoebe Waller-Bridge.
Unlikable women on TV have existed before—there was Nancy Botwin, the drug dealer on Weeds, and Sex and the City's self-absorbed Carrie Bradshaw—but Fleabag is different. Most shows require their female protagonist to have her life together in at least one way (be it career, love, friendships, family) in order to balance out deficiencies in other areas of her life, yet Fleabag has no refuge. She's literally ruined every area of her life. And yet, as a viewer, we still root for her to succeed. It's a true mark of a successful anti-hero, so MarieClaire.com hunted down Waller-Bridge to chat about breaking the mold.
On whether she'd call Fleabag an anti-hero:
"When writing the original stage play I described her as an anti-hero/anti-heroine a lot. It felt very edgy to be talking about a young woman like that back in 2013. The idea has become more mainstream now, which is great. I'll never get bored of seeing flawed women on the screen. But having said that, I see Fleabag's honesty about her flaws heroic in a different way. Her attempts to hold herself together even in the face of her own mistakes and pain is her great struggle, but she does it for us, the audience. And we witness the pain she suffers only in glimpses, but hopefully enough to show us how hard she is working for us."
On the key to a successful female anti-hero:
"There's some sort of charm and humor that makes them forgivable. This is where the comedy was vital to the show. Without the jokes or the honesty, Fleabag would be much harder to root for. We're living in a time when people are responding to characters who are honest rather than aspirational. I'd like to think Fleabag's honesty makes her heroic in spite of her actions."
On worrying about female likability:
"I did worry, but I had to quickly shake that off. I knew how much pain she was covering so I could see through the callousness and take her good nature and broken heart for granted. It was making sure the audience were given moments of that vulnerability. Without Fleabag's mask slipping, she'd have been inexplicably hard and impenetrable and there isn't a huge amount to like in that. If we have even a sliver of understanding about why a person is acting strangely we see them in a totally different light. I don't think the challenge is asking an audience to like a character, it's inviting them to try and understand them...then making that journey entertaining and worth their while. It's a classic trick, but it's human, and it allows characters to have more depth."
On Fleabag's complicated feminism:
"Fleabag never contradicts or challenges the fundamental argument in feminism; she never questions the right for women to have equal opportunities as men. She's just confused about the 'rules' that seem to apply to a certain brand of feminism. But I didn't find it useful to think about it because there were other themes taking precedence like family, and grief, and obsession. However much people want to politicize every movement of a controversial woman in life or on the screen, we just have to keep being personal and truthful or we will explode."
Follow Marie Claire on Facebook for the latest celeb news, beauty tips, fascinating reads, livestream video, and more.
Celebrity news, beauty, fashion advice, and fascinating features, delivered straight to your inbox!