Freida Pinto on Being a Radical Activist in the New Show 'Guerrilla'
"There's no time for neutrality."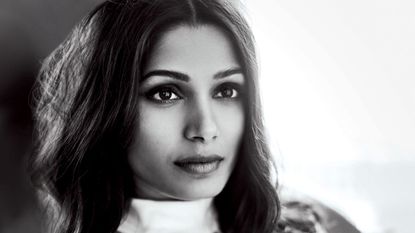 (Image credit: Maarten de Boer/Contour by Getty Images)
In Showtime's new limited series Guerrilla, Freida Pinto is a radical activist who goes to extremes to fight back against white nationalism, police brutality, and xenophobia. 2017 America? Nope: 1971 Britain.
Marie Claire: Okay, I'll admit it: I had no clue about this chapter in British history.
Freida Pinto: Actually, a lot of Brits don't even know about this history! This black- power movement was unlike the civil-rights movement. It was a very literary-based, education-based, art-based struggle. But it did exist. The racism, the segregation, the immigration act: We're still fighting the exact same things. History repeats itself.
MC: Your character, Jas, is willing to resort to violence to make her statement. Can you relate to her form of activism?
FP: I'm all about a peaceful protest. When I first read the script, I was like, Oh, no, Jas—don't do that! Her radicalism is not something that I would want people to follow, but it's something that I do understand. There is a point, however, where she questions her methods, what she's taken on. But I don't want to reveal too much.
MC: It's the women in Guerrilla who are the most ideological and action-oriented.
FP: That's the joy of working with someone like John Ridley [show], who writes these female characters who are flawed, strong, compassionate. The Women's March on Washington came about because a group of women came together and got the rest of the world going. The fact that women are very proactive in Guerrilla is resonant with how we are in society.
MC: Did you march?
FP: Yeah, I was part of the L.A. march. I couldn't not go. And none of my hungover friends were allowed to not go, either. There was this 8-year-old girl sitting on her dad's shoulders, and she had a sign that read: "Dumbledore wouldn't let this happen." I was like, "Aww, can I please get a picture?" She flipped it, and the other side said: don't touch my pussy. I was like, "I'll take Dumbledore!"
MC: There's a sense right now that protesting is a necessary part of everyday life. Do you feel that way?
FP: There's no time for neutrality. I just spent two days with the Dalai Lama in Delhi [talking about] tolerance and inclusion. He told me this amazing quote. The gist of it was: "Actions, actions, actions, actions. Not just words anymore."
This article appears in the May issue of Marie Claire, on newsstands April 18.
Celebrity news, beauty, fashion advice, and fascinating features, delivered straight to your inbox!