Alisa Xayalith of The Naked and Famous Did the Exact Opposite of What Was Expected of Her
And hopes to inspire other women to do the same.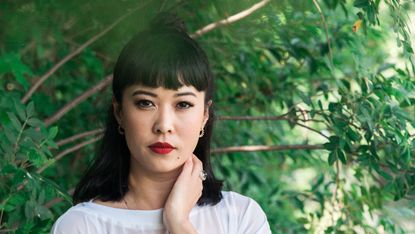 (Image credit: Mengwen Cao)
On the third day of Firefly—so hot not even a double shower could wash away the second skin of sweat/sunscreen/bug spray/miscellaneous filth one accrues at a camping-heavy music festival—Alisa Xayalith of The Naked and Famous is flitting around, unbothered as Fitzgerald's Jordan Baker, in a field feet from a tent under which roadies are already wilting in their black skinny jeans. Being an artist with an air-conditioned dressing room helps, but in achieving life cool, so does having a strong sense of self. Here, Xayalith talks turning her male bandmates onto concealer, what it's like being an immigrant in America, and her responsibilities as one of the few Asian women in music.
"I have over the years, through trial and error, had many makeup artists do my makeup for photo shoots and stuff. A lot of them aren't used to doing makeup on Asian faces, so I've always let them do the base, the shadows, and whatever. But when it comes to the liquid eyeliner, I'm like, 'Hold the phone, I'm really sorry, but do you mind if I do this myself because I don't want you to waste your time trying to perfect something on me that I won't end up being happy with?' It's really hard to do so I've just learned tricks along the way, and now I only do my own makeup."
Buy It: Stila Stay All Day Waterproof Liquid Eye Liner, sephora.com.
"Usually I use a lip pencil. I go between MAC or NARS lipliner, then I have a Stila red matte liquid lipstick that has stood the test of time for me because it doesn't come off after I play a long, 75-minute, sweaty, rock show. I've done the test."
Buy It: Stila Stay All Day Liquid Lipstick, sephora.com.
RELATED STORY
"Eyelash curler, mascara, and lipstick, because with the lipstick you can do the lips and cheeks and, if you really wanted to, your eyelids."
"They actually like wearing makeup, they like using it, and it makes them feel good about themselves. Especially Thom and David, they wear makeup and you wouldn't even know. I remember going makeup shopping with Thom, and he was like, 'I don't know what to get, but I want to get stuff.' Got him some coverup and powder, and now he does his own makeup for photo shoots and interviews, so he doesn't have to wait around for a makeup artist."
"It's funny, I was just in New Zealand and my family was like, 'Are you okay, what's going on?' I was in New Zealand to renew my visa to continue to live and work and make music in America, and they were like, 'Are you going to be able to get it?' and I was like, 'It's fine, I've gone through all the processes to get a visa; nothing awry has happened here.' I think it's an interesting time to be in America right now, and I think the great thing that is happening from all the terrible news is that people are unified to stand up for what they believe in, and they're trying to impact some change. So I think that is a beautiful thing, and change is coming and happening, and it all starts from where you are sitting, from where you are. So if I can make a difference by just making music and being a voice to people, that's a lot."
"I think it's a very, very underrepresented culture. I feel like, as a woman in indie music who plays in an indie band, I'm like the only one, and it's sad. I meet so many girls at our shows who are Asian, and they tell me it's so cool to see somebody in the public forum who looks like me, who's doing what I want to do one day. I grew up in a household where my dad was like, 'No, education first, then you get a job, then you get married, this is what you need to do.' He's like, 'Go get a J.O.B, and don't worry about your A.R.T.' It's really cool to be able to represent these girls who want to do music, because I never saw anyone doing music who looked like me. If I can be that person who inspires other young, Asian people to go into music, that's awesome. I think growing up for me, there was one Asian person who did folk, acoustic guitar music, and she actually inspired me to pick up the guitar when I was about 13 years old. But I didn't see anyone else in the media at all who looked like me."
Follow Marie Claire on Facebook for the latest celeb news, beauty tips, fascinating reads, livestream video, and more.
Celebrity news, beauty, fashion advice, and fascinating features, delivered straight to your inbox!