Project Runway All Stars Season 3: 'No Bullsh*t,' Just Competition.
Check out why Season 3 of Project Runway All Stars will be the hottest competition on Thursday night TV.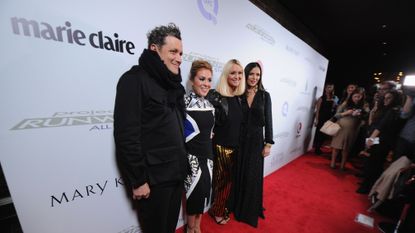 (Image credit: Getty)
In the words of designer and judge, Isaac Mizrahi, the third season of Project Runway All Stars is the hottest competition he's ever seen walk the show's runway. "It came to such a crazy level. There's no filler," he said at the show's season premiere party. "There's no bullsh*t. Nobody that is obviously expendable. That's what sets it apart. It's only the top, fiercest competitors."
Among the returning competitors are some of the show's most beloved designers, including Jeffrey Sebelia, Mychael Knight, Melissa Fleis, and Viktor Luna. The third season also welcomed some new faces including Mistresses star Alyssa Milano as hostess and Marie Claire's own Zanna Roberts Rassi as mentor to the burgeoning designers.
For Milano, the overall experience can be summed up in one word: "Scary!" As the actress pointed out, "I've never hosted anything before, so for me it was kind of a terrifying concept to dive into this role." Though dive in she did and by episode three, she says she had the hang of it.
No stranger to the intensity of the fashion world,
Marie Claire
Senior Fashion Editor and
E! News
contributor, Zanna Roberts Rassi, said of her involvement, "It's an honor to be trusted by these designers in the early stages of their creations. There was more guiding and nudging than flat out reversing - however that did happen on one memorable occasion. With, I might add, terrific results!"
Of course fashion is not without accessories and All Stars spared no expense for its jewelry challenge, for which Sex and the City and Gossip Girl costume designer, Eric Daman, returns as guest judge. Suffice it to say it should be a fierce, no bullsh*t, high design season.
Tune in every Thursday, beginning tonight, at 9/8c PM on Lifetime.