Live Blog: Project Runway, Episode 9
Get up-to-the-minute recaps of what's happening on the second episode of Season 8!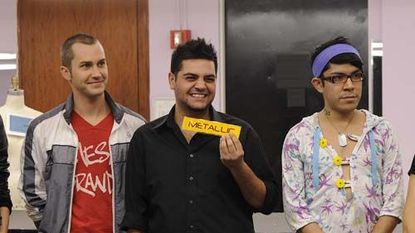 (Image credit: Barbara Nitke/Lifetime Television)
We've officially hit the point where it's anyone's game. And we mean anyone. Between Gretchen and Michael Costello, Mondo and Ivy, there's some crazy competition still ahead. This week, the remaining eight designers must create a high fashion look to appear in a L'Oreal Paris advertorial. Who will win? Who will be made to clear up their workspace by the always-entertaining Tim Gunn? Follow along right here as we live blog it all!
PLUS: Follow us on Twitter at @marieclaire as we live-tweet each episode!
(Tune in to Project Runway on Lifetime at 9 p.m. EST every Thursday.)
9:03 p.m. The stakes have been raised. Tim Gunn announces that the winner of the next challenge, which is to create a high-fashion couture look, will receive an advertorial and $20,000. Not too shabby ... .
9:09 p.m. Oooooh Michael C. and Gretchen both addicted to the color bordeaux. Here comes a head-to-head competition."I'm going to do it better than she can," says Michael C.
9:14 p.m. "I don't see a point of view in his work. I see other people's," says Gretchen, jabbing back at Michael C.
9:17 p.m. Recent failures have unleashed the fighter in Andy!
9:26 p.m. Will Mondo make it out of the hole he's created? He's wasted 12 hours, but they do have more time.
9:28 p.m. Jaws are dropping as Tim announces that they must also create a ready-to-wear look along with the high-fashion piece.
9:31 p.m. Valerie has a meltdown in the bathroom and starts crying. She's wasting even more time by breaking down.
9:42 p.m. Valerie, Mondo, and Ivy are all behind. Attitude is everything now.
9:50 p.m. Guest Judge this week? Michelle Obama stylist Naeem Kahn.
9:53 p.m. Ivy's pieces are looking more like homecoming and prom dresses than ready-to-wear and couture.
9:54 p.m. "Rainbow bright on crack" — that's what Valerie says her couture dress looks like.
10:03 p.m. Gretchen's high-fashion look is catching the judges' attention, despite that it looks more like a costume than a couture dress.
10:04 p.m. "As a designer you have to stick to your vision," says Kahn to Andy. He clearly is with the modern, edgy dresses he's created.
10:06 p.m. Ouch. Michael Kors says of the designers at the bottom of the class for this challenge: "Everyone up here has a bride's maid pageant problem."
10:09 p.m. She looks like Miss Guatemala, says Nina Garcia of Valerie's couture design.
10:11 p.m. It looks like Michael C. lost with his choice of bordeaux. His high-fashion look is harkens back to antebellum days says Michael Kors and Gone With The Wind. "She's got all the curtains from Tara were ripped off the wall and put into one dress," he says.
10:15 p.m. Nina points out that the worst designs look like, "My Fair Lady, Gone With The Wind, and The Little Mermaid."
10:22 p.m. Mondo left Colorado with $14 in his bank account. Now he'll have $20,014. He won.
10:25 p.m. One more down: Ivy's out. Valerie admits that Ivy had more fight left in her to stay in. "I wish I could go home for you," she says, tearing up.
10:28 p.m. "I told myself that if I moved to New York, I would sacrifice whatever I could to fulfill my dream," says Ivy, signing out. That's the spirit. Keep going for it, Ivy.
Tell Marie Claire: What do you think of the ep so far? Share your thoughts in the Comments section below!
Previous Recaps:
For More:
Marie Claire email subscribers get intel on fashion and beauty trends, hot-off-the-press celebrity news, and more. Sign up here.