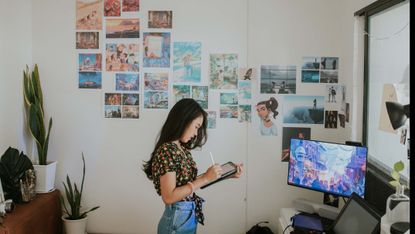 (Image credit: Getty Images)
No matter what you're creating and why, having a strong digital presence is becoming even more important. From students to social media influencers to small business owners—everyone is a creator. And, since people are inundated with content on all platforms, your brand needs to stand out.
A "brand" could mean many things: your work as a content creator, an entrepreneurial business you're founding, or a product you're hoping to sell, for starters. Celeb realtor (and Selling Sunset star) Chrishell Stause needs to create listings that show off the very best aspects of the property she's selling—and make potential buyers excited about the idea of owning it for themselves. Home and lifestyle influencer Jessica Bui, on the other hand, is presenting not just items people can buy but an entire design ethos.
Everyone should be able to tell their story, and there are tons of ways to improve your visual storytelling. Enter Adobe Creative Cloud Express, which has millions of customizable templates, fonts, and licensed images, alongside "Quick Actions" to make easy edits, shared templates and brands for collaboration. From building a website to making flyers and invitations to crafting the perfect brand materials, here's how to improve your visual storytelling content in 2022.
1. Determine what your story's trying to convey.
Are you trying to educate? Demystify? Shock? Impress? Excite? Think beyond the basic "I want my audience to see my content." What's the emotional response you want them to have? This will inform your story, because that's how you'll use visuals to invoke those feelings. Check out the resources on Creative Cloud Express and see what makes you feel a particular emotion—then start there.
2. Keep your messaging short and clear.
Focus on the core problem-solving element of your story, and then determine how you can explain it in a way that's quick, to the point, and cohesive with your brand message. In general, it's a good idea to use fewer words, rather than more. Draft some initial language, then see where you're being redundant or unnecessary—even creative pros don't always get it right when they submit the first draft. Remember to shorten wherever you can.
3. Find your unique style.
Once you know what you want to say, make sure that your brand's style extends and enhances it. Visuals stand out to your audience first, and then the words complement and drive the message home. With 20,000 premium Adobe fonts and 175 million licensed Adobe Stock images to choose from, there are so many ways to use Creative Cloud Express to match words and imagery in a complementary way. The customizable templates will let you play with word choice and identify where your balance is off.
4. Make eye-catching visuals.
It's a tricky balance: How do you make something that looks unique, while conveying a universal message to all members of your audience? Here's where Creative Cloud Express' advanced search and discover capabilities, powered by the Adobe Stock Marketplace, come in. Let's say you know one aspect of your visual content—now, hunt for related templates, fonts, and images using keywords to see what else is available and eye-catching.
5. Determine if you need people to see or hear you.
Should there be photos? Video? Audio? Infographics? Is it enough to keep your creative content static, or should it be more dynamic (keeping in mind that movement is more appealing to the eye)? Creative Cloud Express has thousands of stock photos that are designed to be appealing, not boring, which can help you understand this concept and apply it effectively.
6. Relate to your audience.
Think about who's going to see this (and whom you want to see it, which might be different). Try to empty your mind and truly see it from their perspective. What would they notice first? What message(s) might they get from your content? Would they be excited or bored? This also relates to feedback: Sometimes it helps to ask potential audience members whether something is landing with them or not. Or, if you're assessing sales conversions and click and engagement rates, see what's actually connecting with your audience and do more of what's working.
7. Be surprising.
Sometimes, the best way to get someone's attention is to make them think, "Huh. I never thought about it that way." Think about article headlines that made you click through to the story, and how they present a problem or situation in a way you didn't expect. That's the kind of attitude you should bring to your visual content. For some ideas, go to Creative Cloud Express and identify templates that make you surprised or excited.
8. Use your visuals to guide and direct.
It's not just about the look of your content being visually interesting, although that's a component as well. The visual(s) need to guide an audience towards a particular direction. That could be literal—the eyes moving from left to right/from top to bottom, or the eyes being drawn to something in motion. Or it could be figurative—taking your audience from problem to solution. It's a visual, yes, but it should be dynamic.
9. Apply your message everywhere.
As you're building a website, logo, print material, or other content, you'll have a preliminary sense of what your visual content should look like across the board. Start making social media graphics, for example, using Creative Cloud Express' customizable templates. Your visual storytelling may also extend to flyers, ads, and presentations—and your audience should see roughly the same thing wherever you or your business lives. Creative Cloud Express can help with anything you need as you tailor your message to the medium: Shared Templates and Shared Brands helps you work across teams to promote brand consistency.
10. Keep experimenting and evolving your visuals.
Brands change as they grow and develop. Businesses outgrow their old plans. Professionals learn more, develop niches, and expand beyond their original expertise. The visuals that worked for you may have a shelf life—or you might realize you're telling a different story altogether. So be prepared to think critically about your story as you go, and adapt as necessary.
Learn more about how Adobe Creative Cloud Express can help take your content to the next level.
Click here to read the full Creators Issue.
Letter From the Editor
---